In the market for a new roof? It's a big investment and one you want to make before you've got a major leak. Before you pick up the phone to call an installer, and ultimately settle for standard asphalt shingles, consider some new trends in roofing choices. That's because roofing companies specialize in different roofing materials like metal, so you've got to call a roofer that offers what you're looking for.
These trends are in no way ordinary. Some are roofing choices are made from recycled materials, some are inexpensive (some are not!), and some are just about as natural as they can be.
Whatever the architectural style of your home, you may find a roofing material here that will complement it for years to come. You might even save some money and energy in the long run, while protecting and beautifying your home.
The Next Generation in Metal Roofing Choices
Not all metal roofs are the same. There's old-fashioned tin, more modern raised panel metal (standing seam) roofing, which is available in lots of colors, and then there's a newer type of product called Cool Metal.
A metal roof under direct sunlight might make you think of a lot of things; "Cool" probably isn't one of them. But this isn't your average metal roof. Cool metal is reflective, which means heat from the sun bounces back to its source instead of turning the roof into a heat sink on top of your home.
There's more to a Cool Metal roof than the panels themselves. Underneath lies a special substrate, which includes ventilation to create an ecologically-sound, long-lasting, attractive roof option that's suitable for homes with a steep or low pitch roof line. Want to learn more about Cool Roofs? Here's a video from the Department of Energy.
Green Roofing Choices, Literally!
When you think of a green roof, do you think green in the literal sense of the word? Some people do. A green, living roof won't work for every home, especially those with a steep pitched roofline. But for flatter profiles, a green, living roof offers numerous benefits.
They're cooler than most traditional roof choices, absorb heat and the growing element filters particulate pollution, according to the American Society of Landscape Architects. There's more to consider besides hauling up some dirt and planting a few seeds, though.
A green roof is heavy, because it's composed of different layers. The roof trusses must be able to withstand both the roofing weight, and the weight of water that's absorbed when it rains. Because water soaks in, the underlying membrane layer must be absolutely waterproof and then you've got to decide what to plant and how to maintain it. For example, the first green roof I saw was the Vikingsholm, a house on Lake Tahoe's Emerald Bay, built in 1929 following Scandinavian tradition (learn more about this house and the history of green roofs).
Concrete Tiles Are Another Cool Roofing Material
Is there anything that concrete can't do? Concrete roofing tiles are another eco-friendly, cool roofing choice, and they are beautiful.
Concrete can be molded and stained to look like almost any material. You can have a concrete tile roof that looks like any number of different stones, including slate.
Concrete tiles are heavy, but the weight isn't much different from slate. Water can't harm the integrity of concrete either, so this is a long-lasting roof that looks great for years.
Roofing Choices Include Rubber Roofing Shingles that Mimic Slate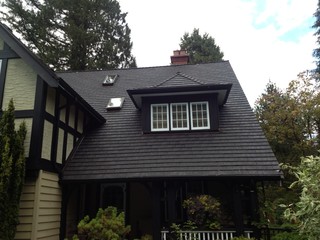 There's a trend here, and that's eco-friendly roofing. Old rubber tires don't need to go to a landfill. They can be recycled into something as practical and attractive as roofing tiles.
Rubber has long been used to waterproof roofs, but these tiles are different. They're molded into shapes that are virtually indistinguishable from natural slate. Rubber repels moisture, and they are not prone to breaking like clay and concrete are.
Better still, rubber is flexible, so a qualified installer can create a solid, form-fitting roof that's less prone to leaks along ridges and valleys, and around other irregular areas.
The next time you think about roofing, look further than just replacing what you've got with more of the same. You've got attractive options, and some of them are a lot more than just a pretty face.
New roofing trends reduce heat transfer, shed water, hold up for years, and have a lower impact on the environment. As good looking as these materials are, you may never find yourself thinking about ordinary shingles again.
Are you thinking about replacing your roof?
We'd love to hear what you're considering!