The extreme heat that is affecting many parts of the US isn't something we all expect or know how to plan for. In fact when you try to research the hottest cities in the US, you quickly learn there are many ways to measure hot and many of them won't help you prepare for the next heat wave. Here are some interesting weather facts and extremes we found and you might want to explore further as they have data on things like most hail storms, thunderstorms, etc.
On February 12, 2010, 49 of 50 states had snow on the ground – only Hawaii didn't have snow.
During the second half of July 2011, 132 million Americans were under a "heat alert".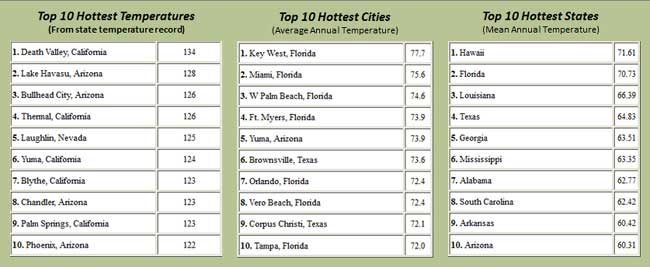 How Hot is Uncomfortable?
It's interesting to look at these charts but they don't tell the full story. In the winter (does it help to think about the cold?) the wind chill factor combines the effect of the air temperature and the wind blowing across exposed skin, as the wind carries away some of our body heat.
During the summer or warm weather, the heat index combines air temperature and relative humidity to define the perceived "human equivalent" temperature, i.e. how hot it feels. As the human body cools itself through sweating and perspiration, the water that reaches our skin must evaporate to carry the heat away from our bodies. When the relative humidity in the air is high, evaporation slows and it takes longer to cool off compared to when the air is dry. That's why 90° with humidity on the east coast feels much hotter than 100° in California where it's dry.
Preparing and Protecting Yourself and Your Family
You think your body will tell you when it's getting too hot, but you still need to take avoid these common problems associated with extreme heat. Children and the elderly are especially susceptible because they can't always tell when they're getting too warm. Learn the 3 types of overheating and TAKE ACTION immediately, even if you're not sure.
Heat Cramps – are the least severe but often the first signal that the body is having trouble with the heat. It is recognized by muscular pain and spasms due to heavy exertion.
Heat Exhaustion – occurs when you exercise heavily or work in a hot, humid place causing you to lose too much water due to sweating. When blood flows to the skin, there is a decrease in blood flow to vital organs resulting in a form of mild shock.  This must be treated right away as conditions can worsen with rising body temperature and finally, heat stroke.
Heat Stroke (also called Sun Stroke) – is a life-threatening condition where the victim's temperature control system stops working.  When the body temperature rises too high, brain damage and death can occur unless the body is cooled quickly.
Looking for More Extreme Heat Information?