Have you noticed small buildings in neighborhood backyards? Do you want more living space for a home office or a relative living with you? An accessory dwelling unit (ADU) might be just the solution you're looking for.
What is an Accessory Dwelling Unit (ADU)?
While it seems like an odd term, an accessory dwelling unit (ADU) is the legal term used for a secondary house or apartment that shares a building lot with the primary house. These residential housing units cannot be bought or sold separately and they take a variety of shapes depending on where you are in the US. Depending on when ADUs are built, they may share the water and electrical connections of the primary house. They include these configurations:
Stand-alone one-story-building on the same building lot.
Detached two-story building, possibly with garage on first floor.
Attached one or two-story residential units. One of my favorites is Lennar's Next Gen design that includes a one-bedroom apartment integrated into the first floor plan, with entry doors from the outside and the larger home.
My first ADU experience was a vacation home with a detached garage that had an apartment on the floor above. The garage was situated on the building lot so neither house could see the other building, even from the second floor decks.
ADUs and the Housing Shortage
ADUs were first used for multi-generational families that wanted parents close by while giving everyone a sense of privacy (read: Granny Pods or Camping Out in the Backyard). As a result of the Covid-19 pandemic, how we use our homes has and continues to change dramatically. City dwellers are moving to the suburbs and there are many more families sharing houses due to skyrocketing house prices.
These new accessory dwelling units can be used for many purposes:
Separate housing unit for a family member, from parents to children saving to buy their first house.
Home office for family member who can work at home but wants a space with more privacy.
Guest house for those that have lots of visitors, like college age children coming home over school vacations.
Rental apartment or AirBnb for rental income, although you need to check on local rules for AirBnB.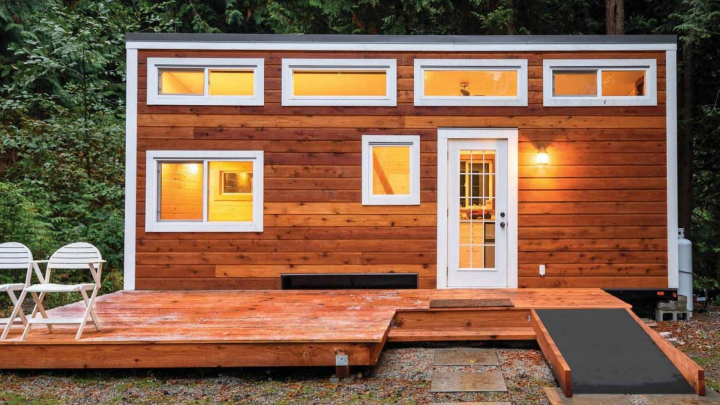 Be aware that not all states allow accessary dwelling units, so you'll want to check local zoning laws. In addition, these laws typically limit the size and style of the dwelling units and require that the own live on the property.
States like Washington (read about Seattle's ADU history and evolving laws) and California (read: How a State Law Sent Granny Flats Off the Charts) have allowed ADUs for years to alleviate housing shortages … and more states are changing laws to join them. In Florida, 11 of the most populous cities explicity allow ADUs in single-family areas but issues exist with minimum lot size, ADU size, parking, owner occupancy and other requirements (read: Florida Housing's Accessory Dwelling Unit Guidebook).
Building an Accessory Dwelling Unit (ADU)
When planning your ADU, take time to do your research so you get the results you expect. Planning should include:
Learn the requirements of your local zoning codes which will limit the size and placement on your building lot or rules for converting an existing garage.
Get an estimate for the cost to build out your ADU (include kitchen, bathroom and utility connections), plus contingency for the surprises that always pop up.
Estimate your monthly operating costs for the ADU, from utilities to insurance, property taxes and maintenance which will all increase.
Evaluate the local real estate market to learn how much of your investment you can expect to recover when selling your house with the ADU. If you're considering renting, look at rental listings as well.
If you've ever thought about building house, this might be a more manageable alternative to learn if that's something you should do. It's also possible you might prefer building a tiny house, one you can build at home and then move to your favorite vacation spot in the mountains or near the beach.
Whatever you decide, best of luck achieving your dreams. Please consider sharing your story here as that's wonderful motivation for others who are just starting on their journey.
---