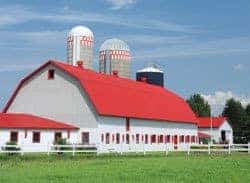 Before the industrial revolution, most Americans lived and worked on farms. The size of a farm depended on what you were growing and how much the farm produced. Watching the CNN video, America's Oldest Family Farm for Sale, made me realize we can learn from our past, from the changes our country has gone through moving from an agricultural economy to the industrial age and now today's information age.
Through all sorts of adversity, Americans have learned and thrived by being flexible and open to change. Tomorrow's homes are already changing so let's look at the past to see what we can learn that will help us  predict the future.
Lessons Learned: Farmhouses to Cities, to Suburbs and Tomorrow
Homes began with the need for protection from the weather and predators. Homes and the family homestead provided not just protection but also employment and the ability to produce enough food to be self-sufficient.
Today more people are working at home, eliminating commute time and cost. Parents like the flexibility of working at home because they can participate in their children's lives more.

As families grew in size, they added rooms onto the original building to accommodate another generation. As families became more prosperous, homes became larger with the introduction of the parlor or living room used for special occasions and to entertain guests.
After the kitchen, today's family room or great room is used most often for everyday activities. Most homeowners cling to the unused living room because we think it's needed to sell a house.

While the term McMansions is new, the display of wealth has existed for years from Europe's castles to today's estates in Newport, RI and Beverly Hills CA.
The average American home has more than doubled from the building boom of the 1950s. 2009 saw the first drop in new home size as homeowners shift their focus to more energy efficient, functional homes.
Predictions for Tomorrow's Home
As Americans tighten their belts, they are once again saving and thinking longer and harder about where to spend their hard earned dollars. Using history as our guide, here are positive changes already happening that affect families, their lifestyles and their homes.
Americans are moving less. Where we once moved every 5 to 7 years, today only 12% of the US population is moving each year for average moves of 8 to 10 years.
When people stay in their homes longer, they compare the cost of upgrades versus moving. They see lifestyle benefits extending over many years.
Homeowners are now considering both new construction costs and ongoing utility and home maintenance costs. They see the advantage of functional features over more square feet and want lower energy and maintenance costs.
Extended family households were once the norm. Today we have the sandwich generation with young people living with their parents … and parents living with their children, due to economic necessity like the lack of employment or affordable nursing homes.
On farms they created solutions using what was available. This trend continued through the great depression. Now people want to save money and the environment by reusing and recycling.
People are saving money by spending more time at home: eating out less, developing home based hobbies, entertaining at home and staycations. People are re-evaluating what's important and realizing it's family and friends, not more consumables.