The most impressive thing about many showers is a fancy curtain that you might hang across the front. But it might be time to rethink your approach and create something you're proud for anyone to see.
Upscale shower design seems to be branching out in all directions. An "anything goes" attitude blended with solid functionality gives you so many more options than you've ever had before.
From non-traditional materials to upscale fixtures, this is a time when "thinking outside the box" isn't just a cliché.
So if a bathroom remodel is in your future, here are 4 trends that might be just what you've been looking for:
Bathroom Remodel Shower Ideas – Glass Walls
Forget everything you know about old fashioned sliding shower doors on tracks. Those collect grime inside the track, and the heavy-looking aluminum or gold tone metals are difficult to keep attractive.
A more modern trend that makes a lot of sense is glass, but without the tracks. In many cases, this also means no shower door, although you can have a door if you like. Don't worry about an open doorway sending water throughout the bathroom. These showers feature clever design to keep water contained.
Where a door is more appropriate, think hinges instead of sliders. Unless, of course, the idea of a top-sliding glass door, barn door style, strikes your fancy.
Glass block isn't as dated as it might seem, not when it's used in innovative ways. Where the airiness of glass is appealing but you'd like a bit more privacy, glass block offers both. You can also opt for frosted glass panels, instead of clear, for privacy.
Bathroom Remodel Shower Ideas – Fun Shower Heads & Other Water Fixtures
Rainshowers are much like the name implies. Instead of a spray of water from a smaller shower head, water streams out from a large metal disc or square (more examples by Grohe), often mounted on the ceiling or very high on the shower wall.
If clean is really your thing, shower heads mounted in various areas of the wall send out jets that spray wherever you like. Have one mounted high and a couple further down the wall, or go for numerous jets sprinkled throughout the shower wall. It's a massage and shower in one!
Steam showers really take it up another notch. The stall transforms into a steam room with the turn of a dial. Steam showers don't have to be huge spaces. As long as there is a bench for sitting, you can have a steam shower in a smaller space.
Bathroom Idea Shower Ideas Might Include Wood
Yes, wood in a shower. The trick is using the right wood.
Teak is naturally waxy, and water resistant. That does not mean teak cannot be damaged by water, but with proper upkeep it will only weather a bit while staying beautiful for many years to come. Weathered teak takes on a grayish tone, but regular oiling can slow down the process.
Teak can be used for a shower floor, such as slats that let water drain through to a more traditional drain underneath, or you can use it on the walls instead of tile. If you like teak but don't want to take the plunge into a permanent installation, a teak shower bench is a nice addition.
Bathroom Remodel Shower Ideas to Bathe Your Body & Soul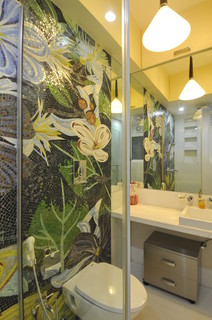 Who needs tile? Any material that naturally resists water damage can be appropriate.
River rock can look rustic, or it can lend texture to a more sleek, modern bathroom. One caveat is that river rock on the floor may be unkind to people with sensitive feet.
If you love the look of wood but don't trust its ability to stand up to water, consider ceramic woodgrain tile planks. Higher-end tiles mimic wood grain so convincingly, you really do need to look closely to spot that it's not the real thing.
Nowadays, mosaic tile more often refers to small, uniform square or round tiles mounted on a sheet. But remember that mosaic also describes an artistic design created from smaller, colorful pieces. With that in mind, a mosaic tile design on a wall can transform your shower from just another version of something pretty, to something unique to your home.
Your shower is a respite from the world. A place not to just get clean, but to recharge your spirit. Whether you are in the market for something as simple as a new shower head or as significant as a whole bathroom remodel, consider steering away from the traditional, for something you'll look forward to using every day.
Hope you've gotten at least one new bathroom remodel shower idea, or so you have something to brag about? We'd love to hear all of your ideas!