A unique porch ceiling can be the focal point of a small space. Jennie Smith reused license plates collected by her father-in-law to add something special to a small, frequently used oasis.
Homeowner: Jennie Smith
Project:  Creating a Unique Porch Ceiling
Budget: Under $50
Jennie Smith lives with her husband in a 2,500 square foot Cape Cod style house just outside of Concord, New Hampshire. A fire made the original post and beam home uninhabitable; this house was built on the same footprint by a local modular home construction company in 2002.
The porch is on the right side of the house nestled between the garage and a mudroom, and is connected to the dining room via a sliding door. Only one side is open to the elements, which keeps it fairly protected. Jen and her husband make use of the porch spring through fall. Despite having doors on three sides, there is enough room for a high top table and two bar stools, as well as two small club style chairs, and of course a cooler.
When the house was originally built, the ceiling of the porch was plywood covered with primer. In the chaos of moving in, working full time and raising two boys, the small ceiling just wasn't a priority, so it was never painted. Over time, the porch ceiling started to show its age. During a particularly bitter cold winter a few years ago, a pipe burst in the bedroom above the porch and caused a leak that stained the ceiling. Jennie thought for sure they were going to have to replace the ceiling, but in a stroke of luck, the leak wasn't as bad as first thought. Still, the ceiling was showing its age and the small stain was an eye sore.
About 10 years ago, Jennie's in-laws downsized their home. During the downsizing process, they distributed family treasures to their children. Jennie's husband Brian was the recipient of his father's license plate collection. One day while contemplating what to do with the ceiling, Jennie had a brainstorm: license plates would make for a unique porch ceiling!
Challenges of a Unique Porch Ceiling
The license plates are affixed using short screws with large heads. The license plate collection had a variety of plates including some that are quite old. The older plates added interest so Jennie really wanted to use them, the problem was they weren't the same size as the modern plates that make up the majority of the collection. This became a challenge towards the end of the project. Thankfully, Brian also had some old boat and motorcycle plates that were smaller in size and filled the gaps in the layout.
When Jennie first thought of the using the license plates as a unique porch ceiling, it sounded easier than painting the 10×10 space. It was also easier to get her husband interested in hanging license plates than painting. After ten plus hours on ladders with their necks at strange angles, they both questioned their logic. Still, the finished project was worth the effort.
Advice for Creating a Unique Porch Ceiling
Be creative: when considering a unique porch ceiling, think beyond paint. Just make sure whatever you select is appropriate for the location. In this case, the license plates will withstand the harsh New England winters without a problem.
Regardless of whether you are working with tiles or license plates, if possible, do a dry fit. Lay your covering out on a flat surface to insure you have enough material and are able to lay it out so it covers the space effectively.
Jen says the porch is one of her favorite spaces in the house. She and Brian enjoy it so much that they are considering expanding it.
What materials have you used to create a unique porch ceiling?
---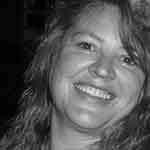 Jennie Smith lives just outside Concord, New Hampshire with her husband, two dogs and a flock of chickens.