Homeowners spend a lot of time picking paint colors. What most of us don't realize is picking the right paint finish, like a satin paint finish, is just as important. That's not easy with six or more different types of finishes (eight at the Sherwin Williams store shown here).
Buying house paint really involves three decisions:
Paint colors that fit your personality and decorating style.
Paint finishes that absorb the light and hold up to the wear and tear for the space you're painting.
Paint quality that gives you good coverage in one or two coats of paint.
Hint: If you're applying a primer before paint, get it tinted the same color to help cover the old color.
Most people agonize for days and weeks over the right color. The best way to know you're picking the right color is to You can test your top choices at home with small paint samples you can buy. You want to see how the colors look in your room with natural sunlight and artificial lighting.
And don't forget to put as much care into picking the finish and paint quality you select. You'll find a paint finish guide below to help sort out what finish you need. That's because even minor differences between a flat or matte paint finish can change the feeling you get in the room.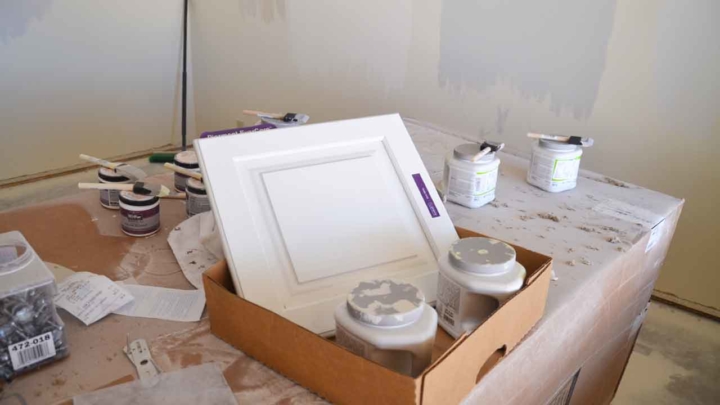 Paint Terminology Worth Learning
Buying paint is simple, right? Not really because you've got to pick your colors, your paint finish and calculate how much paint to buy. Here's what my friend Maria's living room (above) looked like as she tested different paint colors. She worked really hard on color selection which you can see on two of the three test walls. Here's what she did to pick her finishes:
Maria shared her final paint choice. It's Sherwin-Willimas modern grey (SW 7632).

Ceilings are white with a flat finish. Maria feels that combination is perfect because it makes the eight foot ceilings feel as tall as her old nine foot ceilings.
Walls are satin because her painter said a satin paint finish is more forgiving than flat paint. While her old house with plaster walls used a flat finish, he said satin would cover up the drywall imperfections better. The painter said her test colors all had a satin paint finish and … she liked the look!
Trim is semi-gloss with the color matching her white kitchen cabinets. The cabinet door shown above is the one that Maria carried everywhere for several months to make sure all her new "whites" played nicely together.
---
Paint's Light Reflectance Value
What's all the fuss about? Paint finishes affect how we see color. That's because the paint sheen is the glossiness of a paint finish. A flat or matte paint finish doesn't reflect a lot of light, instead diffusing the light in many directions. At the other end of the spectrum, shiny paints like gloss and semi-gloss, reflect the most light. The light reflected affects how we see the color.
Design professionals use the Light Reflectance Value (LRV) to understand how much visible and usable light is reflected from a surface, in all directions. It's a bit confusing because colors have an LRV regardless of the paint finish (more research needed). Interior colors typically have an LRV of 50 percent or higher, especially when you're trying to brighten up a room with minimal or no sunlight.
For those who want to learn more about the LRV of paint colors, you need to visit Lori Sawaya's website. There's an entire article on Light Reflectance Value which is where I found the wonderful LRV scale above. There's an abundance of painting tips to help you pick the right paint colors and finishes for your home.
Paint Finishes Affect How We See Color
Unless you're an interior designer, decorator or professional painter, it's hard to understand the different types of finishes. The easiest difference is how durable each paint finish is over time. Finishes also affect how much light is absorbed or reflected off the painted surface. Learning about today's finishes offers three benefits to the savvy homeowner picking paints.
Hiding imperfections in your home's walls and trim is easier with the right paint finish.
Washability is determined by your choice of paint finish, especially when there are little ones at home. A common question is eggshell paint washable? Yes, eggshell is easier to clean than a flat finish but use a gentle touch.
Durability increases with finishes that are glossy because they contain a higher ratio of adhesive binder that solidifies into a solid surface.
Different types of finishes absorb/reflect light differently, which affects how you see the color.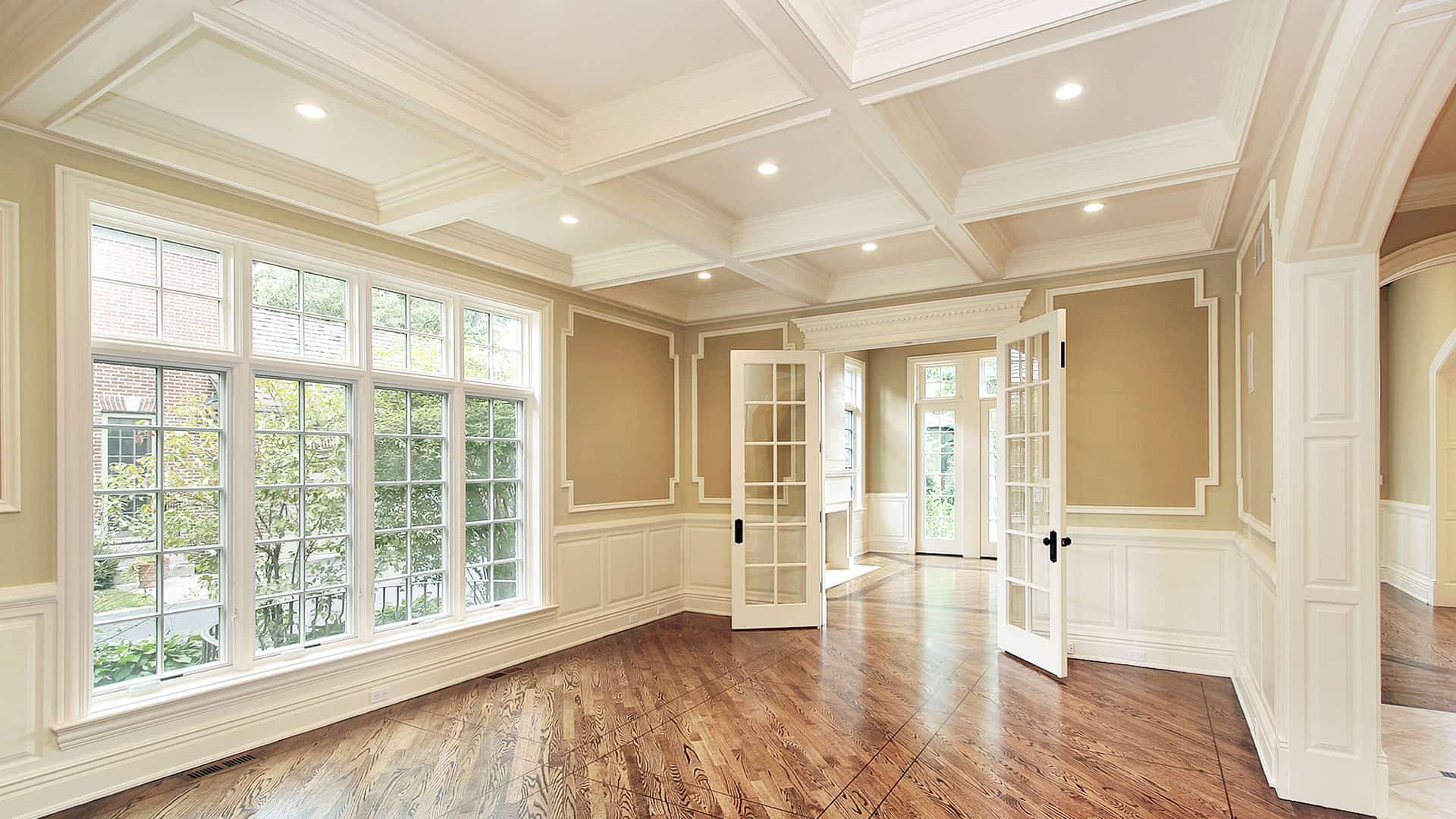 Flat or matte paint doesn't reflect light which is why they're perfect for masking imperfections in your walls. A satin paint finish is slightly more reflective than eggshell, giving walls a silky finish that has a slight glow.
Different finishes also wear differently, so picking the right sheen will make it easier to keep your walls looking good for years to come. You'll want to use different finishes for different rooms depending on the amount of activity that occurs in each room. The higher the sheen, the easier to clean!
A paint's sheen or gloss level is usually chosen based on the requirements for durability. The higher gloss a paint is, the harder the finish. Harder finishes are better at withstanding wear and tear. At the other end of the spectrum are flat paints. The surface of flat paint is more porous so it can trap dirt and be more difficult to clean.
Nolan Painting offers and important tip that you might not know. "Finishes vary among paint manufacturers, so be sure to test exactly the paint you are interested into evaluate its reflectivity. One manufacturer's eggshell is another's satin, so check that the paint you select has the appearance you desire."
How Many Paint Finishes are There?
First we'll review the pros and cons of each type of paint – high gloss, gloss, semi-gloss, satin, eggshell and matte finishes plus flat paint. Don't be surprised if you find the store where you're shopping has more or fewer types of finishes. Sherwin Williams has eight finishes while Dunne Edwards has seven types of paint finish. My favorite Dunne Edwards paint finish, at least the name … is "velvet".
The table below (and infographic) will make it easier for you to select your finishes easier. If you want to learn even more about how much light each paint finish reflect, ApartmentTherapy.com has a nice article.
High gloss paint – offer the highest sheen and the hardest finish making them easy to clean. At the same time they reflect light and reveal every surface imperfection making them difficult to apply well (hint: leave this paint to the pros). High gloss paint is good for areas exposed to heavy traffic and prone to fingerprints. High gloss paints are also good for accent trim you want to make pop.
Semi-gloss paints – are less reflective than high-gloss paints and offer good resistance to stains. They're a good choice with small children, e.g. for hallways and playrooms.
Satin finishes – have a softer sheen and won't glare like high-gloss and semi-gloss paints. They are still washable and fairly durable, making them practical to use throughout the house.
Eggshell paint – has a soft sheen, like an egg. This paint finish works well for walls but not trim around doors, windows, etc. You can wash eggshell paints without harming the surface using a mild cleaning solution and a soft cloth.
Matte paint finish – is non-reflective which allows them to conceal surface imperfections better than other paints.
Matte and eggshell finishes can be confusing. When comparing eggshell vs a matte paint finish, eggshell is slightly more reflective and a bit more durable. In contrast, matte paint tends to hide imperfections better than eggshell paint.
Flat paints – are fine for ceilings and low-traffic areas like bedrooms. Flat finishes are also useful where walls are rough or damaged, as they'll hide these imperfections better than any other paint finish.
| | | |
| --- | --- | --- |
| Room | Types of Paint Finishes | Requirements |
| Kitchen | Satin or Semi-gloss | Washable & durable paint for areas subject to dirt, grease and moisture. |
| Bathrooms | Satin or Semi-gloss | Washable & durable paint for areas subject to dirt, grease and especially bathroom moisture. |
| Hallways | Satin | Washable & minimize how much dirt the paint picks up. |
| Dining/Living Rooms | Eggshell or Satin | Eggshell has a rich look but minimal washability; Satin has a richer look and more washability than Eggshell. |
| Family Rooms | Satin or Semi-gloss | Satin has washability while semi-gloss is very washable. Either is perfect for high traffic areas exposed to dirt, grease and moisture. |
| Bedrooms | Eggshell | Washable and minimizes dirt pick-up. |
| Ceilings | Flat | Minimizes visibility of surface imperfections. |
| Trim/Baseboards | Gloss or Semi-gloss | Provides a strong, washable surface. |
To help you pick the right paint, recommended finishes for rooms in your house …
Note: No discussion about oil versus latex paints has been included here as there are numerous problems with oil paints and many states no longer allow their sale. The pros and cons of oil and latex paints:
Latex paints – dry quickly, only need water for thinning and cleanup and have fewer fumes and odors than oil-based paints
Oil paints – provide an extremely durable finish BUT they dry slowly, require mineral spirits for thinning and cleanup and have strong, smelly fumes.
Here are some of our more popular articles to help you when painting your house:
---