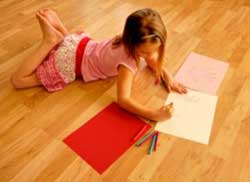 Hardwood flooring is very popular. Maybe you grew up with beautiful hardwood floors, as they were more common years ago. You'd like to install hardwood floors in your home but you're not sure what choices you have, how to make the decision and most important, what you can afford?
This article provides an overview of your choices and tips on the various types of hardwood flooring available. Take time to learn what flooring is best in which environments, i.e. basements have higher humidity, relative costs and buying tips.
Hardwood Flooring Choices
Solid Hardwood Floors – are the most expensive because they're made of solid pieces of wood, milled with a tongue and groove design so they fit together seamlessly. The most common thickness is 3/4 inches, installed over a wood sub-floor. Hardwood floors are nailed down so they cannot be installed over concrete unless a wood sub-floor is laid down first. While there are techniques to reduce moisture in basements, you should pick a flooring better suited to high humidity given how porous concrete is.
Engineered Flooring -is less expensive because it's made up of multiple layers of wood glued together. The top layer is the desired wood, i.e. cherry, while the hidden layers are made of lower cost woods like poplar. The lamination process makes these engineered floors more resistant to expansion and contraction from changes in temperature and moisture, so they can be installed anywhere in a home including over concrete sub-floors.
Laminate Flooring – is the least expensive option. Laminates have a protective top "wear" layer, typically made of aluminum oxide and finishes from low to high gloss. Next is the photographic layer, representing a wood grain pattern down to simulated planks. A water-resistant core layer is composed of wood fibers compressed together with adhesives and resin, followed by a backing made of melamine, plastic or paper.
Questions to Help You Pick the Right Flooring
In picking your new flooring, you want to consider the room where it is going. Is the area one that gets lots of foot traffic? Will children spend time on the floor? You want to consider the beauty of the flooring, both the material and installation costs as well as the maintenance needed to keep it looking like new.
What type of sub-floor is underneath the wood flooring? Hardwoods that need to be nailed cannot be installed on concrete while engineered and laminate flooring can go anywhere.
Where is flooring going? High moisture areas like bathrooms are risky with any type of wood floor. High quality laminates that are sealed and glued down offer the best option. Laminates offer the hardest surface for high traffic areas with kids and pets.
How long do you plan to stay in your home? The more expensive the product, the longer it will last. While laminates have a very hard surface, once damaged they can only be replaced. Engineered flooring can be refinished at least once (depends on thickness of top layer) and hardwood floors can be refinished multiple times.
Budget for flooring and installation? Hardwood floors cost more when you combine material and professional installation (install, stain, polyurethane) costs. Engineered flooring is slightly cheaper from a product cost perspective and because it's pre-finished, the installation costs are quite a bit less. Laminates are cheapest although they offer a wide range of products for different budgets.
Home owners who want to install their own floors will do best working with products that can be installed without the use of nails or glue, called "floating" floors. Make sure to buy 20% more material so you're prepared for mistakes. Inspect the quality of the tongue and grooves snapping together as inferior products break during the installation so you'll need to buy even more, and with the extra time and materials you don't always save money.
Other Tips for Selecting Your New Floor
Once you've decided on the type of flooring you want to buy, here are tips to help you find just the right product.
It's fine to research choices online but don't buy until you've actually seen, felt and walked on the product. You also want to check the quality of the finish and how tightly the planks fit together.
Once you've narrowed your choices, find a local dealer to visit. Walk on the floor to see how it looks, sounds and how tightly the planks fit together. Take your shoes off as some people don't like how the micro-bevel (small v between planks) fells, that prevents splintering during installation.
Select products that will hide dust, dirt and normal wear and tear like scratches. A low gloss finishes shows less than high gloss, a pronounced grain and/or distressed finish will hide problems better.
Check products for for industry certification, indicating they meet quality standards.

National Wood Flooring Association (www.woodfloors.org)
Hardwood, Plywood & Veneer Association (www.hpva.org)
North American Laminate Flooring Association (/www.nalfa.com)