Drafty windows, disintegrating window frames, and condensation may mean it's time to think about something you'd rather not. Replacing windows is no small job, and it's an expensive one any way you go about it.
Like most choices you have for your home, replacement windows come in all varieties from basic and cheap to extravagant and presumably out of reach for someone on an average budget.
Your job isn't to buy the most expensive window, but to find the best ones for your money. That is, if they require replacement at all.
Do You Need Replacement Windows?
With wood, parts can be replaced, and you might even want to rebuild the whole window. This is something to consider if you live in a historic home where preserving the windows is important for architectural and period authenticity, and especially in a historic district where replacement is strongly discouraged.
In modern double- or triple-pane windows, the seal doesn't always last. A broken seal means the gas between the panes escapes, and that's when you begin to see condensation on and between the glass. These windows need to be replaced because the insulating power of the glass is severely diminished, and the condensation means you can't see out the window.
Replacing all your windows can get expensive. Even the cheapest replacement windows add up quickly so it's worth assessing which windows in your home will benefit you most. With my handyman business, we often helped homeowners identify the 2 or 3 rooms in the house where they spent most of their "awake" time, and didn't replace bedroom or hallway windows.
Which Replacement Windows are Best?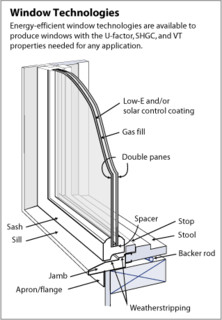 You can find worthwhile replacement windows in vinyl, wood, composites, and even aluminum. The key isn't what material the glass is framed in, but the overall construction — how the windows are put together. Better quality replacement windows come in all shapes and sizes.
The Department of Energy explains how windows are rated, and this helps you choose the best windows for your money. There are two labels to look for that give most of the information you need.
You're probably familiar with the Energy Star label. The National Fenestration Rating Council (NFRC) label is additional, voluntary and provides even more information.
Energy Star bases its ratings on the U factor. The U factor of a window reveals how well the window insulates, and usually deals with glass only. The NFRC label tells you about the window's energy performance as a whole.
Both of these labels let you compare windows to get the best quality that you can afford.  The lower the U factor, the more energy efficient a window is.

The Downside of Replacement Windows
High quality replacement windows may be a good investment. Your ROI depends on how much energy you save during the lifespan of the window. You can also expect to recoup more than 75% of the money you invest in replacement windows when you sell your home, according to Remodeling.com's Cost vs Value report.

A cheap replacement window might make you more comfortable inside your home for the short term, but if they have to be replaced before they've paid for themselves in reduced energy costs, they're not really a bargain.
A well-made replacement, on the other hand, increases your comfort, adds to the beauty of your home, and helps reduce your energy costs in ways that enhance your ROI. This might mean the window has better insulation, a low emissive or low-e coating that reduces heat transfer in summer and winter, and UV filters that only allow in bright visible light, not heat.
Why LLumar Residential Window Film?
Alternatives to Increase Comfort and Energy Savings
If your windows are in relatively good condition but lack the thermal and UV protection that you want, there is another choice (watch this video on LLunmar tinting to learn more). Professionally applied window films give you a low-e coating to resist heat transfer, and block as much as 99% of UV rays without sacrificing light. These go directly on the glass, and are permanent.
In an older home where the windows are important to the architectural style, consider custom made storm windows. These reduce drafts and add insulation in the form of another pane of glass, and they can be fabricated to match your existing windows.

Replacement Windows Aren't Cheap
Replacement windows are a major investment, even for bargain basement varieties. For a whole house replacement on an average home, expect to spend at least $12,000, and probably much more depending on the number of windows you have and the window style you pick.
If you decide to take the plunge, think long term. Just any old replacement window isn't worth it. You need the best you can afford, even if it means saving up money to buy a better quality. You home's value, your comfort, and the coming years' utility bills will thank you for the investment.
Considering replacement windows?
What questions do you have?
PS Here are a few of our more popular articles on windows:
And a word of caution to the DIYers out there, installing replacement windows isn't as easy as you think. If you've only got one or two windows, ones that won't be opened and closed frequently, you might do just fine. If you're doing the entire house then you should consider a window replacement company.
---