When you need more space in your house, one solution is double duty furniture. It's usually a better option than smaller furnishings that don't always look the way you want them to. With furniture pieces that have more than one function, it's like having a bigger room or house.
Dual-duty furnishings look great on the outside, and have an extra feature tucked away inside or hiding in plain sight. An example could be an ottoman that looks like a cube until you pull out disguised storage drawers underneath or lift off the top. Some pieces don't try to hide the fact that they live a double life; it's part of their charm.
Clever design can create a number of smart, useful pieces. What about one or more of these ideas for your home?
Murphy Beds Offer Instant Sleeping Arrangements
Few furnishings claim more floor space than a bed. Even a twin-size is nearly as large as some sofas, and queens and kings are, of course, much larger. But if you need another bed, or have a small apartment or house where you want to conserve space, there are more options besides a convertible sofa. 
Murphy beds existed before William Lawrence Murphy obtained his patent in the early 1900s (learn more about the history of Murphy beds), but they were simply called fold-up or wall beds. His design improved on what was available, and the Murphy bed was born. 
Murphy beds fold down from the wall using a bottom hinge. Folded up, they fit inside a cabinet, pocket in the wall, or closet. Unlike the bed inside a convertible sofa, there's no hinge at the center to ruin a good night's sleep.
Ottomans and Benches Are Great Double Duty Furniture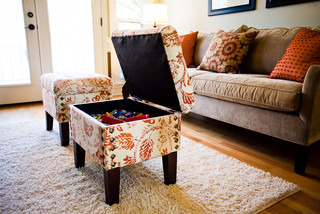 Ottomans are already multi-purpose. They're great for propping up feet or resting a tray of snacks, and they come in handy as portable extra seating. Made the right way, they can also serve as storage.
Imagine the possibilities with a pair of ottomans like these in your living room. The solid construction with padding on top means they're soft where you want them to be, but rigid enough to support like a bench seat. On the inside, you've got a wide, open space to store anything from toys or crafts to magazines and books. 
The upholstery gives you one other bonus. If you tire of the fabric, ottomans are one of the easiest projects to reupholster. All you need are scissors, upholstery fabric, staples or upholstery tacks and a tack hammer. If you wanted to, you could have a brand new look every season. 
Another possibility is a bench seat with storage inside, like this one that's in my office. Use it as a window seat that doesn't need to be built in, or place it anywhere you want both a bit of extra seating and plenty of storage. The baskets make storage easy to access, which is a plus.
Beds with Storage Underneath Are Another Type of Double Duty Furniture
The space under a bed is lost unless you claim it for something else. Left to catch dust bunnies, that's a lot of room that's gone to waste.
For an ordinary bed, you can probably fill wide, shallow storage boxes with things such as out-of-season clothes and bedding and slide them underneath. A bed skirt conceals the boxes and dressed up the bed.
Some beds are created with storage as much in mind as a good night's sleep. These usually have large, deep drawers fitted into the pedestal at the left, right, and foot of the bed. Beds with storage are a great idea in any bedroom, including a kid's room where a surplus of toys might need a home that's out of everyday sight. 
Dual- or multi-purpose furnishings go the extra mile, when compared to their ordinary counterparts. Where space is a premium, they perform at least two important functions with the same tidy footprint.
This is by no means an all-inclusive list of ways to save space in style. But with luck, your creativity will kick into high gear with ideas of your own. You might even come up with ways to add on or convert furnishings you've already got.
If you already have some interesting double duty furniture, we'd love to see or hear about how you put it to use. So please share your ideas!