Have you thought about getting a tankless water heater? Many home renovation projects consider installing because they're working on plumbing, and sometimes because it frees up needed space. A tankless water heater provides hot water non-stop too, large families don't run out of water before everyone has had their morning shower.
But is all the hype really true? Some of it is, but other dialog about the tankless water heater appears to be more of a marketing campaign. Everyone wants to be green-friendly.
Because this decision should last for many years, we've gathered some of the pros and cons of using a tankless water heater. Here are two main considerations, and a few drawbacks, to help you make a more informed decision.
A Tankless Water Heater Takes Less Space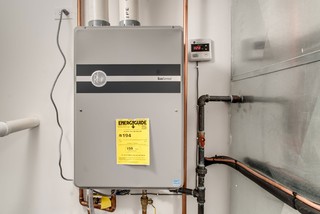 Space planning is critical to any home renovation. You want to make the best use of the space you've got, and a tankless water heater can help.
A traditional 30-gallon or larger water heater is big and bulky. It needs its own dedicated space, such as a closet or corner in a basement.
Conversely, tankless water heaters take up about the same amount of space as a breaker box. They mount on a wall, and some models can be installed outdoors. Not every model can, so check to be sure.
With a tankless water heater, you can reclaim some of the space that the old water heater used. You might even get a new closet out of the bargain!
Caveat: Replacing a water heater that's not in disrepair isn't an economical use of your home renovation budget. Consider the landfills, and don't toss out a perfectly good appliance for the sake of an upgrade.
Using A Tankless Water Heater Saves Energy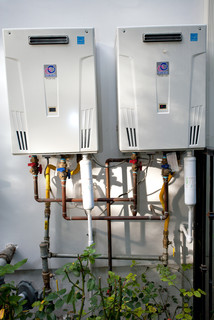 Traditional water heaters heat the tankful of water, and keep it hot all the time. When the temperature of the water gets below a certain point, the electricity or gas heat element switches on, and the water is reheated.
If you don't use hot water every time the tank heats up, you're heating and reheating the same water several times a day.
With a tankless water heater, you're heating only what you need as you need it. Water flows through the unit when you use hot water, and it's heated before it leaves the unit. The trade-off is tankless water heaters use more energy to heat the water for on-demand use, but you never reheat the same water twice.
Caveat: If your tanked water heater is newer, you might not find as much energy savings as people who own an older tanked water heater would. Newer, traditional-style models are heavily insulated, which keeps heated water warmer longer. They also use less energy to heat the water than a tankless unit.
Promoters of tankless water heaters use "energy savings" and "limitless hot water" as the two main benefits of switching from a tanked unit. But is the savings enough to merit the cost? Maybe, or maybe not.
The Department of Energy  and Consumer Reports both explain that the energy saved isn't as much as you might imagine.
Overall, the average tankless water heater only saves about 3% on energy costs over a tanked unit. It could take many years to recoup the up-front costs, which are not insignificant. A tankless water heater can easily cost well over $1,000, and requires special installation, where a tanked model costs a few hundred dollars. If you need two tankless units to meet the demand in your home, you might not save any money or energy at all.
"Limitless" hot water isn't really limitless. There's always a delay where the water heater has to catch up with the demand. There may be hot water in the supply line, but that is followed by a period of cold while the heater meets the demand. And if you only need a small stream of hot water, the tankless unit might not switch on at all.
Upkeep is another drawback with tanked models. You will need to flush the unit at least once a year. They are prone to mineral deposit buildup, so sometimes flushing also involves disconnecting the unit and cycling vinegar through using a small pump for about an hour, then reconnecting the unit.
Tankless water heaters can save energy, especially if you are replacing an older tanked style that's not very efficient. But you should consider the benefits versus cost before making this investment. You could save energy and have more hot water using a tankless style. But for a lower investment, your energy consumption might only be marginally more, and with a lot fewer headaches.
Do you use a tankless water heater? We would love to hear your thoughts on performance and upkeep!
---