Spring cleaning chores might not always be fun, but chances are you'll want to tackle some of them now that the weather is beginning to warm up again. Wintertime means your house is sealed up, so fresh air is restricted and allergens can build up. Once winter fades, throw open the windows and get ready for a clean, new season.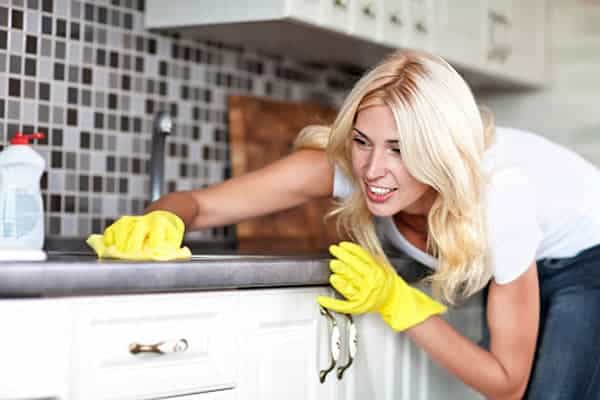 Here are a few tips to help you work more efficiently, remove more allergens and leave your home sparkling from top to bottom. You might also want to review the article, How Covid19 is Changing House Cleaning Rules, for more ideas.
DIY Spring Cleaning for Your HVAC System
Your HVAC system gets a workout year-round, which means dust and other allergens find their way inside. Change out your filter, opting for a HEPA style if you can. They collect a lot more allergens, which keeps your home cleaner. And vacuum inside the return before replacing the filter.
Your registers or vents also collect dust and allergens, especially registers in the floor or low on the wall. Vacuum inside them to keep dirty air from flowing out into your room. You can pop off lower vents by prying gently and pulling them out. Ceiling styles usually have a screw that you'll have to remove first.
Spring Cleaning Blinds & Curtains
Few places in your home collect dust and other allergens more effectively than draperies and curtains. Dry cleaning might be the only safe way to get heavy drapes thoroughly clean. But that can cost $50 or more per panel. Vacuuming in long strokes, from top to bottom, will remove a lot of the dust.
Many curtains can go into the wash on a cool, gentle cycle. Just be sure to check the fabric content and cleaning label, and hang them to dry if tumbling might cause them to shrink. For blinds, vacuum and then wipe using a damp rag to make them fresh again. And don't forget to dust your house plants! (Read: Indoor Plants That Keep You Healthy at Home)
Eradicating Embedded Dust with Your Spring Cleaning
When your spring cleaning is in full swing, pay close attention to upholstery, mattresses, pillows, carpeting and throw rugs. A good vacuuming removes a lot of dust and dust mites, which the EPA says are asthma triggers. You can vacuum carpets and hard floors, of course, and you can also vacuum chairs, sofas and even mattresses (both sides). Throw rugs can go in the wash, but skip the fabric softener to keep them from slipping on the floor later.
Agitating washing machines usually destroy bed pillows, but you can soak them in hot, soapy water in the bathtub. Press out the excess water by hand, rinse and press out the rinse water, then put them in the washer to spin. Tumble dry on a low setting to fluff them up again. Front-load washers might allow you to launder without matting the fiberfill.
Light Fixtures Need Spring Cleaning
Light fixtures collect dust and dead insects, which makes the light in your rooms dingy and dull. Cleaning them out brightens your rooms, and you can replace the bulbs with energy-saving LEDs while you're at it.
Window Spring Cleaning Techniques
Take off the glass globe or cover, and remove the light bulbs. If you want to reuse the bulbs, wipe off dust using a barely damp rag. You can soak the globes in warm, soapy water, or run them through the dishwasher if there are no metal parts.
With all the sunshine coming your way, you'll want clear, sparkling windows to let it shine through. Add 1 or 2 drops of regular dish washing liquid to a gallon of hot warm water, and you have a solution that will remove fly specks, dust, and stubborn fingerprints. Paper towels do a fine job, but a squeegee and a lint-free rag create less waste and fewer streaks.
Another way to make windows shine without much mess is with a window steamer. You won't need any cleaning solution at all, and the attached squeegee lets you clean and dry in one pass. (Read: Green Cleaning Tips)
Spring Cleaning for Baseboards
You might not notice your baseboards very often, but when they're clean, they really make a room look fresh and tidy. Dust and dirt collect along the top edge and along the seam where they meet the floor. Use your vacuum's crevice tool to reach into those narrow spaces.
If you don't clean baseboards very often, you'll probably need to wipe them down, too. For baseboards that are really grungy, use an old toothbrush as a mini scrubber. Once they're clean, wipe them down using a dryer sheet to help them repel future dust.
It might not be the most fun you've ever had, but there's nothing quite like the sense of accomplishment after you've cleaned your home top to bottom. Kelly at The complete Guide to Imperfect Homemaking even has a printable list that you can use to check off as you go.
PS We've got lots more tips in our Spring Home Maintenance Checklist so check it out. It will save you time, money and stressful repairs.