Gingerbread houses are a popular Christmas tradition for many families, from baking the gingerbread to building the houses and decorating them with lots of candy. Sometimes it's hard to know if more candy ends up on the houses or in the children's stomachs … or both? So here's my story about making gingerbread houses with all the trimmings.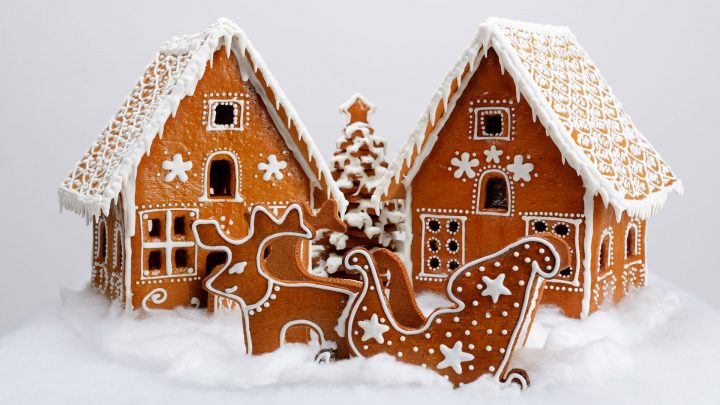 First let me share each person's role making gingerbread houses, as this has always been a family activity that can take several days:
Mom (that's me) – buy ingredients and bake all the house pieces. In Japan it took a few months to collect molasses. Baking houses for family and friends was a lot of work before I got my KitchenAid mixer. Now can't imagine living without my mixer and only wish I'd picked a bright color like candy apple red (bottom right).
Dad responsible for cutting up bases for the houses and covering them with aluminum foil. He'd then make all the frosting which is challenging as you need the right consistency to hold the house pieces together.
Boys were responsible for clearing the work space, usually the dining room table. Then they put out bowls for candy, frosting and knives for spreading the frosting. We never opened the bags of candy until everyone was ready … or they'd start munching, LOL.
I'm afraid my kids and probably most children, are more interested in the candy than the actual gingerbread houses. They always added landscaping around their gingerbread houses, to insure they had a plentiful supply of candy throughout the holidays.
How Making Gingerbread Treats Started
Gingerbread houses have evolved over many years. Ginger, a spice from the far east was first used to make spiced honey cakes and the English created ginger candy. When bread crumbs were added, gingerbread similar to what we know today was born.
Medieval ladies gave gingerbread cakes to their favorite knights. Different shapes had different meanings, i.e. the heart was used to ward off evil. Craft people created special baking molds in the shape of animals, fish, etc. Today gingerbread houses and cookies remain very popular.
Recipe to Make Your Own Gingerbread Houses
The batter is very stiff so when making multiple houses (I've made up to 8 houses for neighborhood parties with a house for each family) it's best to only double the recipe.
Larger gingerbread houses will need more dough and of course you might burn a few pieces as you're juggling lots of tasks in parallel. It's been quite a few years since I made a single batch and recommend starting with a single batch. Unless you're an avid baker (and then you'll have your own recipe already) it's better to start with one batch to get familiar with the texture of the batter and baking time, as every oven is different.
Once you've made your first house, you'll learn what works for your family, i.e. our boys always competed to see who could cover their gingerbread houses with more candy. Our younger son Ryan always won so it's surprising that as adults, our older son Jason eats more candy. The following recipe is for gingerbread houses with sides and roof that are 6 to 8 inches wide. We've got templates for this 5 x 6 inch house (gingerbread templates).
Ingredients for Gingerbread House Pieces
The ingredients are pretty straight forward in the United States. If you live overseas, you should start looking for molasses a few months ahead of time. In Tokyo, even though I shopped at an international grocery store, there was only one bottle of molasses on the shelf.
1/2 cup butter or margarine, softened
1/2 cup brown sugar
1/2 cup molasses
3 and 1/2 cups, all-purpose flour
1 tsp baking soda
1 tsp cinnamon
1 tsp ginger
1/2 tsp salt
1/4 tsp cloves
1/3 cup water
Directions for Gingerbread Houses
Making one house is easy but when you're making several gingerbread houses, two items that will save you time are a heavy duty mixer (see above) and extra large cookie sheets to save time rolling out the dough and baking.
Cream butter and sugar thoroughly with an electric mixer.
Beat in molasses.
Blend all dry ingredients.
Add dry ingredients to the butter-sugar batter, alternating with water.
Dough will become stiff and last batch of dry ingredients may need to be blended by hand.
Work dough until it is smooth in consistency.
Once the dough easy to work, roll the batter out on the back of a cookie sheet working from the center to the sides. Roll batter to the edges to avoid thin edges on your house pieces as ideally, you want entire piece to be the same thickness. Placing a damp towel under the cookie sheet will help stop it from sliding around.
Lightly dust the rolling pin. Coating the cookie sheet with vegetable oil can also help.
Place house pattern pieces on gingerbread and cut out using a bread knife. You need two of each piece for the front/back of the house, sides and roof.
Bake gingerbread in preheated oven for 8 to 10 minutes, testing to be sure it's cooked.
Let the gingerbread cool for a few minutes before moving to cookie racks to completely cool.
Making Gingerbread Houses with Royal Icing to Hold Pieces Together
For years I used real eggs because I didn't know there a very slight risk of salmonella infection from the raw egg whites. You can eliminate this risk by finding eggs with a pasteurized label at most grocery stores.
1/4 tsp cream of tartar
3 and 1/2 cups powdered sugar
3 egg whites
Beat ingredients at low speed for 7 to 10 minutes (longer for portable mixers), until icing forms peaks.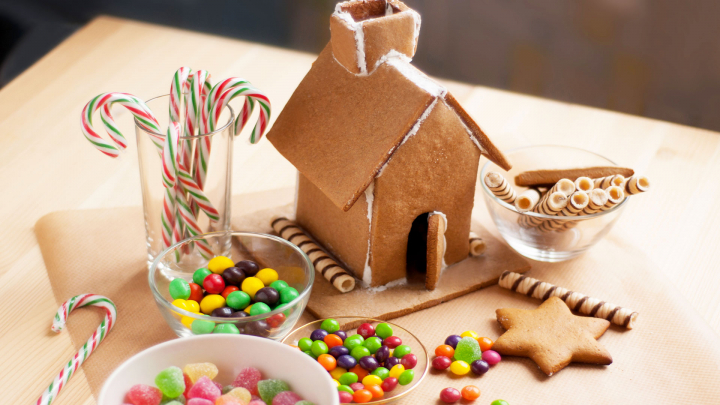 Candy for Decorating Your Gingerbread Houses
While we might work hard to make all the pieces for the gingerbread houses, your kids will love this part the best. You can use almost any kind of candy so here are some of our favorites and again, you might need time to find them.
Candy discs (Necco wafers) make great roofing shingles.
Wafer cookies and bite size Shredded Wheat are also good roofing materials.
Licorice comes in all shapes and sizes, i.e. rope can be used like holiday lights on your house.
Gum drops are generally available in holiday colors.
Bright colored candies like peppermints, M&Ms, Skittles, etc are some of the kids favorites to eat and decorate with and around Thanksgiving, you can find them in holiday colors.
Candy canes large and small are very useful in landscaping your house.
Ice cream cones make great trees around the house.
Save a little powered sugar to sprinkle on the trees and ground around the house.
Gingerbread houses can be made in different sizes and shapes. Some communities build villages that include a school, churches, stores, a farm and other assorted buildings. For school groups, you can also build smaller houses with graham crackers that fit nicely around school milk cartons. Now that gingerbread houses have become so popular, you can also buy a kit with all the baked pieces … or a house fully assembled, ready to decorate.
What candy do you use to decorate your gingerbread houses?
---