Pinterest ideas have been swirling around in my head for months. Like everyone else, I've been watching others to see how they're using Pinterest, and waiting for the light bulb to go off? Pinterest is great for those who are visual and roughly 65% of us are visual learners. We're all too busy to read, so learning online by sharing photos, infographics, videos and more is great.
What is challenging is identifying ways you can capture Pinterest ideas and save time (versus using your time). My goal here is to explore ways in which homeowners can share their dreams for building, remodeling and decorating their homes. With Pinterest ideas, homeowners can visually show architects, designers and interior decorators what they want without having to find the right terminology to explain their ideas!
Pinterest Ideas: Turning Dreams into Reality
While it's wonderful to dream, it's nice to turn our dreams into reality. Looking at photos of wonderful bathrooms you'll never enjoy might be fun for a minute (sexy bathrooms to make you smile), but why not use Pinterest idea boards to collect and prioritize a dream bathroom you can make your own?
Bathroom Photos: Pinterest Ideas & Your Priorities
Few people understand how the smallest room in the house, the bathroom, is also the most complicated (more than 20 decisions in a bathroom remodel) given the number of functional features involved. That's why I decided to start with how many different Pinterest boards I'd recommend, to research and plan a bathroom remodel … and the story behind this choice.
Years ago we remodeled my 100 year old Victorian home in Portsmouth, NH. The project involved gutting 2 bathrooms, moving walls and creating a master bathroom where none existed. The project was huge – 4 floors, 1000 square feet and 100s of decisions. While at a kitchen and bath showroom, I bought a bathroom floor model fully assembled for the boys bathroom, as I was tired of all the decision making!
How Many Pinterest Boards Do You Need?
After watching several client's remodeling projects quickly exceed their budgets, I created a table to help others plan and budget bathroom remodeling projects (read Bathroom Remodel on A Budget). That list was organized sequentially based on decisions and products/materials used to complete the project. The approach taken to decide how to organize Pinterest ideas for a bathroom remodel looks very different.
This is similar to a mindmap where you can decide on the important (priority) of different bathroom components. It's easiest to explain by illustrating what I would focus on if remodeling my master bathroom today.
Bathroom activities and function is more important to me. I'd focus on larger, more visually open shower and more storage, not necessarily to display things but shelves that make it easier to find and grab what I want. I would collect Pinterest ideas for – showers and display shelves. I'm happy with our his and her, walk-in closets and that's where we get dressed.
Bathroom look and feel isn't that important to me, with one exception. Writing this article makes me want to bump priority to replace the shower curtain with glass doors, to open up the space. Not sure if  I can justify the expense of replacing one wall a glass block wall so my research will include collecting  Pinterest ideas  for bathroom lighting and creative walls.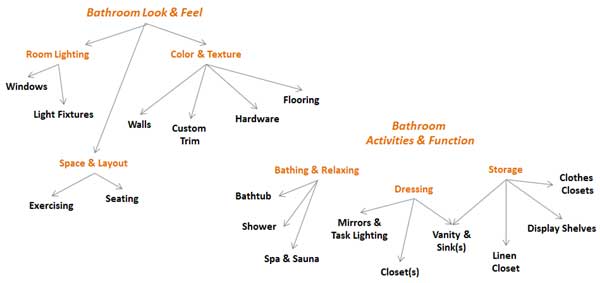 What Pinterest ideas are you collecting for remodeling projects?