Do you wish you had more photo wall ideas every time you see one at a friend's house? Photo walls are a great way to share family photos even if you're sharing photos via Facebook, Instagram or Flickr. But once you've shared them, you tend to forget about them. A photo wall allows you to enjoy your best photos, children's artwork or travel mementos all year round.
Guess what else people are sharing? They're sharing photos of … their photo walls (see our collection on Pinterest).
If you're creating memories and taking photos over the holidays, maybe it's time to create or update your photo wall. One friend takes a photo of her daughter each year, and displays them as part of her holiday decorating. You don't have to rely on school photos anymore, you can create a new family tradition and snap both posed and spontaneous photos when everyone gets together for the holidays.
Photo Wall Ideas That are More Formal
There really are an endless number of photo wall ideas but sometimes it's hard to get started. Some people prefer designs that are a bit more formal, so we've got several design ideas for you to start with. Don't think you need to follow these templates, rather they're just meant to help you get started and it's fine to break outside the boundaries, e.g. the lonely oval frame in the first design.   
Just like the individual photo frames you'll use, you can design a photo wall that is rectangular or square in shape, to fit the wall and the room or space you're decorating. The photo wall could be perfectly symmetrical but it doesn't have to be. The rectangular design below will require frame sizes that support clean edges on all 4 sides. Start by creating the box or rectangle you want, and fill in the center with other frames, odd sizes you want to recycle.
Tip #1 – start designing your photo wall from the center, and move towards edges.
Tip #2 – center the photo wall vertically for the average adult height. 
Tip #3 – if you're comfortable, mix and match frame styles and color. If not, lots of people spray paint their frames to give their design a more cohesive look and feel. 
Maybe you want a less formal look, but you're not ready to go completely free form? Here's one of the best photo wall ideas I found when researching this article. Instead of a box or rectangle, all you need is a horizontal (unseen) line to guide your design. Then all you need to do is add frames above and below the line, which works well when you want to tell a story.
Photo Wall Ideas – More Creative & Less Formal
Here's what you probably think of when you imagine a photo wall. The design is fairly free form, with a big letter and antique mirror. It looks easy but takes more care in laying out the frames, to make sure the spacing is balanced across the overall wall. Here's where the template is really important, to make sure each piece gets nailed exactly where you want it (or someday you'll be patching lots of holes). 
Tip #4 – layout frames on a flat surface (the floor works well) and draw a template using brown craft or butcher paper.
Tip #5 – you can hang up one large template which gets a little tricky pulling down after you've hung your photos, or cut out individual templates and tape (painter's tape) them to the wall but that requires spacing things a second time. 
Tip #6 – get creative about what you put in your frames, and add some whimsical items too. Lots of photo walls include the first initial (large letter H shown below) of your last name. Other ideas include mirrors, clocks, sillouettes, faux ribbon, key hooks (by the entry door) and sayings painted on the wall or piece of wood.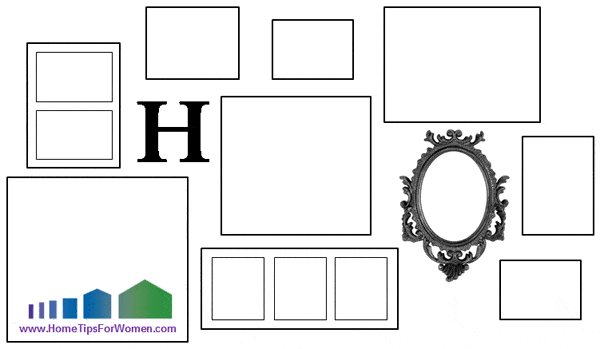 Stairs are the ideal place for photo walls of your family, something you're passionate about or travel memorabilia. Don't hang things too high as you want people to comfortably scan your wall while they're walking up or down the stairs, e.g. aim for eye level.
Ready to have some fun? or looking for some inspiration and tips on where to find inexpensive frames? You can find more photo wall tips here, including a list of where to buy cheap frames, or better said … nice frames that don't cost too much. 
Send us a photo of your photo wall
… and we'll include it in our homeowner photo gallery.