Painting is one of the least expensive ways to update a room, so when your teens are ready to take charge of their world, painting a tween room is a great project to do together. So join me working with my tween daughter to convert her bedroom from the pastels of early childhood to the bolder colors of the teen years.
Homeowner: Lee Laughlin
Project: Updating a bedroom
Budget: Under $100
Our house is a colonial built in 2003. It's 4 bedrooms and two and a half bathrooms in a relatively rural area. This house is the first that is ours from the ground up literally! I insisted there would be no white walls (or ceilings) in this house. On the first floor I picked a color scheme and used it through out. The second floor was a little more mix 'n match.
Pastel Paint For a Little Girl's Room
When we were preparing to move in, my mother-in-law let my daughter pick out all of the bedding and curtains for her new room. She was in pre-school at the time. The colors were a pastel purple, green and pink. I took my daughter to the home center and let her pick the wall color from a set of five or six pre-selected paint chips. She chose a light violet.
Bold Colors Great When Painting a Tween Room
Fast forward five years and the little girl is on the verge of becoming a teenager. She's out grown the pastels and is much more interested in bolder colors, so that's the story behind painting a tween room.
My daughter told me she wanted to paint her room. I was thrilled and told her I'd help her paint one time, and she'd be responsible for any future changes. I really wanted her to learn the process behind a great paint job, so I insisted she work with me to make this happen.
She started with an inspiration board, collecting images from magazines and web sites of wall colors she liked.
Next we went to the home center and I let her go nuts picking color swatches. Some of the colors I liked, some made my head ache, but paint chips are free, so I let her experiment.
We brought the swatches home and taped them to a sheet of white paper on her wall. I wanted her to see what the colors looked like under different lighting conditions.
When she'd narrowed her choices down to 5 paint colors, we bought acrylic paint that matched her semi-finalists. We painted large pieces of heavy card stock and put those samples on the walls.
As you can tell, I was in no hurry to complete this process. I wanted her to be VERY sure she picked a color she could live with. Finally she settled on a bright blue color that definitely wasn't my choice, but it fit her personality and could be accented with different colors.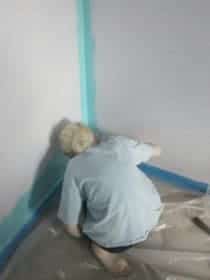 We designated a week over summer vacation to paint her room. As it turns out, the week we selected was the hottest, most humid week of the summer. Not only did I not want to be up on a ladder painting but it was so bad the directions on the paint can even said was too hot to paint! We had a busy summer and an even busier fall, so it was November before the stars would align and we could set aside a few days to prep the room and paint it.
I'm big believer in good preparation for painting. The more work you do up front, the smoother the actual painting process and end result will be. My daughter grew impatient with me, but once we got into the actual painting, she understood and dare I say appreciated all the prep work we had done.
It took 1 day to move the furniture and tape off the trim. We spent two days applying two coats of paint, drying overnight.  It took us less than half a day to put everything back and voila!
Painting a Tween Room … Fit for a Tween
My goal was to educate my daughter and provide her with a real world experience. We took a simple project, painting a tween room and truly created a room that reflected her style. I think we accomplished it all.
When it comes to kids' rooms, get your child involved. It's their space and the more invested in it they are, the more likely they are to care for it. Also, the experience will serve them in the future.
Would you let your child pick a paint color you didn't like?
---