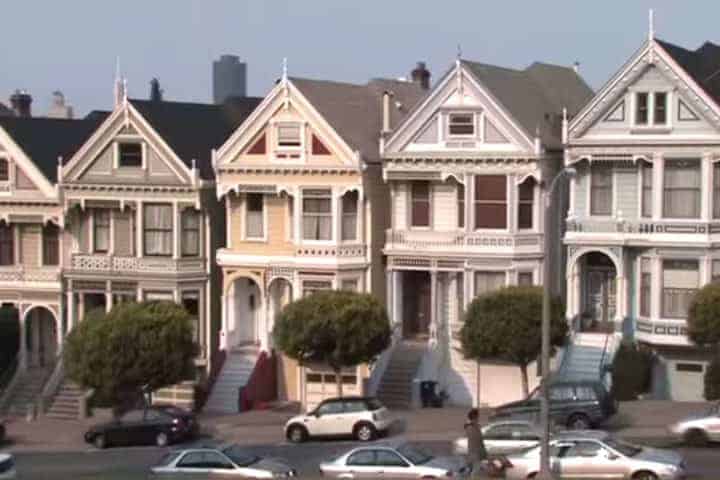 Color surrounds us from our houses, to the clothes we wear and the food we eat. You know your favorite colors and those you don't like but few of us know how paint colors are picked. (Read: Color Trends: Where Do They Come From)
When buying clothing or furniture, it's relatively easy to pick your colors because there are a limited number of choices. Picking paint colors for your house is far more challenging because the choices seem endless. There's a big leap of faith if you pick a color in a magazine or online, and expect the mood of the room shown, to flow into your house. That's why it pays to work with an interior designer/decorator to select your colors.
When an opportunity to attend a paint color event at Dunn-Edwards in Phoenix was offered, I jumped at the chance. I hoped to learn more about the paint industry and I came away impressed with the incredible expertise and attention to details that went into Dunn Edwards 300 new paint colors making up their Then, Now & Forever™ collection.
Where Do Paint Colors Come From?
Each year Pantone and various other companies announce their color of the year. You can ooh and awe over the colors but you have no idea where they came from, until now. The process that Dunn-Edwards followed to create their new palette of 300 Then, Now & Forever (TNF) colors was impressive which is why I wanted to share it with you.
Who contributed to the TNF color choices? The project was led by Dunn-Edwards color expert, designer and blogger, Sara McLean. Sara worked with David Wessel, principal at the Architectural Resources Group in San Francisco, and Mark Woodman, designer and trend analyst at the Color Marketing Group.
What themes influenced the TNF color palette? Based in Los Angeles, the company decided to focus it's new color collection on the colors appropriate for the southwest. The 300 new colors combine 142 historically accurate colors with 158 trending colors. Part of the process included analyzing how the new colors (shown as circles below), integrated with the existing Dunn-Edwards Perfect Palette® represented by squares.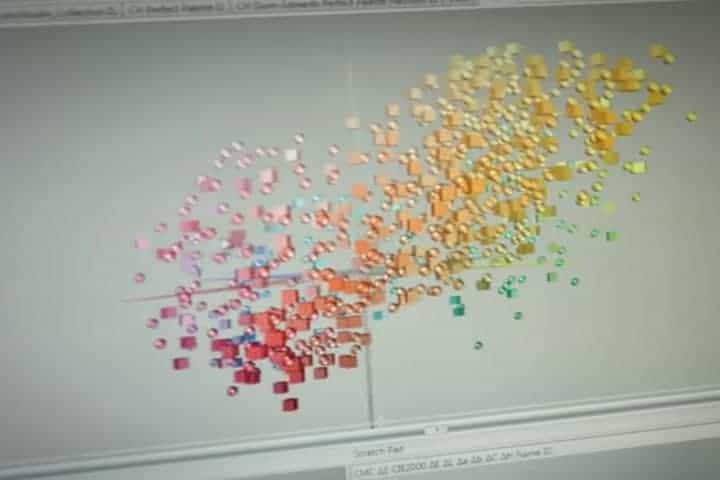 What research influenced the new TNG colors? These new paint colors weren't picked randomly. They looked at over 300 years of history with help from the Architectural Resources group with focuses on historical preservation and renovation. Beyond architecture and design, they looked at fashion, the arts and theater, and media from books to television, the movies and even technology.
Developing Paint Colors for Durability and Hide
When people buy paint they tend to focus on color, and almost forget they have to pick out a sheen too. (Read: Paint Finishes: Matte, Eggshell, Satin, Gloss?) Sadly many homeowners pick a paint brand and/or product based on price. They rarely understand that inferior products may require an additional coat of paint immediately, or more frequent painting … both of which can make the cheaper paint cost more when you factor in the cost of added labor and paint.
With one handyman job in Portsmouth, NH, I finally bought the right paint to complete a job. After this experience, I changed my company policy to require homeowners to buy their paint at a paint store, or we wouldn't paint their home. That's the benefit of working with professional painters and most contractors, they've learned what works and what doesn't.
That's why I appreciated hearing how Dunn-Edwards tests their paints for several key quality factors:
Fidelity – or the ability of the paint color to match regardless of the surface on which it is applied. This means the color on your walls or exterior siding will match the color on the paint chip.
Durability (photo above) – or fade resistance when the paint is subjected to sunlight, and for exterior paints, other elements like wind and dust.
Hide (photo below) – is the ability of paint colors to hide the colors behind the layer of paint. It's one thing to hear this concept described and a totally amazing experience to see first hand, paint samples showing how these hide tests were done.
Tools for Picking Your Paint Colors
Selecting the Right Paint Finishes
You're probably used to visiting your local paint store to pick out your paint colors. Dunn-Edwards has a lot of additional tools to help you find the perfect colors for your home:
Color matching app, InstaColor – is available at iTunes. It lets you take a photo and match the colors to Dunn-Edwards color palette.
Color visualization tool – coming soon, will let you upload a photo (or use one from their library) and explore different color combinations before you buy any paint, or lift a paint brush.
Color swatches, color samples and more – can be found on the Dunn-Edwards website. Just go to the footer on any page and look under "Color and Inspiration".
Thanks go to Dunn-Edwards for a wonderful introduction to how paint colors are created, and their wonderful new Then, Now and Forever collection. Having just moved to Arizona, I'm looking forward to exploring the historical colors for the southwest as I decorate my new home.
Photo credits to Dunn-Edwards at their event, and YouTube video on Then, Now & Forever.