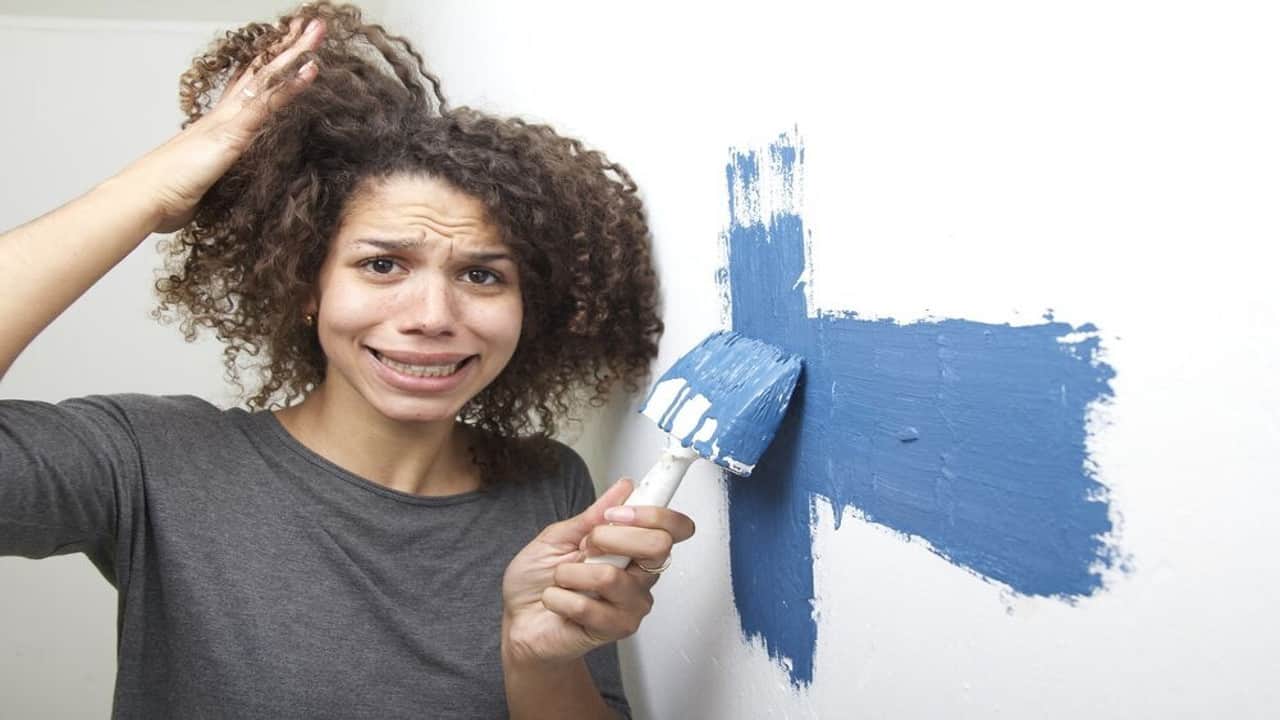 The way we perceive colors is weird. We have three cones in our eyes which perceive red, blue, and green colors. The cones work better in bright light. We also have rods, which can't detect color, but work well in the dark – which is why it's harder to see colors in the dark.
All of this has a huge impact on the paint in our houses. A color sample inside a poorly lit store is going to look totally different in direct sunlight – we just can't trust our eyes. That's why it's good to test paint colors in your home. You'll want to see how the color will look in the morning, noon, and night, how it will look in natural and artificial light.
Picking Paint Colors that Fit a Room
Always have a strategy to save yourself time and money! Say we're redoing a bathroom. Let's start with the things that will be the most difficult to change in the future and go from there…
The bathtub, shower, toilet, and sink require more intensive labor and are more expensive to replace.
Flooring includes both installation and material costs, and some choices (like tile) can be pretty high.
Furnishings like a bathroom vanity also influence the light in a room.
Lighting from both windows and fixtures will influence how your paint colors look in any room.
Paint and accessories bring the room together (image a plain white bathroom with nothing in it).
Okay, that's all really interesting, and a good start for remodeling – but what does this have to do with paint colors and lighting? Paint and accessories are the easiest features of your bathroom (or any room, really) to change. If you keep expensive home features neutral, you'll have the flexibility to change paint colors every few years (so you don't get bored) and you won't have to buy new furniture or accessories. You can go bold one year, then jump to white-on-white (which isn't as easy as you'd think – there are hundreds of white colors).
Outsmart Your Eyes
As I said before, your eyes often play tricks on you in regards to color – especially paint colors and lighting! In order to avoid making one of the most common mistakes, get some paint swatches home from the store put them up in the room(s) you want to paint. This way, you'll be able to see how your paint colors and lighting look in each room (remember to look at the colors several times a day). According to Kristie Barnett, "Natural sunlight provides the neutral balance between warm and cool ends of the light spectrum (yellow and blue, respectively). Northern light is the coolest, while southern exposure is the most intense. If you paint two rooms… the wall color will look different in each room."
There are lots of ways to use paint besides the traditional "all four walls," so get creative!
Pick different colors for the tops and bottoms of the walls. You can put a chair rail in between the colors to make it look more polished.
Use bold paint colors for a single accent wall. Interior decorators recommend keeping the number of paint colors to a minimum.
Use different paint colors for the backs of book cases or other built-in shelving. This is a good way to introduce color without having it dominate the room. Instead of paint, you can use fabric panels, too!
Combine white decorative trim with bold paint colors. This is a good way to decorate hallways, stairways, and more.
Paint your ceilings! Thanks to Pinterest, we're seeing more of this awesome trend. You'll have to take a peek at paint colors for creative ceilings.
Of course it can't be as simple as finding the right color. You have pick a paint finish, too…

Paint Colors and Lighting Aren't the Only Things to Consider
Your light fixtures (especially those on dimmers) can make rooms look remarkably different. If you don't want to bother with figuring this stuff out on your own, you can hire a lighting designer – or you can get some great advice at your local lighting store. Because not even something as simple as a lightbulb can be easy!
The photos above show how the same room can look dramatically different with different lighting. The camera flash was on for the left photo and, combined with the accent light on the left, the room is bright and cheery. When the flash isn't used and the accent light is turned off, the same room is darker and warmer, which is exactly the feeling I had when I visited this condo.
---