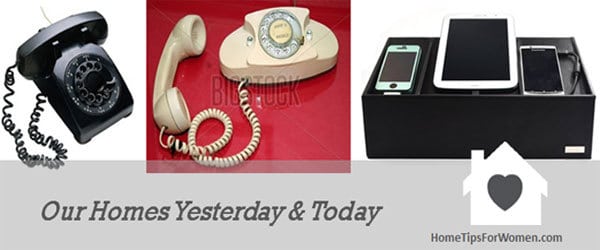 We're seeing so many changes in our homes, that we often forget what things used to look like. Most young people today have never seen the old black phone on the left. They certainly can't imagine how exciting the princess phone (center) was when it was introduced in 1959, even more than the introduction of a new iPhone. There is nostalgia when remembering our homes yesterday and today.
Do you have something you've saved from yesterday? We'd love to share, so email your photo and we'll add today's version, and post it here.
Yesterday and Today – Downspouts Can Be Beautiful
Yesterday and today was inspired by this beautiful downspout which I found in New Orleans. There are many old house fixtures that you can find at flea markets, antique stores and architectural salvage companies. Are you ready to take a journey down memory lane, and enjoy reclaiming a bit of the past?