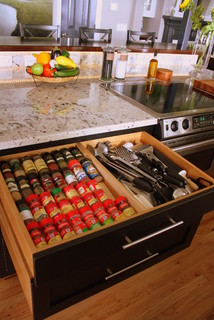 The traffic that flows through through your kitchen every day makes this room really tough to keep organized. And you might even think your kitchen is organized, when the counters are clear but it's too easy to through things into a drawer just to hide them. But if you create a plan to organize your kitchen drawers, everything you need will be exactly where you want it, when you want it.
Whole-room kitchen organization can be a major undertaking. Everything clean and put away isn't necessarily efficient, so starting with a small project to organize your kitchen drawers, can make a big difference and motivate you to keep going. 
Not sure you need to do this? Just think back over the last week or so. Have you tried in vain to open a drawer, only to find that it's stuck from too much stuff? Can you recall reaching into the dark recesses of a drawer to grab your favorite utensil? Ideally you want to be able to see everything in a drawer so you can grab it easily, and if you can't … then it's time to take on this job.
Organize Your Kitchen Drawers So You Know What Goes Where
A wide, shallow drawer isn't necessarily the best place for flatware, no more than a deeper drawer should only be a home for dish towels. More important than the dimensions of a drawer is its location. A well-organized kitchen has everything within easy reach of where you'll use it. If you have too much stuff to fit, maybe it's time to gift the things you never use like the serving spoons you received as a wedding gift, that yellow plastic orange peeler or apple corer (learn which kitchen gadgets people use every day)?
Think about the way you use your kitchen. Do you have a bad habit of leaving the dishwasher full because it's a pain to put everything away? Are you a lefty, or a righty? Do you grab a spoon to stir your morning coffee? There are so many factors that go into organizing your kitchen. Consider as many of them as you can.
Generally, cooking utensils are best stored near the stove. Flatware might go near the dishwasher, if you want more convenience putting them away. But then again, it might be better to keep flatware near the cabinet where you store dishes, for ease in setting the table. If you chop a lot of vegetables, knives might be better stored near your cutting board. Think about where you work for each chore in the kitchen, and which hand you use to reach. That will help you decide what goes where.
When Space is Tight, Look Up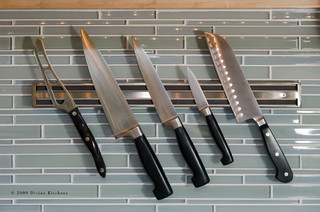 Utensils that you use most often don't have to go in a drawer at all. Knives, spoons, spatulas, whisks, and other items that already have a tough time fitting in a drawer might have a much happier home topside and they'll be easier to find because they're visible without having to remember which drawer they're in.
Storing utensils outside a drawer doesn't mean sticking them in a jar on the countertop, either. While that look works well in some kitchens, it could make a modern room look cluttered. There are lots of ways to store utensils on and above your countertops like this magnetic strip on the wall. It doesn't have to be fancy; it just needs to be convenient.
Organization Tools That Help You Organize Your Kitchen Drawers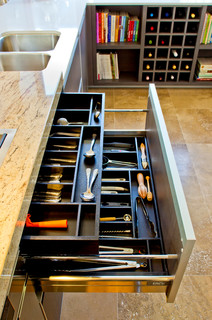 You don't necessarily need the typical sectioned plastic drawer organizer to organize your kitchen drawers. Cabinet add-ons, drop-ins, and drawer replacements offer clever, smart ways to keep your drawers in tip-top shape.
With replacement drawers, you need to find one that fits your existing space, and replace the drawer front with your own. You may even need to adjust the height of a drawer because of a new appliance, and there are drawer companies like TheWoodWorksInc.com that can help you do this.
Deep drawer systems also let you clear out some upper cabinets to store dishes, spices, bowls and even pots and pans. A tall, narrow drawer can give you a place for spices and cookie sheets, too.
Don't Forget the Junk Drawer!
Junk drawers happen, and they happen to everyone. Don't be ashamed of having a drawer for all of your bits and bobs; accommodate them.
A simple organizer might be all you need to transform your junk drawer into a useful place to store all of the odds and ends that find their way there. Batteries, rubber bands, ink pens, scissors, and anything else you toss in are easy to find again when they don't get jumbled together. The important part of the junk drawer is keeping it thinned down so the contents don't become overwhelming.
Kitchen drawer organization isn't much different from organizing anything else in your home. Making something look great doesn't help if it isn't useful.
Work with how you use your kitchen, and organize your drawers to fit your lifestyle. If the utensil drawer isn't in the right spot, move the contents. If you're short on drawers, use wall space instead. Organizing takes some thought and planning. Once you get it right, it will be easier to use, and easier to keep organized.
Have a favorite tip to organize your kitchen drawers?
We'd love to hear them!