The year end holiday season is magical with great music, food and time spent with family and friends. Speaking of food, there are lots of holiday kitchen gadgets that can save you time as you make your holiday treats. Here are my favorites, some of which might make a perfect kitchen gadget gift for someone special in your life.
When reviewing 100 plus small kitchen gadgets, there was no focus beyond things I have or would love (scroll to see what I've ordered). What I happily discovered is none of these gadgets have to be plugged in and only one uses batteries. They're small, easy to store and range in price from $9 to just two cost more than $25 … perfect kitchen gadget gifts!
Peeling apples can take along time but not when you have this wonderful, old fashion kitchen gadget that makes it a snap. Place your apples (potatoes or veggies) on the end and turn the crank. Peels come off in one or two pieces and us the crank to push the core out.
Powered by hand with an easy-pull cord mechanism that makes this gadget easy to use anywhere (no outlet needed). Use it to chop fresh herbs, berries, vegetables and cheese. Even if you need to fill it twice given it's small, 1 cup capacity … it's worth it and easy to store.
Fussy kids or company coming for dinner and they're vegetarians? Now you can make one pan with two or three different lasagna recipes and make everyone happy … including you as there's only one pan to clean. Great for loaf bread and cakes too!
What can I say – love my microwave and love my new veggie steamer that I use almost every day. My favorite is spinach – rinse, steam for 2 minutes, season and eat. Clean-up is a quick rinse and once you collapse it, tuck almost anywhere.
We're all eating healthier but sometimes it's not easy. Meatloaf makes a great and affordable family meal but there's the inevitable fat. The baking rack partners with the pan to let the fat drain, making serving the meatloaf so much easier.
Love baking but don't do it enough to master the art of rolling out your dough? Here's a rolling pin that let's you set the height of the dough (1/16, 1/6, 1/4 or 3/8) with the right colored disk. Ready to master great dough for pizza, pie crusts, cookies and more?
You want a great breakfast for your family and minimal cleanup would be great. You've got it now. Add ingredients through the bottom, toss in the BlenderBall from Whiskware, shake and pour your pancakes. Add soap, water, shake to clean and rinse … you're done.
Mornings are busy so why not save some time with this combination bag clip and coffee scoop? Keep a bag next to your coffee maker (hot water for tea) and all you have to grab is a cup for a fresh brew each morning.
Ever since I learned about vegetable spiralizers, I've wanted to get one … but the thought of keeping my KitchenAid on the countertop wasn't appealing. This cute little tool is perfect because it's quick and easy to use, wash and store. Great addition to your holiday kitchen gadget list … and perfect house warming gift for new homeowners.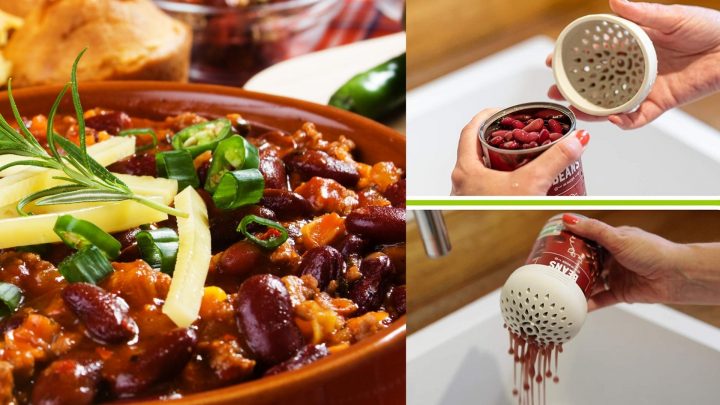 Chili is my favorite winter meal – healthy, easy to make, store and who doesn't love a bowl of chili when it's chilly (ha, ha) outside. This strainer reminded me how messy rinsing off the beans can get so … of course I ordered this set (3 with different hole sizes)!
Hmm, do you think the name influenced me? I actually love my Oxo can openers but if I'm being honest, I've started looking for the cans that have pull tabs so not even sure how much longer we'll be using can openers. Decided I might want to try this small electric (batteries, no plug) can opener that can be hidden in a drawer …
When I found this strainer I thought it was cute, with a great name. As I continued reviewing other holiday kitchen gadgets it simply stuck in my mind. Finally I realized it's real value – it's easy to store, saving space where today my large bowl strainers fight for space with my bowls.
Which of these holiday kitchen gadgets would you love to find in your stocking?
Looking for More Holiday Kitchen Gadgets?
Here are some of our other articles about kitchen gadgets and how to store them. We'll lead off the list with a funny story … something I'll never forget. When I left my husband, I decided to leave him with a furnished house. This would let me buy things as I needed them and that presented some interesting surprises like
New stoves no longer come with a broiler pan which I didn't realize. This would have been fine except discovering this on Thanksgiving Day meant I had to improvise … and the turkey came out fine!
---