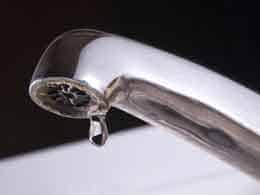 Leaky faucets (sinks, showers, bathtubs, outdoor faucets and appliances) waste on average, 10,000 gallons of water per home each year in the US. If you find your faucet is dripping, you have several options for fixing the leak, yourself or by hiring a home professional.  
Here are options to help you make the best decision for your home and budget, as most homeowners don't have great plumbing skills.
Home Repairs – Options for Fixing Leaky Faucets 
Options
Cost
Time
Skill
Buy a new bathroom sink faucet
$50 to $200+
1.0 hrs
Smart
DIY – repair existing faucet
 
 
 
DIY – install a new faucet
 
 1.0 hrs
 
Hire a plumber or handyman
 
 
 
Without plumbing experience, replacing the faucet may save you time and money because you'll likely need several trips to the store, and may have to uninstall, repair and re-install the faucet more than once to get rid of the leak.
Note: We are working on standards for completing this table, for all home repair tips. 
How to
REPAIR

 Leaky Faucets

There's no need for us to duplicate good do-it-yourself information on the web, so here are a few tips on repairing leaky faucets plus links to instructions we feel are well written. 
Wrapping your tools with duct tape to prevent scratching your sink, plugging up the drain.
Review your instructions several times before starting, buy all the materials you might need (easier to return what you don't use, than running to the store in the middle of the job) and try to get answers to all your questions before you remove your faucet. 
As you remove each part, lay them out in order so you know the sequence to use when re-installing the faucet.
We're not trying to duplicate good information, so here are instructions we found that are well done.
Home Repair Tips to
REPLACE

Your Faucet

Sometimes the best way to repair a leaky faucet is to replace it. Before you go to the store, draw a template or measure (width of faucet to buy. Stick with the finish you have, e.g. chrome, because few people realize how many pieces of hardware there are in a bathroom (see bathroom planning tips). When remodeling a bathroom for one of our handyman customers, he picked a bronze faucet which added about $400 to the project in order to swap out shower, bathtub, toilet and vanity hardware to match.

Manufacturers sell faucets based on their design, e.g. what we see on the outside. While important, you also need to consider the following criteria when buying a faucet:
Which types of faucets are the most reliable, e.g. least prone to leaks? 
For homeowners installing a faucet, which faucet styles are easiest to install and repair?
Does the faucet meet the EPA's new WaterSense criteria for faucet water conservation?
 For those who are replacing leaking faucets, here are some of the best articles and videos we found. 
Leaky Faucets and Hiring a Plumber?
Photo credits go to Lowe's.
---
Disclaimer – Articles, videos and link recommendations on Home Tips for Women, are provided for informational purposes only. Our goal is to provide general guidance on home repairs like repairing leaky faucets. Because tools, products and materials, techniques, building codes and local regulations are continually changing, Home Tips for Women assumes no responsibility for the accuracy of the information contained herein and disclaims any liability for omissions, errors or the outcome of any projects. It is the responsibility of the visitor to ensure compliance with all applicable laws, rules, codes and regulations for an home repair or home improvement project. You should always take proper safety precautions and exercise caution when taking on any project. If there is any question or doubt about any element of a project, please consult with a licensed professional.