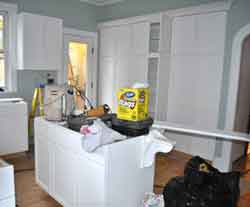 Kitchen cabinets almost always live in the kitchen, but sometimes they find themselves filling other useful roles in the house. That's because kitchen cabinets are very good at providing storage that we need to organize all the things we like to buy, right?
When you remodel your kitchen, you have lots of decisions to make. You can keep the wood frames of the existing kitchen cabinets and replace just the front pieces (learn more about kitchen cabinet construction) or you can replace the cabinets. For this article, we're going to assume you'll replace the cabinets and we'll show you creative ways to reuse the cabinets somewhere else in your house, or possibly someone else's house.
Kitchen Cabinets Often End Up in the Garage
Where do most kitchen cabinets go after they leave the kitchen? They end up in the garage along one or more walls because we like to keep a lot more than cars in the garage (read about creative garage storage using kitchen cabinets and more).
It's easy to move your kitchen cabinets to the garage because there aren't a lot of windows leaving lots of clear walls to hold the cabinets. It's also less important that the cabinets fit exactly the way they do in the kitchen, i.e. if you've got a foot or 2 free on either side, that's fine and it'll look like it's planned once you put the skis or surplus wood there.
One word of caution for when you do install your kitchen cabinets in the garage or any other room in the house. These cabinets are built very sturdy to hold considerable weight, i.e. lots of canned goods or dishes. This means the kitchen cabinets have to be securely attached to the garage wall studs, not just the drywall. In a kitchen where they know there will be cabinets, extra sheets of wood or "blocking" are installed horizontally on the walls so the cabinets can be installed safely. Where your garage walls already have drywall, you can run blocking over the drywall as the cabinets will hide them.
Photo credit and more details on installing kitchen cabinets at HomeConstructionImprovement.com.
Kitchen Cabinets Elsewhere in Your Home
When your garage has enough storage and you're replacing your kitchen cabinets, you've got lots more options in your home. When we were remodeling my Victorian, we reconfigured the kitchen from a tiny, cramped 1 and a half person kitchen, to an open kitchen – family room with an island and seats for 4 people. Fortunately our builder was a stickler on never throwing away what could be recycled and our old kitchen cabinets found homes in several places.
Most of the cabinets went upstairs to the apartment on the third floor, which we called the tree house. While we hadn't planned to update this kitchen, our builder made it happen for minimal cost. There were enough kitchen cabinets to replace the ones that were there. Steve also extended the counter tops out 4 feet from the sink, to create an island with seating on the living room side.
The only kitchen cabinets remaining were the corner cabinets and it didn't take long to find a home for them. We were adding a second closet to the master bedroom and with a little extra space on one side, the corner cabinets fit perfectly (see photo) and if you're designing a home or addition, you might consider putting kitchen cabinets into your closets as they provide nicer shelving than you usually find in closets.
Another room that always needs more storage is the home office. Greg Greene used corner kitchen cabinets to make good use of the space underneath the work surface, which might otherwise go unused.
Recycling Kitchen Cabinets
When all your creativity is used up and there simply isn't any place in your home to recycle those kitchen cabinets, don't throw them away. Someone else can use your cabinets although it will take a bit of your time to sell or donate them to a worthy cause. My favorite way to donate gently used kitchen cabinets is my local Habitat for Humanity Restore and they'll pick them up from your home, although you've got to uninstall them. There's always word-of-mouth or in today's digital world, you can sell items like kitchen cabinets on CraigsList.org or give them away on FreeCycle.org.
Where are your old kitchen cabinets?