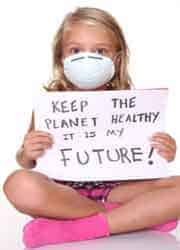 We assume the air in our homes is clean because we can't see any pollution. Sadly our indoor air quality is declining as we make our homes more airtight and soon we'll need to install mechanical ventilation systems (fans) to insure a certain number of air exchanges happen every hour. You already have mechanical ventilation in your house — in your kitchen, the vent you turn on when cooking and your bathrooms  have exhaust vents to remove moisture when you take a bath or shower.
Why is this important? Maybe you have a family member with allergies or worse, asthma which is increasing in the US even though smoking and air pollution are dropping. This article outlines what homeowners can do to reduce air pollution inside their houses, and introduces the top 10 pollutants commonly found in our homes.
Reducing Indoor Pollution in Your Home
There isn't one easy solution to improve your home's indoor air quality (IAQ) as there are many different problems. The term "indoor air pollution" covers a wide array of things in the air that affect the human body, many which can't be seen. The EPA released Healthy Indoor Environment Protocols for Home Energy Upgrades to focus on air quality as homes are made more airtight and energy efficient. Gina McCarthy, EPA Assistant Administrator for the Office of Air and Radiation says "… These protocols will help the home energy retrofit industry deliver high quality work while protecting the health of families."
There are 3 ways to reduce air pollution in your home and depending on the severity of the problem, you'll want to use a combination of these.
Reduce the number of pollutants you introduce into your home by learning what to avoid like VOCs in paint and formaldehyde in home furnishings.
Install a mechanical ventilation system that proactively exchanges fresh air from outside with stale indoor air that harbors pollutants.
Be more diligent in changing filters already in your home, and consider adding some type of air purifiers to filter out pollutants remaining in your home.
Top Air Pollutants in Our Homes
Radon – is a radioactive gas found in the ground. It enters your home through cracks in floors and walls touching the ground. It's colorless, tasteless and odorless, so you have to test to find the problem. Once identified, ventilation (most often in the basement) is used to remove the radon.
Secondhand smoke – comes from burning tobacco products. Secondhand smoke affects anyone exposed, and it causes cancer and serious respiratory illnesses. Unfortunately children are especially vulnerable to secondhand smoke so you'll want to ask smokers to do so outside.
Combustion pollutants – are gases or particles that come from fuel burning appliances that aren't vented properly — wood stoves, gas stoves, water heaters, dryers, fireplaces and space heaters. The pollutants vary depending on the type of appliance and how well it's installed, maintained and vented. Carbon monoxide detectors are critical as it's colorless, tasteless and odorless and … poisonous. Other gases while not deadly, cause health problems.
Biological pollutants – include mold, mildew, dust mites, dander and more. While you can't avoid them entirely, you can reduce the risk of mold by inspecting and repairing water and moisture problems quickly (within 24 to 48 hours). Wash bedding in hot water to kill mites and dust, vacuum and wash regularly to control pests.
Volatile organic compounds (VOCs) – are gases emitted by many different things including paints and lacquers, paint strippers, cleaning supplies, varnishes and waxes, pesticides, building materials, furnishings, air fresheners, and dry-cleaned clothing. VOCs evaporate into the air when used and sometimes when stored.
Formaldehyde – is found in the home in glues, textiles and building materials. Look for formaldehyde free products when buying drapes and carpeting and use exterior-grade pressed wood products (particle board, medium-density fiberboard, plywood)  which use less formaldehyde in their resins. Formaldehyde is also found in urea-formaldehyde foam insulation (UFFI), in homes built in the 1970s.
Pesticides – are used outdoors to maintain landscaping but they're dangerous. Only purchase what you need to avoid remaining chemicals giving off fumes in your house and it's better to store pesticides outside rather than in your home or garage.
Asbestos – was once commonly used in home construction because of its ability to insulate houses and resist fire. The fibers are so small they can be easily inhaled and most forms are banned by the federal government so the risk lies mainly with older homes built after the EPA issued its ruling on asbestos containing products.