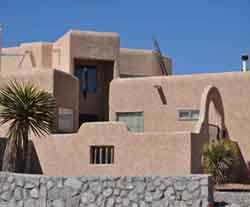 Insulation is like the lining of your coat, it stops the heat your body generates from escaping and by doing so, keeps you warm. Our home's insulation works the same way to keep us comfortable, by reducing the amount of conditioned air leaving our homes — warm, heated air during the winter and cool, air conditioned air on hot summer days.
Insulation isn't a new concept although the focus on insulating our homes really started after the oil crisis in the 1970s.  Houses built hundreds of years ago had thick, solid walls made of timber (think of log homes), adobe, plaster, etc and these materials offered insulation in addition to their structural value.
How Insulation Works
Heat flows naturally from warmer to cooler spaces. That means the heat you generate in the winter moves from heated living spaces to the outdoors and unheated space in your home like the attic, basement and garage. In summer, air from outdoors moves into your home because it's warmer than the air conditioned air inside your home. The problem is you run your heating and air conditioning systems longer to keep your home comfortable, because you have to replace the lost air and this wastes energy.
By insulating the floors, walls and ceilings that surround your conditioned space, you provide resistance to the flow of heat in either direction. When less heated air flows into or out of your home, you don't have to run your heating and air conditioning systems as long and that results in lower energy costs.
How Much Insulation Do You Need
You can't see most insulation in your home. Insulation fills the cavities between the lumber framing your floors, walls and ceilings. Only where these surfaces are unfinished like your basement ceiling or attic floor, can you see the insulation. That's why adding insulation to the attic floor is the most common project done to existing homes. Wall insulation is difficult to add, except when you're replacing siding and then you do get easier access to the walls.
How well an insulation product resists heat flow is designated by it's R-value. R-values are based on the type of insulation (Department of Energy, Types of Insulation), it's thickness and density. If you use multiple layers of insulation, you add the R-values of each layer together for your total R-value. The higher the R-value, the greater the insulating effectiveness.
How much insulation you need varies based on where you live. Energy Star provides the following recommended insulation levels for retrofitting existing wood framed houses (similar tables exist for new construction). You can also get detailed recommendations for your home based on the first 3 digits of your zip code and the type of fuel your house uses for heating.
Zone
Adding Insulation to Your Attic
Floor
Uninsulated Attic
Have 3–4 Inches of Insulation
1
R30 to R49
R25 to R30
R13
2
R30 to R60
R25 to R38
R13 to R19
3
R30 to R60
R25 to R38
R19 to R25
4
R38 to R60
R38
R25 to R30
5 to 8
R49 to R60
R38 to R49
R25 to R30
Add insulation to

uninsulated

wood-frame walls

when siding is removed:

Drill holes in sheathing and blow insulation into empty wall cavity before installing new siding, plus
Zones 3–4: Add R5 insulative wall sheathing beneath the new siding
Zones 5–8: Add R5 to R6 insulative wall sheathing beneath the new siding.

Add more insulation outside wood-framed walls with insulation, when installing new siding:

For Zones 4 to 8: Add R5 insulative sheathing before installing the new siding.
Laboratory measurements won't always accurately reflect conditions in the real world. Most insulation materials lose their effectiveness when installed incorrectly, i.e. crammed into a tight space. Temperature can also make a big difference where some insulation works better in colder temperatures, while others work best in warmer environments.
Note: Double pane windows provide resistance to heat loss, similar to insulation. The air or gas (higher density) acts as a barrier and slows the loss of heat through the window glass. This is important to understand as a window will allow up to eight times more heat to escape compared to the same area of insulated wall.