As our homes have gotten bigger, we've been adding bathrooms, a half bath on the first floor and multiple bathrooms off the bedrooms. Bathrooms started as simple and functional, but a huge improvement over outdoor facilities. The mere idea of not trekking through the snow made life so much more pleasant. However, the sparkle and shine of today's bathrooms has been a long time coming. 
With full bath renovations into spaces of spa-like relaxation and beauty, the humble half bath is still lagging behind in some homes. That doesn't have to be the case, though. In fact, updating a half bath requires a much smaller investment and a little splurge goes a long way. 
Where's the Bathroom? 
Half baths are convenient little nooks where you can dart in and back out quickly. But they also give guests a tidy, easy-to-access space that's away from what might be a messy family bathroom. When the half bath is in order, you don't have to worry about whether the hand towels in the main bath are neat or your toothbrush is on the counter. 
This clever little sign is both decorative and functional. It looks smart by the door, but it also helps avoid that sometimes embarrassing question, "Where is your bathroom?" It lets guests know exactly where to find the facilities, and looks good doing it. 
You can create your own Bath sign, like this one, using plant brackets, tea cup hooks, oval wooden plaques, and some paint. 
Ways to Make Your Half Bath Over
The small dimensions of a half bath let you squeeze one in almost anywhere there's a niche. Some are tucked under a staircase, at the end of a hall, or even an unassuming triangular spot situated in an unused corner of a room. Small corner sinks like this one make it possible. They also help conserve space in a more traditional half bath.
Areas of your house that you couldn't ordinarily use for much more than storage, such as under the eaves or a staircase, are a perfect fit for a tiny bath that doesn't need a lot of headroom. Like this clever use of space. Notice how the layout of the powder blue bath makes the most of the angle of the ceiling.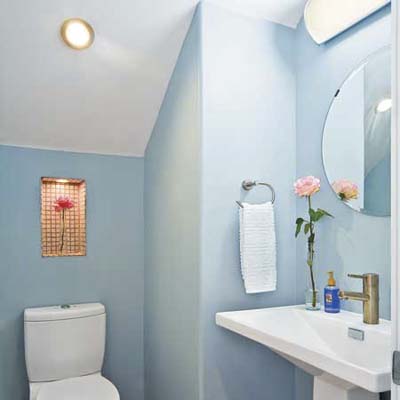 In a larger space, unusual shapes might be challenging; in a tiny bathroom, they're perfect for enhancing. For example, take a look at this long, narrow room. The basin is slim, so it doesn't take up precious floor space, and even the toilet is narrower than you'd find in a larger bath.
Instead of an overwhelming array of floor tile and other accoutrements in an attempt to trick the eye, every detail in this room enhances its slender shape as part of the overall appeal. Sometimes it's best to work with what you've got instead of fighting against it. 
Room for a Little Whimsy, Whimsy for a Little Room
The function of a half bath has very little to do with getting ready for work in the morning, bathing the family dog, or storing stacks of bath towels. Because you don't really need a lot of cabinetry or shelves, why not consider a bit of whimsy?
This daring little bathroom brings in, of all things, a vintage bicycle and converts it into a vanity! With a salvaged wood plank to support the basin, the wire basket collects hand towels for your guests to use. As long as there are openings for the sink drain and faucets and room for the water supply underneath, you can transform unexpected things into a vanity.
Consider your half bath a blank canvas on which you can paint anything you like. If you want bead board on the ceiling, go for it. Pricey, hand painted Mexican tiles for the floor? Sure, and they won't set you back as much as they would for a large bathroom. 
Whatever your style, you can perk up a tired half bath with fewer materials and less time than a full bath renovation. And the best part is that everyone will get to enjoy it, including your guests. 
If you don't have a half bath at all, why not scout out a spot, about 4 feet wide and 6 to 8 feet long, to create one?
Do you have any clever half bath ideas? We'd love to hear them!
Photos via Pinterest, and there are lots more ideas waiting for you there.