Hurricane Ian has dominated the news with stories about the destruction, losses and challenges ahead as people work to restore their lives. While recovery is important, it's also critical that we find success stories to help us learn how to prevent disasters in the future.
We can't stop hurricanes but we can reduce the risk of damage caused by hurricanes. Florida has created building codes to make houses better able to withstand hurricane force winds … but what about the water?
The problem is more damage from Hurricane Ian, especially in central Florida, was caused by flooding and it's clear we weren't prepared for more than a foot of rain. There's water everywhere (below) and while my house and neighborhood didn't flood … I'm worried because the water isn't draining the way it should.
Hurricane Success: Protected by a Dry Pond
In new Florida developments, builders bring in fill to raise the ground level to make sure houses being built aren't in a flood zone. They also leave large ponds, wet or dry, to capture rain runoff during storms. That's why there's a large football size field or "dry pond" behind my house.
There's a six to eight food drop from my backyard to this field, which made me feel secure as Hurricane Ian approached Florida's west coast. Having never seen water in this field over four years, I decided it was time to take photos each day to learn more … and with so many people asking, it made sense to share this photo story.
9/28/22, Hurricane Ian Makes Landfall on West Coast
We had moved all my patio furniture into the garage the day before. Then we realized our neighbors who live in Chicago and Michigan had all their furniture outside, so my son and kids helped me moved everything indoors … and of course, the kids had fun.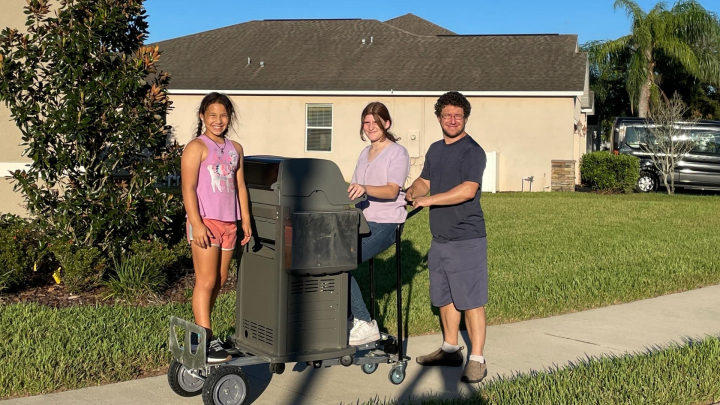 While the rain had started, there was little else happening so I decided to go for a hurricane walk around 6pm to see what was happening in the neighborhood. There was very little debris on the streets and some of the dry ponds had started to fill up with water.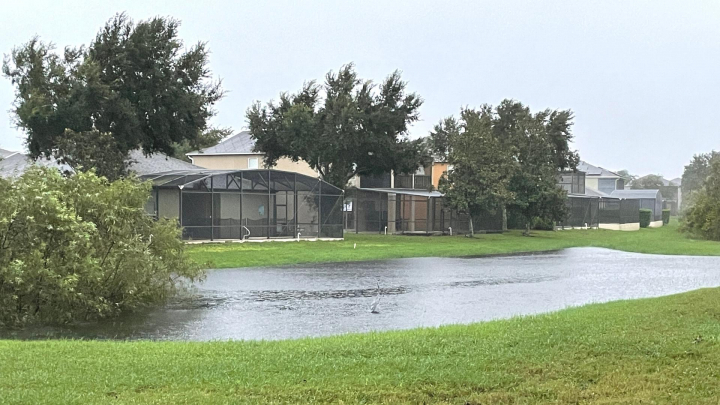 9/29/22, Hurricane Ian Damage Overnight
At times during the night I heard the wind and rain but it was too dark to see anything, so I never got up. No surprise that my dry pond was full of water (my guess, about a foot of water) the next morning.
Most surprising was how the sand hill cranes toured the entire neighborhood multiple times that day … looking for missing family members?
9/30/22, Pond Drying Up & Clean Up Starts
The water has drained quite a bit, just the way you'd expect a "dry pond" to hold the water until the ground is able to absorb all of it. Repairs also started as every storm, not just hurricanes, rip quite a few screens off the pool enclosures so popular in Florida.
There's only one thing left to clean up. My neighbor's palm tree snapped in half and with so many more important things, it's taking time to get someone there to cut up and removed the 12 feet of tree.
Learning How to Prevent Disasters
While I had no real damage from my first Florida hurricane, I'm worried that water elsewhere in my neighborhood remains two weeks after Hurricane Ian. It's also scary to not understand why there was so much flooding in the greater Orlando area.
Where We Live Makes a Huge Difference
Probably the biggest success story related to Hurricane Ian is Babcock Ranch, a solar powered community located just 12 miles northeast of Fort Myers. And while I'm not an expert in this matter, here's what I've figured out so far:
Now let's look at similar elevation numbers for areas around Orlando.
Kissimmee, the city next to my town has an elevation of 49 feet, so why did it flood?
Kissimmee has a large lake and developments near the lake flooded because they're less than 10 feet above the level of the lake.
Underground utilities, solar energy
How to Prevent Disasters Requires Smart Development & Maintenance
While glad that my home suffered damage from Hurricane Ian, there's a lot more research needed to decide if it's time to buy flood insurance (and then Do You Really Need Flood Insurance will need updating). Here are the things that I know make a house more sustainable:
Windows that adhere to Florida building codes are better able to withstand high winds.
Florida building codes also require roofs to be tied down more securely to survive hurricane force winds.
Underground utilities mean fewer structures that can be toppled by strong winds.
Roads designed to flood instead of the houses surrounding them (but where to you put your cars?).
Swales, ponds and other landscaping that captures excess rain fall is another way to prevent flood disasters.
Government infrastructure like South Florida Water Management District's Three-Tiered Drainage System are critical from initial development to robust maintenance.
After writing this article, I plan to talk to my Homeowner's Association, to learn why water isn't draining in some areas. My discussion will start with topics covered in this article, Retention Ponds in HOAs … as I'm worried that our storm water safety net isn't being maintained.
How has Hurricane Ian affected you, physically and/or emotionally?
---