When most people think about Nepal, their first picture is Mount Everest. It's in the news frequently with records being set or maybe you've seen the movie Everest, about the tragic events of 1996. If you're healthy and love a challenge you might want to join a trek to Everett's base camp. Alternatively, you can view Mount Everest from the comfort of a plane flying from Kathmandu … and you'll enjoy seeing many mountains surrounding Everest.
There are five different ways to see Mt. Everest, enabling every visitor to Nepal the opportunity to view this majestic mountain. We'll list them in order of the time required as we know there are lots of other things you want to do while visiting Nepal.
1 Hour Flight to View Mount Everest
From the Kathmandu airport (4,390 feet) you flew into when arriving in Nepal, you can take one of the daily scheduled flights. Weather permitting, they leave every morning with each passenger getting a window seat to view the Himalayan mountains for most of the flight.
Cold Feet Adventures can arrange your flight and transportation to the airport if needed. Flights go as high as 22,000 feet to allow you to view numerous mountains with several over 8,000 meters (26,246 feet). These include Gosain Than, Cho-Oyu, Lhotse and Makalu … plus Everest at 8,849.8 meters (29,031 feet).
1 Hour Drive to Nagarkot Outside Kathmandu
If you don't have much time while visiting Nepal, Nagarkot is a short one hour drive outside Kathmandu. It's a beautiful village on top of hill surrounded by terraced fields, farmhouses and more, so you'll also experience life in Nepal.
Perched on the edge of the Kathmandu Valley and weather permitting, you'll be able to see the Himalayas and Mount Everest to the north. You can stay overnight and hike the trails around the village.
Take a Cable Car to Chandragiri Hills
A new option for viewing Mount Everest from Kathmandu is the Chandragiri cable car completed in 2018. Chandragiri is just 12.1 kilometers (7.5 miles) from Kathmandu so reaching the cable car is easy.
The cable car ride goes for 2.4 kilometers with 38 gondolas carrying roughly 1,000 passengers each hour. You can enjoy great views of the surrounding countryside, offering a glimpse into the terraced agriculture and on clear days, you can get a glimpse of Everest. There are other things to do in Chandragiri including a children's park, food court and a visit to the Bhaleshwor temple.
5/More Hours for a Chartered Helicopter Flight to Mount Everest
There are lots of helicopter options available to view Mt. Everest. The shortest trip is five to six hours, flying from Kathmandu to Kalapathar, 5,545 meters (18,192.26 ft). Another popular heli flight includes breakfast at the 5-star, Everest View Hotel with a great view of the mountains including Everest.
We can work with you to pick the ideal group heli tour or help you create a personalized itinerary when you charter your own helicopter for one or several days. Feel free to contact us for booking or other information regarding Mountain Flights in Nepal. We are waiting for you in Kathmandu.
Shorter Treks with Views of Mount Everest
The trek to Mount Everest base camp takes 13 days, more time than many visitors can afford. There are other treks in the Everest area which provide great mountain views so you can enjoy a few days of trekking plus a view of this majestic mountain.
Here are just a few trekking choices in the Sagarmatha National Park where Mount Everest is located. There are also viewing opportunities from other parks
A 5-day trek to Tengboche offers wonderful views of Everest. There's also a famous Buddhist monastery above the Sherpa capital, Namche Bazaar at 3,367 meters (11,046.59 ft) and lodges where you can stay overnight.
If you want a short trek as that's what you're supposed to do in Nepal, you can arrange for a short trek (3 to 7 days) to Nargarkot … instead of driving there.
Many visitors to Nepal spend a few days in the Annapurna Region. Although it's some distance from Everest, the Poon Hill viewpoint at 3,210 meters offers fantastic views of the Himalaya mountains
Ready to Trek to Mount Everest Base Camp?
Probably the most famous trek in the world with it's amazing history. The trip to Mount Everest's base camp takes a minimum of 14 days, to insure enough time to acclimatize for the higher altitude.
You'll experience the Sherpa culture as you pass through their villages. You'll enjoy amazing views of the Himalayas along with magnificent forests and flora including rhododendron and magnolias.
Given its popularity, the main trails tend to be crowded which is why we offer other treks in the Everest region. Some of these include our Everest Tyangboche Trek (10 days), Everest Chola Pass Trekking (18 days) and ColdFeet's Classic Everest Trek (21 days).
Fun Facts About Mount Everest
Most people recognize Mt. Everest as the tallest mountain on earth. You might not know much more unless you've been preparing for a visit to Nepal or hope to climb to Everest's summit. Here are some fun facts you might find interesting.
Everest according to the Nepalese government is 8,848 meters (29028.87 ft) which is 4 meters taller than the Chinese believe.
Everest is not the tallest mountain on earth. It reaches the highest altitude above sea level while Mauna Kea on the island of Hawaii is taller, extending 6004.56 meters (19,700 ft) below sea level.
At the summit of Everest, wind speeds have been recorded at 280km/hr (175 mph) with winds over 160 km/h (100 mph) fairly common.
Temperatures on the summit are also extreme falling below -50 degrees celsius. Average temperatures at the summit are -19C in the summer and -36C in the winter.
Everest has several names. It was originally named Sagarmatha by the Nepalese, meaning 'Goddess of the Sky'. The Tibetans call it Chomolungma, meaning 'Goddess Mother of Mountains'.
The first recorded summit of Mount Everest on May 29, 1953, was made by Sir Edmund Hillary from New Zealand and Tenzing Norgay, a Nepalese sherpa. What's unknown is whether George Mallory and Andrew Irvine reached the summit in 1924, before they disappeared.
More than 6,000 people have summitted Everest more than 11,000 times. The record holder is Kami Rita Sherpa, who completed his 28th ascent in 2022.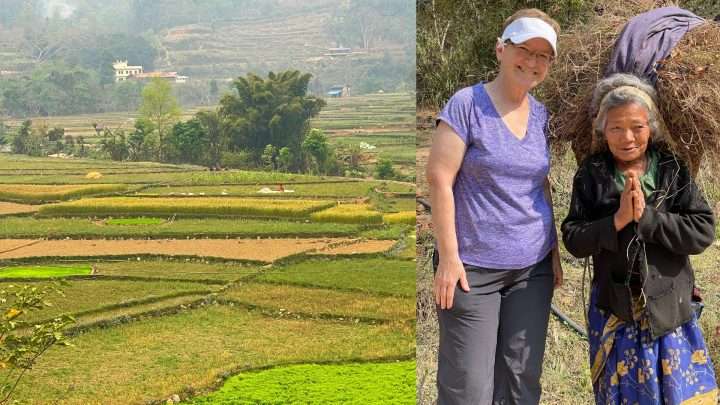 Planning Your Dream Visit to Nepal
Cold Feet Adventure wants to help you plan your dream trip to Nepal. Based in Kathmandu, our team will use their personal experience growing up in Nepal and traveling throughout the country. We're here to help you create your personal itinerary from trekking, to touring famous landmarks, visiting the countryside and learning about the people, religion and so much more.
Questions for Gopi:
Original article 391 words, 2,336 characters … better if 600+ words
Do you also book helicopter flights & okay to list them here?
Should we include the tour driving to Tibet to view Everest from the other side?
Gopi, my sense is one way you're different from other companies is you work with customers to customize their treks/activities to what they want to focus on … yes?
Need original photo at top of this page as I don't like heads being cut off