Regular home maintenance is more than fixing a creaky door and using the right floor cleaners to preserve your investment. A home energy audit can help you determine how efficient your home is, and where you can make improvements.
These home improvements can lower your energy use, and that means lower monthly utility bills. This also means you'll run your heating/cooling systems for fewer hours and with less use, you're likely going to get more years of service and save even more money. 
Home energy audits are usually performed by companies specializing in home assessments and/or major home energy improvements like windows, siding or insulation. They use sophisticated equipment for a blower door test to measure how airtight your home is, along with infrared cameras to see where you're losing heat. But you can perform a DIY home energy audit to get a better idea of your home's carbon footprint. 
Here are some basic tips for a simple home energy audit that you can perform on your own:
Home Energy Audit Tip #1: Inspect for Air Leaks
Also known as drafts, air leaks can affect your comfort level as well as energy consumption all year long. During a home energy audit, you should check indoors and out for obvious, and not-so-obvious, air leaks. 
You'll first identify and catalog the leaks you're already aware of. For example, you can expect to find cool air on exterior walls near electric outlets and light switch plates, doors and windows, baseboards and more. Inside your home there are air leaks between conditioned (heated and cooled) space, and unconditioned space — attic doors, cables that run through walls, dryer vents and other parts of the house.
Stealthy leaks may be found around plumbing pipes, foundation cracks, and mail slots, according to the U.S. Department of Energy. If you have a basement or crawlspace, air leaks in the foundation can lead to cold floors in the house.  
The Department of Energy gives tips for finding drafts that are hard to pin down because you can't see them. Turn off your heat or AC, shut windows and doors, turn off fans and appliances — then light a stick of incense and hold it near common areas of air leaks, such as doors, baseboards, and windows. If the trail of smoke blows, you've got an air leak. You can also do this with a lighted candle, and watch to see if the flame moves.
Home Energy Audit Tip #2: Inspect Insulation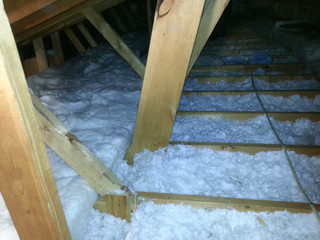 Your home's insulation can make or break your home's energy efficiency. If your home is older, chances are more insulation would help as building codes over the years have called for higher insulation standards. But even new construction might benefit from more. In some cases, there is adequate insulation, but it was installed incorrectly. 
While you can't inspect the insulation in walls without cutting into the drywall or plaster, you can check insulation in an unfinished attic with relative ease.
Look for a vapor barrier, such as paper, tar paper, or plastic, under the attic floor insulation. For example, on paper-faced fiberglass batts, the paper side of the insulation should face down and the fiberglass side should face up. 
The vapor barrier rule is that it always faces the living space. That means on the attic floor, you should see insulation and a vapor barrier underneath. On the ceiling and walls, however, you should see the vapor barrier facing out. 
If the insulation thickness isn't level with the top edge of the floor joists, you can add another layer of unfaced batts or blown-in loose insulation on top. Don't add extra batts with a vapor barrier, as this can cause condensation problems. You can also add more insulation crosswise over the joists, as long as you don't plan to install an attic floor. 
Home Energy Audit Tip #3: Inspect HVAC
The easiest way for you to improve your HVAC unit's efficiency is to replace the air filters every 30 to 60 days. There isn't much you can do to test the equipment itself, but this simple act can prolong the life of the unit, give you cleaner air, and help the unit work more efficiently. 
If you can access the ductwork, inspect for dirty marks along the seams where sections fit together. These dark streaks are indicators that the ducts aren't sealed properly, which means you're losing heated and cooled air through the leaks. You can seal them using mastic made for ductwork. 
If your ducts aren't insulated, you're also losing some efficiency. Heated and cooled air travels through the metal ducts from the HVAC unit to the rooms in your home. If the ductwork isn't insulated, heated air looses it's heat and cooled air gets warmer, which causes your air conditioning system to work harder to cool your house.  
Home Energy Audit Tip #4: Estimate Electric Consumption
The appliances and otherdevices in your home can add up to significant energy consumption. One way to help mitigate this is by unplugging certain appliances when not in use. You can't do this with major kitchen appliances, but you can with smaller ones. Using power strips makes it easier to turn these energy vampires on and off.  
The Department of Energy  gives a handy formula to help you estimate how much energy your appliances use.
Multiply the appliance wattage by the number of hours used per day.
Divide by 1000 to determine the appliance's daily Kilowatt-hour (kWh) consumption.
Multiply the result by the number of days per year that you use the appliance.
Now you have your annual kWh consumption.
If you want to break this down into energy costs, you'll need your utility company's rate per kWh. Multiply your kWh consumption per appliance by the utility company's rate, and you'll see how much each computer, cell charger, and even lamp costs to operate. Wattage is usually listed on the back or bottom of the appliance. 
You'll likely come away from your DIY home energy audit with a few repairs in mind. Leaks should be sealed using caulk, expanding foam insulation, or mastic, depending on where the leak exists. Insulation might require a beef up or even replacement. If your HVAC unit is more than 15 years old, replacing it could increase your comfort and reduce energy bills. 
The goal of a home energy audit is to help you increase efficiency, but it's also to make you more aware. Every air leak increases your energy costs. Every appliance adds to your energy consumption. You don't have to overhaul your entire home at once. It's the awareness that will help you prioritize, and form a plan for efficient living in the future. 
Have you performed a home energy audit, or had one professionally done? We'd love to hear about it!