Like most decisions you make as a homeowner, a little research goes a long way. If you've decided this is the year to add an American flag to your home's decor, we've got tips to help you buy the best flag for your house.
Here's what we share about buying an American flag:
PS We've also got a popular article, Tips for Hanging a Flag on Your House.
Where to Display Your Flag?
Your first decision before looking for the best American flag, is to pick where to display your flag. You have four options to consider but if you live in a community with a Home Owner's Association, check their guidelines to see what they allow.
A pole mounted to your home or porch is the most common place used to display the American flag.
With a large yard, many homeowners prefer to install a flagpole in the ground. They place the flagpole into their landscape design, often planting shrubs and flowers at the base.
It's possible to hang your American flag vertically on an exterior wall, porch or railing, if that's the look you want and you have the required space.
Lastly, and for those who wait to long to get their favorite flag installed, you can always place some smaller flags in flower pots.
Matching Flag Pole Height & Flag Size
When I saw this flag recently, I realized that a flag can be too big for the flagpole it's hanging from. So I went in search for guidelines on the best proportions between a flagpole and flag. Flagco.com stated "The rule of thumb is that the length of the flag should be one-fourth or one-third the height of the flagpole. Traditionally, most people follow the one-fourth rule when choosing a flag size for their flagpole."
It's also important to make sure the flagpole and your flag are proportionate with your home. That means smaller flags for one-story houses while a two-story house can easily support a flagpole up to 20 or 24 ft.
The American flag above feels (IMO) too big for the flagpole and the house. The pole appears to be mounted higher than can comfortably be reached, to prevent the flag from laying on top of the shrubs below.
The table below helps you make the best decision about sizes. Yes, there are much bigger flags (biggest I've seen always seem to be at Toyota dealerships) but they're not included here as they would overwhelm most houses.
| | | |
| --- | --- | --- |
| Type of Flag Pole | Pole Height (in Feet) | Flag Size (in Feet) |
| Mounted on house | 5 ft | 2 x 3 ft or 2.5 x 4 ft |
| Mounted on house | 6 to 8 ft | 3 x 5 ft |
| In ground | 8 ft | 3 x 5 ft |
| In ground | 10 ft | 3 x 5 ft |
| In ground | 15 to 19 ft | 3 x 5 ft |
| In ground | 20 to 24 ft | 3 x 5 ft or 4 x 6 ft |
Picking the Right Flag Size for Your Flagpole
The Best American Flag Size for Your House
Compare the American flag above which to my eye looks perfect, to the one above that I thought was too big for the house and flagpole. This can easily happen when you assume a 4×6 ft flag isn't a whole lot bigger than one that's 3×5 ft … but it makes a big difference. Look at where the pole is attached to the house. It's low enough that you can comfortably take the flag in each night.
That's why I created the chart below, laying the flags on top of each other so you can see the difference visually (oops, forgot to label the largest flag which illustrates a 5×8 ft flag). Now take these sizes one step further. How tall are you? You're probably 5 ft plus so do you really need a flag that's bigger than you are? I doubt it … so use the chart above that gives you the flag sizes that go with the pole heights, attached to your house of "in ground".
Best Flag Materials for Longevity
Now that you're ready to buy your flag and flagpole, here are the things you want to insure you get the best American flag for your house. You want an outdoor flag, one that's weather resistant and washable so you can keep it looking new for years to come.
Fabric – are made from nylon or polyester, with nylon stronger … and 2-ply makes either stronger too. Many flags also have a tough canvas header which holds the flag and the grommets.
Stitching – should be double stitched (some flags are quadruple) so you're not having to deal with repairs.
Color dye – is important for the flag to remain vibrant. Look for dyes like aniline which penetrates the fabric and/or other proof of UV fade resistance.
Hardware – should be made of brass to avoid rust. I liked the flags that offered 4 grommets so you hang the flag from a flagpole or on a wall, railings, etc.
Made in USA – is possible, with the
Here are some of the best American flags you can find on Amazon. You can also review everything on Amazon … all their flags, flagpoles and you'll also need flag lighting unless you plan to bring your flag in every evening. Prices and availability vary, so we're not sharing them here.
VIPPER Outdoor American Flag 3×5 FT, Heavy duty Nylon with Embroidered Stars, Sewn Stripes & Brass Grommets

3×5 ft Outdoor American Flag, 3×5 ft. 100% Made in USA, Embroidered Stars Sewn Stripes Brass Grommets Heavy Duty Nylon

G128 3×5 Ft American Flag Deluxe TearProof Series, Featuring Super Tough Spun Polyester, Embroidered Stars, Sewn Stripes

American Flag 3×5 Waterproof, Fade Resistant, Long Lasting Polyester Cotton Blend, Brass Grommets, 100% Made in USA

Flag Ideas to Inspire You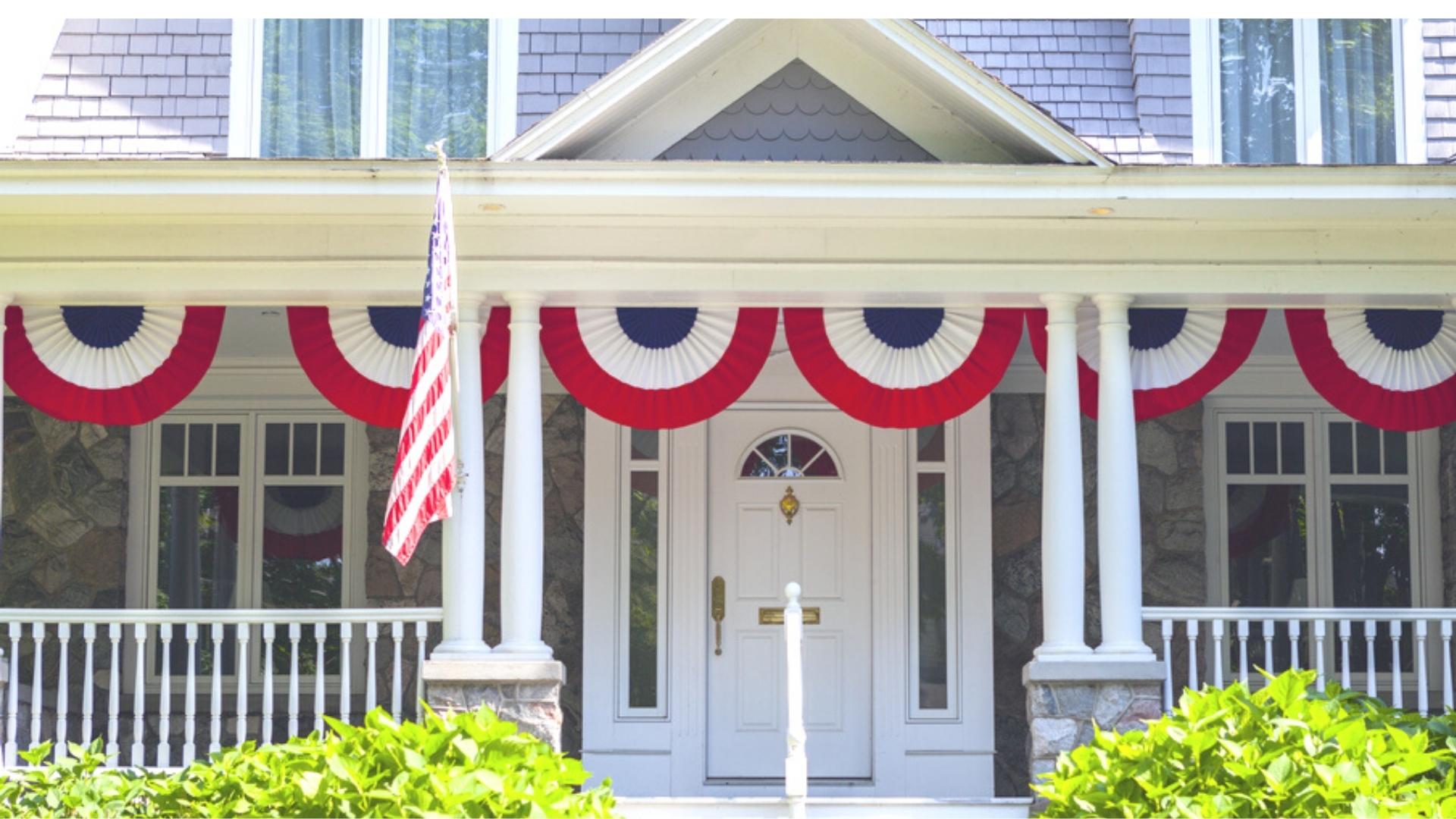 Hoping you enjoy the summer holidays with family and friends …