Every year builders, remodelers, interior designers and manufacturers of building products gather in the US to learn about new building materials and products. This year the International Building Show (IBS) was held in Orlando, Florida. Attendance was lower than normal due to the pandemic … so there was more time to look at the emerging start-up companies.
Wandering the halls is like a treasure hunt and you have no idea what you'll discover. More important, it's an opportunity to gauge what's happening in the industry. So here are some of the underlying themes I found at this years show:
How the Building Industry is Evolving
As consumers and homeowners, we don't know that much about the housing industries. We know we need a realtor to help buy a house, a mortgage broker to finance the house and a builder to create the house.
We don't understand all that goes into building a house starting with the raw materials and manufacturers who transform those materials into components that get assembled into products. Then there are the logistics and distribution channels that move products to the marketplace, both wholesale for volume purchasing and retail like the box stores that serve homeowners and small, specialty contractors.
Many big brands weren't there, allowing visitors to spend more time getting to meet new companies entering the market. It seems as if lost cost home products such as cabinets are coming from Asia (China, Vietnam, Thailand, Indonesia) and luxury building products are coming from Europe (Germany, Italy).
At the same time, lots of acquisitions are creating larger/global home building companies with supply chains that stretch around the world. The pandemic more than any other event, made these dependencies visible to US consumers.

GE appliances now owned by Haier, a Chinese multinational home appliances and consumer electronics company.
Westlake Chemical's core business is petrochemicals. They're acquiring manufacturers of building products made from these chemicals. These include roofing, siding, windows, shutters, trim and decorative stone.
Company mergers happen all the time but who knows about them? When checking out the PVC trim above, I didn't recognize Westlake as the parent company. Later I stopped to look at Davinci composite shingles and learned about their merger … but it wasn't until I wrote this article that I connected the companies.
Building Materials Migrating Across Product Lines
What was fascinating this year was seeing how materials developed for one type of product are leapfrogging to a different type of product.
Materials developed for one product are migrating to other products with amazing results. For example, spray foam insulation is now being used to manufacture Johns Manville's GoBoard, a lightweight tile backerboard (below)!
The
GoBoard in addition to offering a superior tile backerboard solution
, comes in 1/4, 1/2 and 5/8 thicknesses … just like drywall. The brochure I picked up at IBS explains how to install it under wood floors, on concrete floors, countertops, walls and even ceilings. This makes a lot of sense given it's waterproof and provides no food source to support the growth of mold … so this will be a fun product to watch over the next few years.
More Building Materials Delivering Energy Efficiency
Houses have been insulated for years. Complimentary products to seal air gaps like caulking, spray foam and weather stripping were everywhere. There were more products adding radiant barriers to the menu of products making homes more energy efficient.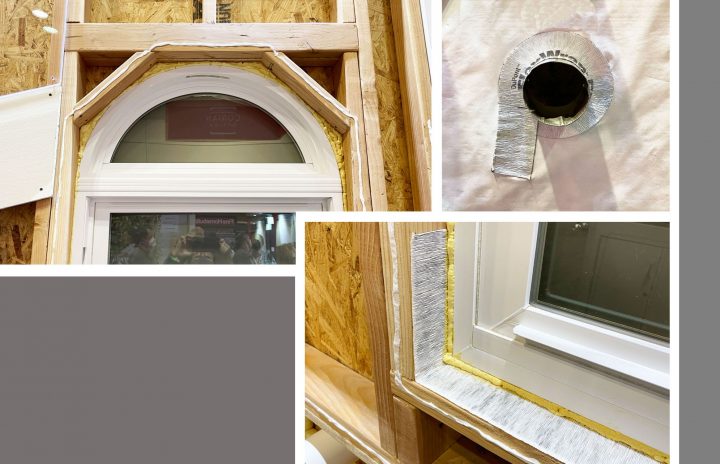 DuPont's FlexWrap (shown above) makes it easier to seal openings in the building envelope. This material comes in several different styles and the magic is the adhesive attached to the wrap, so installers only need to position and press in place.
There were many reflexive materials that focus on keeping heat in during the winter, and outside during the summer. These materials are often coupled with other products like insulation. Here's Reflextixinc.com's interactive house (below) illustrating all the places where you can use one or more reflective materials.
GAF has introduced new solar roofing products (see below) that are integrated into your roof, rather than sitting above your roof on mounting racks. This means you don't have to remove and reinstall the panels if you need to repair and/or replace your roof.
Focus on Installer Productivity
There was a productivity theme covering everything from manufacturing to distribution and product installation. At the Kohler booth (below), one of the displays highlighted a reduction in the number of parts to install a drain, along with a reduction in a plumber's installation time.
Reducing installation times is a huge focus in the construction industry. This is being done by combining materials during the manufacturing process and/or replacing multiple parts with smarter components. This makes ordering/tracking parts easier and reduces labor costs when less time is needed to install products.
---