Having lived in Tokyo for three plus years and working all over Asia, I don't worry about traveling overseas. Once I realized how I'd been held hostage by an airline in a foreign country, maybe I should be more cautious?
My visit to Nepal was amazing. The terraced countryside is gorgeous, the people are so friendly and for anyone who likes adventure, this is a country you want to visit. My sister and I enjoyed learning about life that's so different from our own and we were ready to go home. That's when things got wierd.
When trying to check-in, refused to give us our boarding passes until we paid an exorbitant amount for one checked bag!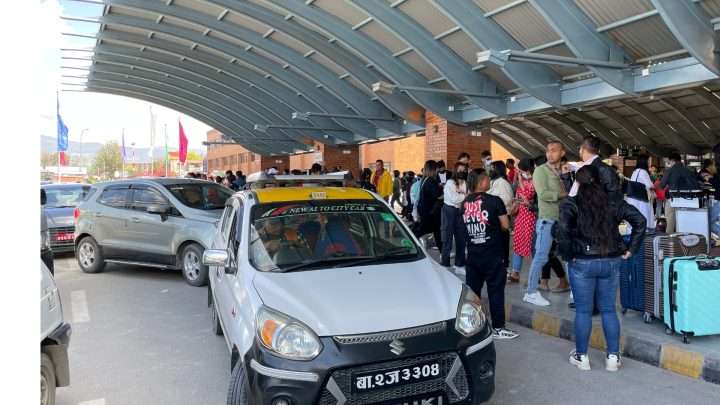 Airline Hostage in a Foreign Country
As I started to write this article, I thought about what word would best describe what I experienced at the hands of Flydubai. My first thought was race discrimination, something I hear about all the time but rarely experience as a white woman in the US. Yes, as a professional business woman I have experienced discrimination throughout my career but this was different.
So let me share a chronology of what happened. Then I will share the letter sent to Flydubai (copying Emirates Airlines which I flew to/from Dubai and a partner of Flydubai).
Flying to Kathmandu from Dubai
My sister and I met in Boston to catch an Emirates flight to Dubai where we spent the night, heading to the airport the next morning. Here's how check-in worked that morning:
We each had a small bag with travel paraphernalia, plus a small wheeled backpack recommended for traveling around Nepal.
Even though my sister paid for "checked baggage", she asked if we could carry our wheeled backpacks on the plane. They said yes, so we carried our bags on board.
Flydubai Held Us Hostage in Kathmandu
We arrived at Kathmandu's airport three hours before departure, sharing a taxi with a friend. This meant waiting until they opened up the check-in counter for our Flydubai flight … about an hour later.
As we waited in line, my sister said she wanted to check her bag … but turns out she somehow hadn't paid for baggage for our return trip.
When they told us we'd have to pay over $100 per checked bag, that was simply crazy.
They explained you had to pay for baggage online to get a lower rate. When I asked how long I had to get online to do this, I was told one hour.
WiFi was supposedly free but you needed a local Nepal number to get access. It took me about 20 minutes to find a way to get online.
Once logged in it seemed to work but then it stopped and said "This booking has expired." and there was more than an hour before our flight was due to leave.
The woman at the counter didn't care that I'd tried to go online and she wouldn't give me our boarding passes.
It became clear that she was holding us hostage – pay up or no boarding passes, which had my sister freaking out.
Switched to an international credit card hoping it would be easier to dispute the charge once I got home … and thus, the letter below.
My disputes work most of the time if you're able to support your claims. The most important thing to understand is you must do this within a 60 day window so … good luck!
Why I'm Fighting the Baggage Charge
Why am I so angry? The baggage charge was roughly equal to the cost of the flight. Using today's pricing, let me compare this to what I paid (does not account for variation in exchange rates or seasonal pricing).
Round trip costs
My Cost
Today's Flydubai Website Cost
Plane ticket
round trip
AED 1,970
(US $537)
NPR 40,427
(US $307)
Baggage charge round trip
(Value minus Lite cost)
AED 15
(US $8)
NPR 820
(US $6)
Baggage scam 1-way
NPR 17,751
(US $135)
Flydubai Hostage Letter
The biggest challenge to speaking out against things that you believe are wrong … is deciding who to send your letter to. Then it's challenging finding out how to email or snail mail them, especially when sending to the CEO.
I was actually surprised that Flydubai offered phone numbers to call the United Arab Emirates (UAE), Pakistan or Russia (that's scary) … or submit my complaint online with the letter below included as an attachment.