Home is where the heart is, and most often home is where you go each night to relax and prepare for another day of work, school or whatever fills your days. For many people, home is the house or home town where they grew up, and quite possibly where their parents still live. This is especially true for young adults who haven't put down roots yet or might even be living with their parents to save money.
A home is much more than a physical place. A home is about the people who live there, and the memories created by all the things that have happened in the house. They say home is where the heart is and often the memories of your childhood are stronger than the memories you've created in your current house. 
Home is Where the Heart Is … In the Real World 
As a child, most of us have the security of one home where we sleep at night, even if we spend time at nursery school or daycare. This house is the only place we recognize as home until we move or go away to camp. I still remember when I was 7 years old and took a bus from New York City to sleepover camp in upstate New York. I felt so grownup going away by myself for two weeks.
Camp was my home for two weeks, an incredible adventure in a new world with new friends. I have wonderful memories of singing around the campfire and floating (rowboats) lunches on the lake, with oranges bobbing on the water because that was more fun than eating them.
As excited as I was to leave for camp, I was excited to go home. It's when I first understood the meaning of home is where the heart is because I missed my family and all the things that were familiar to me. While we leave our homes most days for work or play, our home provides a safe haven from the outside world, a place where we can relax and simply be who we are!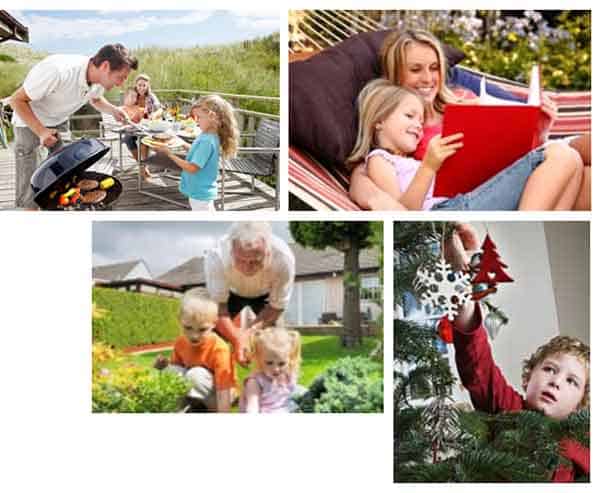 How We Interact and Use Our Homes is Changing 
Our homes reflect many lifestyle changes. One of the biggest changes is how we stay connected. Do you even remember life before you had a cell phone? Where you once had to be home, at work or find a pay phone, we now talk to people from anywhere.
This has made it possible for many people to drop their "land lines" to save money but it also means we sometimes call or text someone in the same house! I'm guilty because my husband's home office is three flights of stairs down from my office. The question then is how does this affect our communication? Maybe
Our at home activities are changing – more people are working from home and parents are home schooling. There are more multi-generation households with young adults and/or senior family members living together. It's time to rethink our homes and how we use them . 
When we are home, people are engaged with electronics more than family members. Can we create family rules about when electronics get turned off to re-establish face-to-face communications?
We're spending less time at home with more activities outside the home. Can we add features to our homes that will allow us to spend more time at home doing the things we love?
Families are spending less time together, with fewer family meals eaten together. Can we ask every family member to prepare one family meal to encourage families to spend more time together.
We're all busy and yet, we can create more memories to cherish (learn about holiday memories) if we make them a priority.  

What ideas do you have for improving life at home?
What family memories do you want to create?
Do you believe home is where the heart is?
Drawing credit goes to Erika Aoyama.