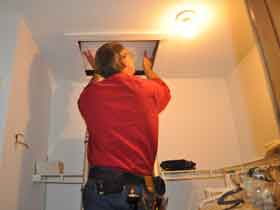 A home inspection conflict of interest can exist where inspectors (or their company) use the inspection report to generate repair work for their company
. It's also possible for home inspectors to recommend a different company that happens to have the same owners or they might get a referral fee by sending work to another company.
Many states don't allow home inspectors to perform repairs identified in their report because of a conflict of interest. The challenge for homeowners is finding a home inspector they can trust.
Government Regulations That Prevent Home Inspection Conflict of Interest
The American Society of Home Inspectors (ASHI) offers a great resource, a web page with Existing State Home Inspector Regulatory Legislation. Here you can learn more about your state's laws and if you want to search for a home inspector with the right professional background, read Finding a Home Inspector.
For example, in California the law "… prohibits unethical home inspection practices, including repairing properties that home inspectors have inspected in the previous 12 months. The law encourages courts to consider the Standards of Practice and Code of Ethics of ASHI and the California Real Estate Inspection Association when determining whether an inspection meets the required standard of care."
Florida is one of the toughest states on every type of home contractor, to protect their older population. They focus on training, both initial and ongoing education for new topics like lead based paint, while they don't prohibit the type of home inspection conflict of interest we're discussing here.
"… The requirements for initial licensure are passing an examination, completion of a 120-hour course of study that covers a home's structure, electrical system, HVAC system, roof covering, plumbing system, interior components, exterior components, and site conditions that affect the structure, and proof of good moral character."
Every licensed contractor must "… submit to a criminal background check, be of good moral character, and obtain a $300,000 commercial general liability insurance policy."
Company Name Can Reveal a Home Inspection Conflict of Interest
Most home inspectors only do inspections, even if they have a contractor or handyman background. However not all states prohibit a home inspection conflict, including my home state of New Hampshire which focuses on inspector education.
My preference is to only use inspectors who don't do repairs, e.g. the company name should include home inspection in the business name. Most realtors are knowledgeable enough to avoid the home inspection conflict of interest but sometimes circumstances force you to use a company that's not on your list of approved home professionals.
A home inspection normally takes place within ten days of a purchase and sale agreement being finalized. It's common for the buyers to include a home inspection contingency on their offer, with a short window of time (ten days) to remove the contingency.
When the realtor learned that the home inspection hadn't been done, she scrambled to find a home inspector and most of them were busy for the next 7 to 10 days, which is why she used … a company called, XYZ Exterminators, Pest Control Professionals, who could fit into her schedule.
Home Inspection Report with a Conflict of Interest
The report indicated "Minor damage from termites on sill in crawl space and above base of bulkhead (door). Damage is not affecting the structural integrity of the house." This part was fine but what was damaging was that the home inspector then checking off the box with said "No … It appears that the structure or a portion thereof have been previously treated."
What the home inspector didn't realize – my realtor friend is also a builder. She knew the damage occurred years ago and had obviously been treated or the damage would have been more extensive. She wasn't surprised that the home inspection report was accompanied by an estimate for $1,030 and if you wanted a 4 year (versus 1 year), warranty, you would have to pay $1,340. Unbelieveable!
The realtor decided a second home inspection was more cost effective. Fortunately she was able to find another company to come out the next day.
The second home inspector found the same evidence of past termite damage.
The second and honest, home inspector said there were no active termites and no action was needed at this time.