All homes need a new roof at some point, since nothing lasts forever. Our home improvement tips today help you understand whether you do, in fact, need a new roof. We've also added in some information on roofing materials, to help you make an informed decision.
The roof protects your home from the elements, of course. But it also adds to its beauty. If your roof has stains from water runoff and generally looks tired and worn, it's likely time to start considering your options. 
Here are a few tips that can help you make an initial assessment, and let you know when it's time to call in a professional for a full diagnosis.
Home Improvement Tips #1: Leaks in the Attic or Interior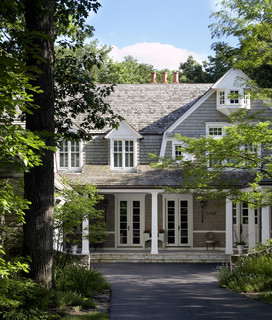 One of the most telltale signs of problems with your roof is leaks, either contained in the attic or making their way through to the interior of your home. But not all leaks are actually leaks.
Water dripping off the ceiling into buckets during a rain storm or as snow melts is pretty obvious. However, inside the attic, you might see what appears to be a leak, but isn't. It could be condensation caused by ventilation issues.
Condensation in the attic can build to the point where there is visible water damage to the attic structure, and it can even drip. The most common reasons for this are bathroom vents ending in the attic and improperly installed insulation that blocks fresh air from entering the attic from outside.
Bathroom vents should always send moist air to the outside and hopefully a home inspector caught the problem when you bought your house. The solution isn't difficult although it can get expensive. Flexible ductwork should be replaced with rigid ductwork, and ideally you want to reach an exterior wall quickly with a minimum number of elbows to insure adequate air flow.
Insulation that isn't installed properly will block the flow of fresh air from the soffits (sit horizontally below the roof overhang), into the attic and out through gable vents (older homes) or ridge vents at the top of the roof. There is a product called proper vent, that is used to keep space between the rafters clear of insulation which can block air flow (learn more about attic ventilation).
Check your attic thoroughly, or have it inspected, if you see water or water damage. The problem might not be your roof, but a ventilation issue that can be corrected.
Home Improvement Tips #2: Visible Damage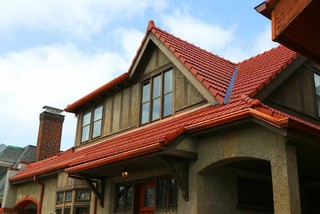 After a storm, you might notice damage to the roof. You may even find broken roofing material such as shingles or tiles in the yard. A damaged roof may or may not leak right away, but it needs attention.
A water-resistant barrier is usually installed under roofing. This may be felt paper impregnated with tar, or a more upscale sheeting material that bonds with the roof under the shingles. If damage didn't penetrate that barrier, you should be ok until a roofer can inspect the damage and make repairs.
Some damage happens simply because of age. Metal roofs, especially older ones, can rust, making holes in the panels. Or fasteners used to install the roof may rust, also leaving holes that let water in.
If there is clear damage to the roof, there's no getting around it. You need an inspection, and repair work.
Home Improvement Tips #3: Age of the Roof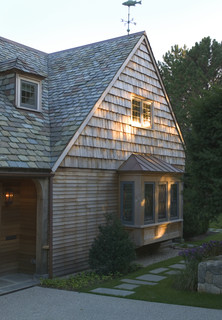 The lifespan of a roof varies, depending on the material used. The more common roofing material, asphalt shingles, have anywhere between a 15- and 30-year lifespan.  The life depends on many factors, including climate.
If there's moss growing on the roof, which is common in damp seasons and shady areas, it's time to have the roof's integrity checked.
Metal roofs can last 50 years or longer, but the fasteners may need to be replaced and sealed. Clay and slate can last even longer, as much as 75 years. The problem with long-lasting roofing materials is that the water-resistant layer underneath might not match the lifespan of the roof.
Home Improvement Tips #4: Choosing New Roofing Materials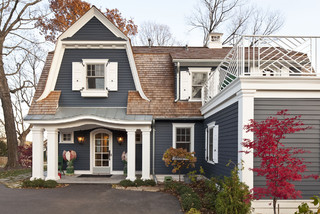 Re-roofing your home is a decidedly expensive endeavor, no matter which material you choose. Even the lowest-grade shingles can require an investment of several thousand dollars.
The style of your home can help you determine which materials are best. For example, a coastal New England home could be a candidate for cedar shingles. A center-hall colonial might be better suited for traditional shingles. A Spanish mission home is a natural with clay tiles, while a farm house or cabin would look perfect with a metal roof. And don't be fooled as you can now get metal roofing that looks like slate, so do your research on both the style you want and the material you can afford.
But these are just guidelines. You want the most long-lasting roof you can afford, as this isn't a project that you hope to repeat anytime soon.
The first step is determining whether a new roof is in order, and that takes the expertise of a pro. He or she will inspect the roof, and probably the attic as well. Based on the recommendation you receive, you'll know whether you're in good shape, could use a repair, or if it's time to invest in a whole new roof (more tips on getting a new roof).
Is a new roof in your near future? Have any ideas that you'd like to share? We'd love to hear them!