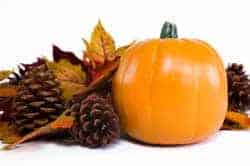 As the holidays approach we begin to plan how we're going to decorate our homes. It's fun to bring out old decorations with wonderful memories, especially those wonderful handmade decorations our children made when they were young. This year is an opportunity to move towards green decorating with more natural materials, i.e. those you can collect while walking on the beach or hiking up a mountain.
Part of the fun is using your imagination, so I'll just share some ideas here to get you dreaming about a new way of decorating. What's important is to enjoy creating the decorations, figuring out how to display them and enjoying seeing them around your house through the holiday season.
Green decorating with pine cones
When you find some evergreen trees, there are sure to be lots of pine cones laying on the ground. Grab a bag and collect some and respect property owners by asking for permission first. Here are some fun ways you can decorate with pine cones:
Fill bowls or large flower vases with pine cones of all sizes, and toss in a little color to coordinate with each room.
Create garlands of pine cones and hang them on the fireplace or over doorways. Use braided picture hanging wire.
Make ornaments by tying individual pine cones with bright ribbon. Hang on the tree or at the corners of windows in those rooms where you'll be entertaining over the holidays. You can spray paint them for added color.
Create a pinecone tree with a foam cone base. Place larger pinecones at the bottom, and smaller ones at the top. Smaller clusters of pine cones with holiday greens and cinnamon can also be used to decorate the table or gifts
Make a certerpiece with fall leaves or winter greens, pinecones and oranges, adding cloves and cinnamon for holiday fragrance.
Make a holiday wreath of all pinecones or a combination of green branches (evergreen, boxwood, etc).
Note: After collecting your pinecones, you'll want to clean them to remove bugs and dirt. You can put them in the oven to melt the sap which also gives them a nice glaze, although pinecones that haven't opened will open in the het.
Seashells and sand are great for green decorating
Maybe you live near the beach, vacation there each summer or still dream of spending more time relaxing by the ocean. Decorating with seashells and sand can make those memories or dreams come alive.
Fill clear glass bowls or glasses with seashells, and if the container is large enough you can fill the bottom with sand and create a sandscape arrangement.
Add seashells to year round centerpieces or scatter them around table settings, adding colorful ribbon to highlight the shells.
Create centerpieces by filling glass bowls or hurricane lamps with sand, adding seashells as decoration. Add color with candles.
Similar to pinecones, use ribbon tied (glued or cut hole) to single seashells to create holiday ornaments for the tree. These also look nice hanging down over windows.
Decorate larger shells with colorful ribbon to use as ornaments, table place settings or to decorating gifts.
Sea shells can be used in centerpieces. Combining shells with driftwood and holiday greens is truly green!
We've given you ideas to create unique and innovative holiday decorations using natural materials which are free or low cost, until you include searching for sea shells during the summer. While this article focused on pinecones and sea shells, you can use driftwood, fruit including cranberries, holly berries and all sorts of evergreens and shrubs. The possibilities are endless waiting for your imagination.