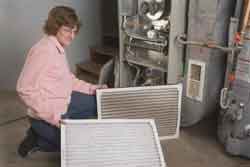 Do you have a furnace or a boiler? Sounds like a simple question and it is, yet I was stumped when someone started describing a problem where there hot water heater was leaking and everyone was telling them they had to replace the furnace, or is it a boiler. Some quick research provided a simple answer:
Boilers heat water that circulates through the home and gives off heat … known as forced hot water heating.
Furnaces heat air that is distributed throughout the house … called a forced hot air heating system.
What You Need to Know About Your Heating System
The builder typically selects the type of heating system installed in your home. If you're installing central air conditioning, you are going to have a forced air system which uses the same duct work to distribute warmed air in the winter and cooled air during warm weather. It's difficult to add duct work to an existing home so if you're thinking about central air conditioning, you should put a forced air system in so it's there for future air conditioning.
When remodeling my home with forced hot air, I opted to put forced hot water in the new addition as I didn't want to give up the visual space the air ducts needed. This meant having 2 heating systems but the cost wasn't much more than upgrading the existing system to support the additional 800 square feet we were adding to the house.
Both systems have advantages and disadvantages so let's compare them. Except for central air conditioning duct work high lighted already, both systems are durable with manufacturer warranties of 10 years or longer.
The most important factor when purchasing a new heating system is making sure the heating capacity of the new furnace is enough, but not too high for your home. Many furnaces are substantially over sized rather than performing a heat loss analysis which will save you money. For help deciding it it's time to replace your furnace or boiler, and selecting a new one, visit the American Council for an Energy-Efficient Economy website. They offer excellent advice on improving your systems performance and my favorite, is their algorithm for calculating annual savings for a new heating system.
| | | |
| --- | --- | --- |
| | Boiler | Furnace |
| How heat is distributed | Heats water which flows through pipes that radiate heat throughout the home. | Heats air that is forced throughout the house using a blower motor. |
| Maintenance requirements | Needs to have excess air bled from the system periodically, recognized when rooms are heating up correctly. | Filters need to be changed or cleaned on a regular basis, from once a month to once a quarter. |
| How temperature is controlled | Typically installed with multiple zones, each with it's own thermostat so you can set the temperature differently for living areas versus bedrooms. | Forced air systems historically were controlled by a central thermostat. |
| Energy efficiency | Multiple zones are recommended to reduce  heating costs to only the rooms you need at any given time. | Uses electricity to power the fan motor. A  variable speed fan motor is more efficient and can save you hundreds of dollars per year. |
| Other differences | Boilers tend to leave a house with more humidity during the heating season. | May require a humidifier to increase humidity during the dry, winter months. |