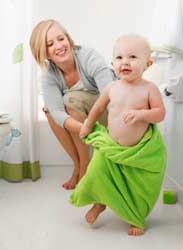 Green bathrooms are environmentally friendly, which means they're more than a green towel or green paint on the walls. Green bathrooms mean using products that are environmentally friendly, and also enhance your personal health and safety. Green bathrooms use:
Natural products for personal grooming.
Non-toxic cleaning products.
Green products that use less water and less energy.
Fewer disposable products.
Sustainable, eco-friendly materials.
Here we'll explore green products you can use when remodeling and decorating your bathroom.
Bamboo Vanities and Flooring

Bathroom vanities provide much needed counter space and storage in any bathroom. Flooring is a key feature of today's bathrooms so when you're searching for green products, look for:
Raw materials that are sustainable, i.e. bamboo cabinets are becoming very popular.
Construction adhesives used in manufacturing are green when they don't  contain air pollutants or ozone depletors.
Green paints, stains and finishes so the final products you bring home don't give off VOCs.
Green Toilets in Any Color
Low-flow toilets using the mandated 1.6 gallons per flush have been around since the mid '90s with greatly improved designs available today. They represent a large reduction in water use from the older, 7 gallons per flush toilets (siphon-flush design from the mid-19th century).
There are now dual or 2 flush toilets to save water — a small flush for liquid waste and a big flush for solid waste. There are kits available to convert your existing toilet to a 2 flush one. For homeowners truly committed to going green, there are composting toilets (see howstuffworks.com/home/composting-toilet for more info), a big improvement from the honey pots used in Alaska where the ground remains frozen year round preventing the use of septic systems.
Bathroom Faucets and Showerheads
Federal regulations now require faucets and showerheads to use less water. The aerator which screws on the tip of the faucet determines the maximum flow rate of a faucet. Aerators are inexpensive to replace and can be one of the most cost-effective water conservation measures. Be sure to bring your existing aerator to the store to ensure a proper fit.
Showerhead flow rates allow no more than 2.5 gallons per minute (gpm) at a water pressure of 80 pounds per square inch (psi).
Faucet flow rates can't exceed 2.5 gpm at 80 psi or 2.2 gpm at 60 psi.
For more tips on saving water, including how to test your faucets to see if they're using too much water, visit Energy Efficiency and Renewable Energy at the US Dept of Energy website.
Paints with Low or No VOCs
Paints are one of the many products we bring into our home, without realizing they're giving off VOCs or solvents, as the paint dries. VOCs may cause acute symptoms like headaches and dizziness, with possible long-term effects. There are now many low and no VOC paint choices available but you need to research the labels (read Green Paint is More than a Color for VOC limits in paint).
Green Towels Aren't Always Green
Towels are an integral part of any bathroom and often play a role in decorating. For homeowners committed to a green home, why not purchase eco-friendly towels when you need to replenish what you have on hand. Where I certainly expected to find organically grown towels while researching this article, I was simply amazed to find there are bamboo towels!
Bamboo towels are supposed to be as soft as cashmere and more absorbent than cotton. Bamboo is grown without pesticides, making it one of the most sustainable fiber crops in contrast to conventionally grown cotton which uses large amounts of insecticides. Organic cotton and bamboo, are ideal for people with allergies or sensitivity to chemicals.
Going Green Starts with One Decision, One Action on Your Part!