Gardening is very relaxing to some people and others would rather pay someone else to keep their yard looking it's best.  In today's busy world, there are fewer flowering plants to brighten our day – people don't have the time, or maybe the patience to plant and care for flowers like they did when I was younger.
Lots of people enjoy the beautiful green photos (of green growing things) which Jack shares on Facebook, and especially these wonderful green elephants.  They made me smile and I'm sure you're smiling too, so I invited Jack to share their story with all of us.
Electric Hedge Shears !&?@#%
…... by Jack Tremblay, Landscape Architect
That should tell you what I think of of electric hedge shears, so let me explain why I feel this way. There is no place for electric hedge shears in a responsible, educated gardener's tool shed. Similar to a chain saw, electric hedge shears are way too easy and fun to use.
These shears can destroy perfectly acceptable vegetation in the blink of an eye. The reason I feel less vexed by a chain saw is that, when used properly, a chain saw can help improve a property by removing unwanted trees and large shrubs while saving a gardeners back. An electric hedge shear, by its design can only destroy…
Destroy what and how? Let's look at the victims of the electric hedge shears, the formal hedge. The intention is to clip the plant so that it has a flat surface. This surface can take many forms — square, rectangular, curved like a large ball or bowl. Hedges can also be shaped in the form of an animal or object, like my elephant friends shown above. When this is done, they're called topiary, but how you create them is the same, the electric hedge shear I despise.
Trimming Hedges the WRONG Way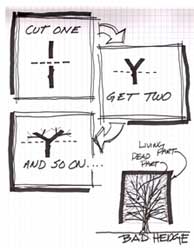 When you cut a branch on a hedge, a minimum of two branches will grow from this cut point. If you continue to cut at that same point, as you would when using an electric hedge trimmer, the new growth multiplies until you get a dense thicket of growth at the outer inch of the plant. This "green wall" blocks all sunlight from getting to the center of the plant. In time the center dies out and you get an umbrella like plant that will always be on the edge of failure. When someone uses their fun little electric hedge shears improperly and clips an extra inch of the outer surface … wham, they are killing the hedge and they don't even know it!
This sad event can be prevented. With a little attention we can save plants and let them live a long healthy life. Join me, won't you?
Trimming Hedges the Right Way
All you need is a sharp hand shear, a sharp hand pruner and some patience.
Use the hand pruner to "open up" the hedge. Select areas where you can reach in and cut out whole branches that are crowded or in decline. The goal is to create holes in the plant to allow the sun to reach all of the plant, not just the outside.
You finish trimming with the hand shears. Move up and down the hedge, shearing the exterior growth to the desired finished surface for the hedge. Move the up and down, side to side to achieve a slightly  finished hedge that is a little irregular but that's barely noticeable.  Then just walk away.
Don't over prune it! Just walk away and enjoy your work knowing the plant will live and thrive when you take good care of it. You can try to look cool while you walk away. This will add to your master pruner mystique.
---
Jack Tremblay, Landscape Architect at Jack Tremblay LA has spent more than 25 years helping clients solve their landscape challenges. Well versed in building site analysis, Jack understands construction techniques so he can support builders and home owners with his landscape design. Jack has a deep knowledge of plants and enjoys pool design and construction work.