Love 'em or hate 'em, all you need to do is skim through any trendy decorating magazine and you'll see the appeal that a "retro room" has for a lot of people. For some reason, retro seems to denote a period from the 40's to the 70's. But in truth, any period before the one we're in qualifies as a retro room.
The key to a retro room that you can live with is finding the right balance for your personal style. You can create a full-on room from another era, or add vintage and vintage-looking elements to add some fun to any room in your house. Take it as far as you like.
The conservatory-style room here is a nod to conservatories from the 16th century and forward, filled with light and green, growing things. This speaks "retro," it doesn't shout it. But you can shout if you want to.
Here are some tips for creating a retro room that's comfortable and functional, with a little punch. If you want even more ideas, visit our retro room board on Pinterest.
Retro Room with a Theme
Sometimes a theme is a better way to add some retro to your home. In this photo, you see a room with a strong flavor for ranches of the old West. This could easily be a foyer, with hooks for coats and a desk where you could place your keys and the day's mail.
If the total look is too overwhelming, but you still want a touch of ranch style, you could use the antler chandelier and coat rack, but skip the saddle and other non-functional pieces.
Kitchen with a Retro Touch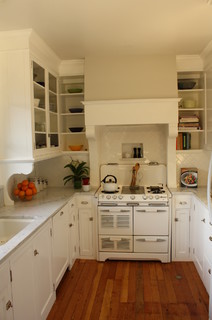 In an otherwise clean-lined room, one very special vintage, or vintage look-alike, piece can be just enough to add interest. It's important for the piece to be as perfect as possible, and this doesn't just mean in perfect condition. Sometimes "perfect" means it's perfectly aged.
In this all-white kitchen, the stove stands out. It might be an authentic 1940s range, refurbished or a gorgeous reproduction. Whichever era it really hails from, the look is all retro without anything overwhelming about it.
If you're considering a true vintage piece such as a stove or refrigerator, have an appliance expert give it a once-over before you install it. A pro can find problems you might not, such as a thermostat that doesn't work properly, worn wiring, and maybe even missing parts.
A Retro Room for Music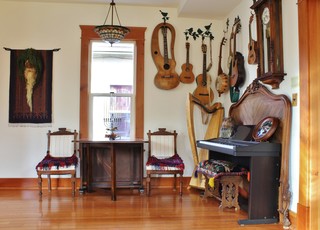 If music is your passion, there are so many ways to create a music room with a retro look. Bright colors, shag rugs, and vibrant beanbags can set the scene for a 70s-inspired place to relax, put on those oversize headphones, and listen to some vinyl.
If you prefer a nonspecific retro look, mix and match from a lot of different eras. This music room relies on musical instruments, new and old, as decorative elements to create a look that spans the years.
Retro doesn't have to mean a blinding range of colors or plastic furniture. It also doesn't have to give the room over to a complete immersion from any era. Whether it's a light touch or a full redecoration, you can stop any time you want.
One of the few rules about vintage pieces is if they are going to be used, they should be in good condition. Save the delicate pieces for decorative accents that you can put on a shelf or away from curious hands. Beyond that, let your creativity loose, and create the retro room you've always wanted.
Have any retro spaces you'd like to share?
We'd love to see them!