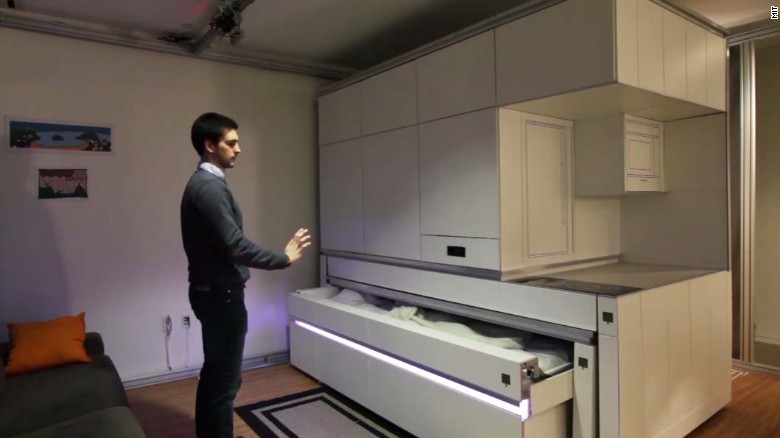 We first saw transformer toys in the 1980s, and the first transformer movie was released in 2007. Like tiny houses where creative homeowners are fitting lots of function into really small spaces, others are creating building components that turn small spaces into transformer houses.
The CityHome project at MIT is a great example of the new micro-unit apartment. It's only 200 square feet but living up to it's role as a transformer house, it feels like a home several times the actual footprint. It makes so much sense as younger people want to live in the city where space is limited. Rather than sacrificing function for location, the CityHome box makes it possible to have it all.
MIT Media Lab CityHome: What if 200 ft2 could be 3x larger?
What Can You Expect in a Transformer House?
City living isn't for everyone but the reality is, no other country has homes as large as those found in the US. Homes around the world are much, much smaller. For example, it's quite common for a Japanese family of four to live in a three or four room house that's six hundred square feet. For Americans used to modern kitchens, they will give up some of today's treasured conveniences but still want refrigerators and microwave ovens.
So here's what this prototype, transformer house offers in a box the size of a closet, something that can sit inside an American apartment.
Full size bed.
Full size desk for a home office.
Extra seating to compliment the living room sofa.
Dining room table that can seat six people.
Lots of storage.
Kitchen counter top for food preparation.
Mobility to expand the size of the bathroom.
… but for efficiency, one sink for kitchen and bathroom!
How The Transformer House Will Influence Home Construction
What I love about tiny houses, and the new transformer house, is how people are thinking outside the box. Look at the living room room above — what do you see?
Shelving built into the walls.
Living room couch sunk down into the floor, two steps down.
Galley kitchen open, with sliding doors to hide these features when desired.
But what you don't see until the space is transformed:
Bed that drops down from the ceiling.
Dining table sunk in the floor
Additional storage in the floor, and so much more.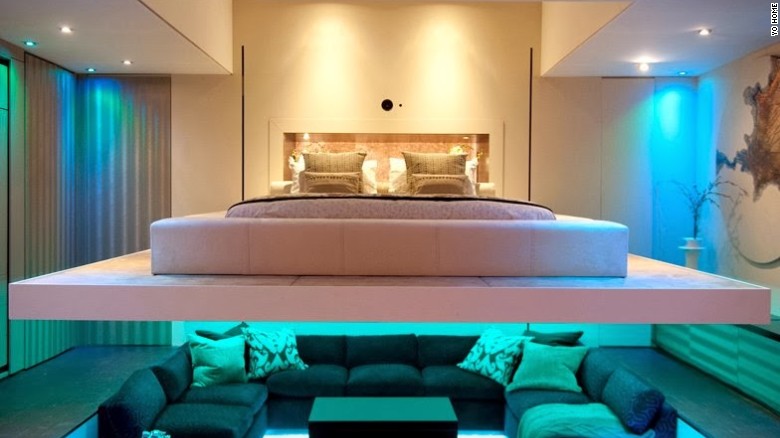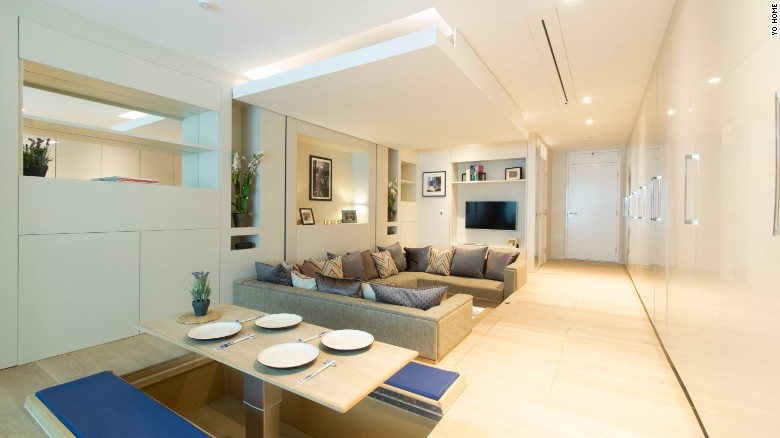 Credit to CNN for their article, Rise of the transformer house.
---