Have you heard of Kick Starter? You're in for a treat if this is your first foray into new products being introduced through crowd funding. What's that you're asking. Inventors have the ability to showcase new products, and we get to vote for the ones we love by pledging money towards the project. This weeks Friday Find is a kick starter project, the Refold portable, foldable desk that you can sit or stand at.
So why would anyone want a desk made of cardboard? And why do I care about a foldable desk? It only took me a few minutes to order my Refold foldable desk because I was already planning to find something like it for my Arizona office. You see I'm rather squirmy and don't really like sitting at my desk all day. My new office has a wonderful view through a bow window, which my desk won't fit into. But there will be time when I want to work standing up, and this desk will be perfect for setting up in front of that window.
Carrying the Refold, Foldable Desk
One of the first things I love about this foldable desk is how easy it is to carry. Suppose instead of working at my bow window, I want to go work outside. I can't imagine an easier table to take into the backyard, the park or wherever you need to go.
How Do You Assemble the Refold Foldable Desk?
Once you've watched their video (or animated gif), you'll see this chair is pretty easy to assemble. It comes in six pieces, the body, 2 sides and the table 
The early foldable desks you can order through Kickstarter, are only standing or sitting. After the initial orders, they'll start shipping desks that can be reconfigured for use either way.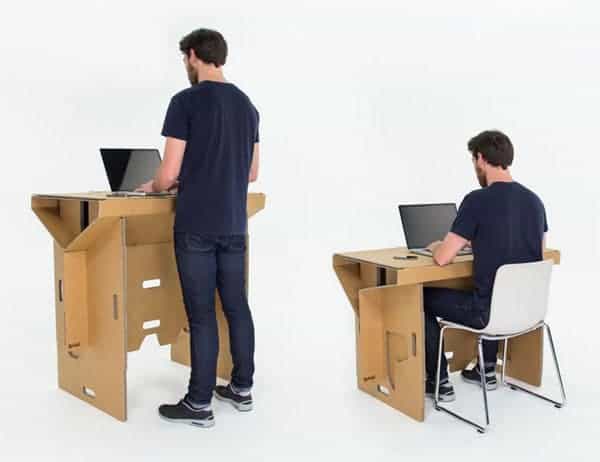 An the desks, even though they're made from cardboard, are really strong. That's why the company founders each got up on a desk to show us just how strong they are.
We hope you like this week's Fabulous Friday Find, and to see other fun things we've shared, click here …