Houses once relied on fireplaces for heat, cooking and hot water. In historic New England where I lived for 15 years, there are many beautiful fireplaces like this one in Newburyport MA. Today we think of the kitchen as the heart of the home. That's because fireplaces were once located in the kitchen where meals were prepared, water heated and people gathered to get warm. Over the years fireplaces moved to become the centerpiece of a home's main gathering space and we're now seeing many new fireplace design trends (read the History of the Fireplace).
Owners of historic homes typically keep their fireplaces (check out my Victorian fireplace). Many homeowners though are confused by recent fireplace design trends. Some people want to keep memories of their childhood (my husband) while others want something more contemporary, something that fits the style of their house (that's me).
Distressed Cherry Wood
Fireplace Mantel Shelf (60 in)

Unfinished Fireplace
Mantel (48 in)

 Step-By-Step, Build Your Own Fireplace Mantel

So this article reviews today's fireplace choices, to help you discover what fireplace style is right for you. First we'll look at some of the most traditional fireplace designs common in New England, where fireplaces were once the primary source of heat. Then we'll explore fireplaces that offer something new. What's exciting is you no longer need to dedicate an entire wall to a fireplace, and you don't surround your fireplace with the traditional hearth and mantel.
Fireplace Design Trends When You Want Something Old
Unless your house was built in the last few years, you probably have a traditional fireplace with a hearth. Many new houses have one of these fireplace in the center of the wall, with nothing on either side. That's when my team gets to turn the fireplace wall into an entertainment center with shelving and custom storage. We love the challenge of turning an empty room into the family's favorite room. That's exactly what happened here, although the kitchen is nearby making it easy to grab something to drink, and perfect for entertaining.
The fireplace no longer dominates the room, it's just one of many features lining the wall. We added the television above the fireplace, plus shelves for the family to display their collectibles and storage below. The window seats were an added bonus, providing extra seating and storage below so there's no wasted space.
What if you don't have a blank wall surrounding your fireplace. That's where these fireplace design trends can help you update your fireplace to match the decorating style you want and notice, the basic fireplace doesn't have to change — you can get creative and simply change some of the surrounding materials.
Fireplace Wood Bellows

Wood Stove Heat Powered Fan

Ash Bucket with Shovel

Remember the model-T Ford cars when they first came out and you could pick any color as long as it was black? Fireplaces were once brick and maybe you got to pick the color of the brick used. Now you can surround your fireplace with tile, stone, some type of ornamental metal facade or any material that will stand up to the heat generated by a fireplace. When you're changing materials, you also have the flexibility of changing the wall design. Maybe you never liked the fireplace mantel, so you could extend the fireplace stone below all the way to the ceiling.
Something New in Fireplace Design Trends
Fireplace design trends have seen lots of changes in the last few years, and websites like Pinterest and Houzz are showing off these ideas to millions. Probably the biggest change is the shape of today's contemporary fireplace. With gas fireplaces, there's no need to maintain the boxy hearth so the horizontal fireplaces are a nice break from tradition.
Here are some of my favorite designs, and the first thing you should notice is the fireplace is no longer hovering just above the floor. The new fireplace design trends have broken away from the traditional "sit on the floor" position, which allows them to be placed anywhere in your home, and at eye level which can change the ambiance of a room, or even your entryway.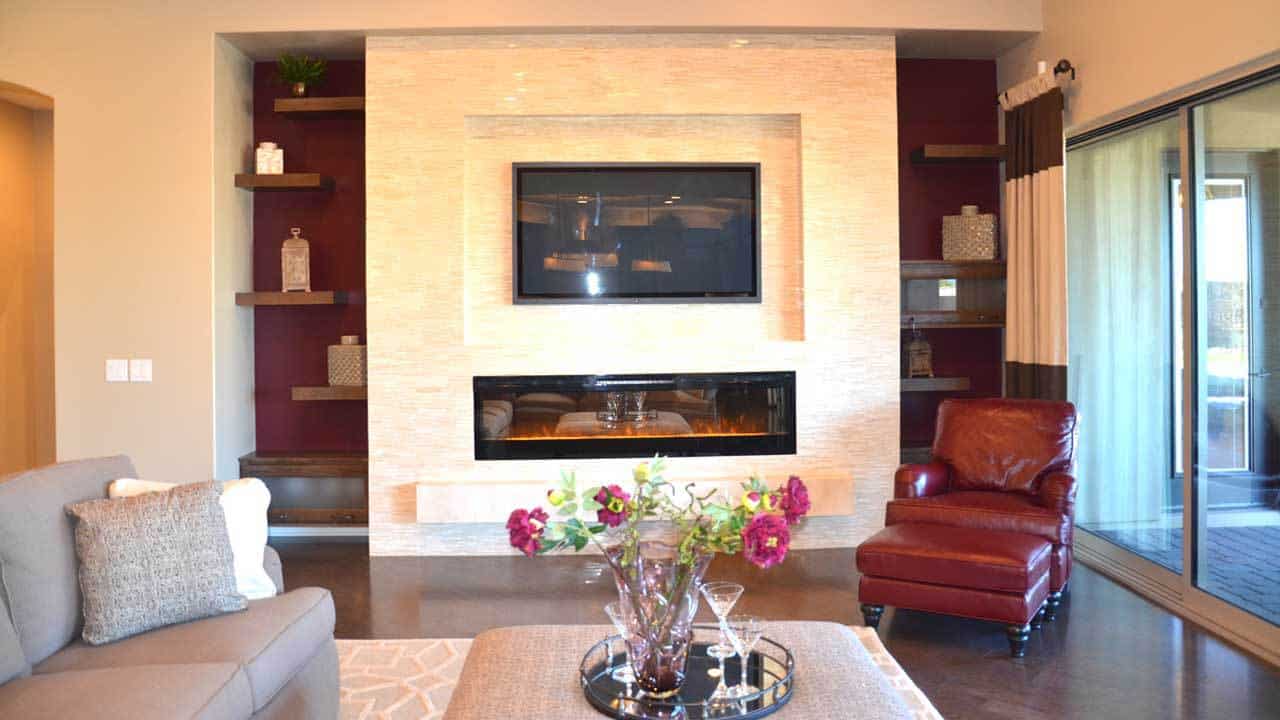 So beyond the traditional fireplace in the living/family room, where else are people adding fireplaces in their home? If you've watched the New American Home over the last few years, you likely have seen a fireplace or two in bedrooms and/or bathrooms. They do like nice but before you make an investment in a new or updated fireplace, step back and consider where you spend your time at home. A fireplace in a room you seldom use doesn't make a lot of sense but a fireplace in your master bathroom, if you like a long hot bath at night or you exercise there, might be just the right touch.
Ready to do some more research on where you might add a fireplace to your home? And remember that today's backyard firepit has grown up to become a full fledged outdoor fireplace.
Fire Places: A Design Guide to Fireplaces & Stoves

Outdoor Living with
Barbecues & Outdoor Kitchens

Backyard Idea Book: Kitchens,  Storage, Fireplaces & More

---