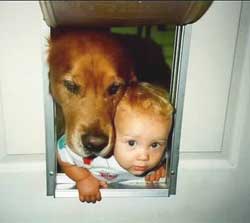 Pet doors are meant for … dogs and cats. Often you'll find small children or unwanted animals also trying to crawl through a pet door (I couldn't resist this photo). If you're using your pet door year round, chances are you have installed the pet door in an exterior wall.
Many homeowners only want a pet door during warm weather, so installing one in a screen door makes a lot of sense. However screen doors have problems and frequently need repairs due to holes or tears, and the wrong dog door may make this problem worse. When picking your dog door, remember that one of the most common problems with screen doors is people or pets walking through the screen.
Picking the Right Pet Door
A long time customer called after she had accepted the reality of her dog going through her screen door repeatedly if she didn't provide an alternative. It made sense to add a pet door to the screen door to reduce repairs. She didn't know what kind of door to get so she called my handyman business to ask for suggestions, and it made sense to research available solutions as I've not had a door door for several years.
At the low end there are lightweight (plastic) screens that snap onto your screening fabric (Gateway door below). Then you have the pet doors that clamp onto the bottom screen door rail, and one of the sides. The latter is certainly a more sturdy solution. Recognizing the price difference between these simple styles and the full door panel I ultimately recommended, I had to think through why I wasn't comfortable with these pet doors.
The door quality may be fine, but it's the  longevity of the design that's important as my handyman business guarantees all work for 1 year. As a dog owner I know that pet doors take a certain amount of abuse. I don't believe they, or really the screen doors in which they're installed, will survive a season of 4 to 6 months without needing repairs. For home owners that will fix the screens themselves, these doors work fine. For owners who pay for these repairs, this can be annoying.
Fully Integrated Screen/Dog Door Sliding Panel
So now you're wondering what did I recommend? I had seen a door panel at PETCO, so I went back there because I couldn't remember the name. I found the PetSafe door panels that snap into the track on your patio sliding doors and I like the quality which is consistent with your typical patio door. Here's what I like about this door:
Heavy duty aluminum construction
Shatter-resistant, tempered safety glass … so the door works for many additional months
Latch lock assembly enables sliding glass door to lock
UltraSeal® all-weather, energy-conserving flexible flap system reduces energy loss
Step-over riser, i.e. bottom of the door is adjustable for taller dogs
Doors automatically adjust to the height of your patio door, from 76 3/4″ to 81″
Note: I also recommended ordering the PetSafe door through PETCO. Large items tend to get damaged in shipping. You should also unpack and inspect the door for damage, before taking it home.