Buying a house is getting more complicated for lots of reasons. You might know the type of house you want and even the neighborhood where you'd like to live. But there's a lot more involved in buying a house, like understanding where earthquake faults run (California) to ownership and access to arroyos (Arizona). That's why you need to take your time finding a Realtor®, someone who has the knowledge and experience dealing with all the other factors affecting the purchase of your new home.
With our recent home purchase in Fountain Hills, Arizona, our real estate agent Kathy Ammon helped with many "out of the ordinary" things. It was critical that Kathy had the experience to handle a wide range of challenges, and the confidence to get help from her network of home professionals when needed. Our search wasn't typical. There aren't many home buyers looking for a backyard where you can build an observatory but with a combination of Kathy's on the ground expertise, Realtor.com and Google maps, we found the perfect house (behind the pergola shown here).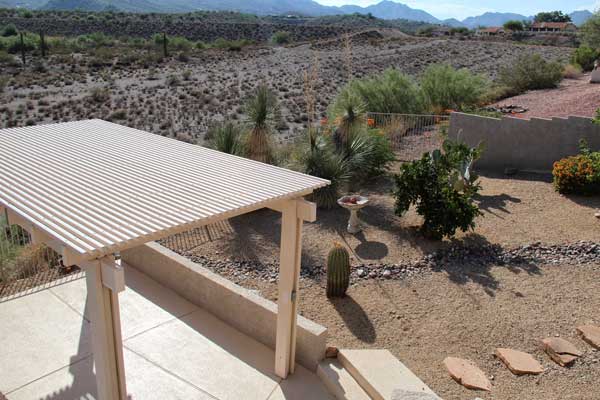 So here's what I've learned about finding a Realtor, based on buying 14 houses. Don't be fooled by the company name. All real estate agents are independent contractors – you are hiring the person!
You should interview prospective Realtors, to make sure there's good synergy between your personalities. Interviews can be done in person or over the phone. When dealing with a relocation company, I asked to talk to their most aggressive agents. After 3 phone interviews, I picked a realtor and she lined up 6 houses in Portsmouth, NH to show me. We looked at 5 houses, sent digital photos to my husband in California and wrote the offer the next day.
You want someone comfortable communicating via your preferred tools, as the process can be streamlined with things like email, e-Signing and DropBox. As I live on the computer, Kathy's comfort with technology was very important, saving us both lots of time playing phone tag or waiting for snail mail.
You want someone who listens and is comfortable chasing unusual information. The ideal Realtor is someone who volunteers to gather information. For example, Kathy volunteered to attend a preliminary review of my husband's observatory plans with the neighborhood owners association.
What's important to understand is you will spend many hours working with your real estate agent. Your success and the home buying experience, will be greatly influenced by your Realtor so invest the time it takes to find your ideal real estate partner.
Finding a Realtor that Compliments Your Personality & Work Style
You know pretty quickly if you like someone. You want a real estate agent who will work at your pace, fast or slow, or somewhere in between. Having bought 14 houses, we worked with Kathy for about 2 weeks, reviewing online listings for houses she recommended. Following BlogHer in San Jose, I spent one day on the ground in Fountain Hills. We looked at 10 houses, found the perfect backyard and starting contract negotiations within a few days. My husband only saw photos until he went for the home inspection, scheduled to coincide with a business trip.
So what should you look for when finding a Realtor? You might get recommendations for friends and family, but remember you're unique and the perfect real estate agent for your sister, might not be right for you.
Are you most comfortable working with people who have a similar personality to yours?

How quickly and aggressively do you want to work through the home search?
What is your preferred communication channel, as some people still prefer phone calls while others like email?
Will you do your own research or rely on your real estate agent to research things like utility costs, repair estimates, etc?
Finding a Realtor with the Right Experience & Support Network
Where location is the number one criteria when buying a house, experience is number one when finding a real estate agent. Too often people work with someone recommended by a friend, and never think to check their experience. If you've got years to invest, and want to learn the ins and outs of real estate yourself, it might work but the odds are against you. According to Bill Gassett, a friend and top producing Realtor in Massachusetts, here are the questions (differ if buying or selling) to ask:
How long have you been selling real estate in "your town and state"?
How many homes did you help clients buy and sell last year?
For homes purchased last year, roughly how many homes did you show each buyer? and how many months did the search take?
What was the average ratio between the listing price and the purchase price? … to learn how good a negotiator a Realtor is.
Recently I helped a friend who listed their home with a relative. The photos on the web were horrible, there was no marketing and the house languished on the market for more than a year. We took new photos, created a YouTube video and slide show to send out to friends, to help get the word out … and all the listing agent cared about was maintaining control, of his commission!
The fact is buying or selling a house is a business transaction!
You shouldn't overlook this fact, and you want to get your money's worth so invest wisely in finding a Realtor that's right for you. While you only pay the real estate commission when selling a house, buyers have a financial stake in the transaction – the price you pay for the house. So take your time finding a Realtor, and good luck buying that house.