Once the kids finish college and the mortgage is paid off, many couples decide to invest in a second home. There was an open house fund raiser benefiting the Ronald McDonald House in Orlando, and Landmark Custom Builders was gracious enough to give me a personal tour a week later when my trip to Florida got delayed. What I discovered was a new trend, that of family vacation resorts.
There are lots of family vacation resorts around Orlando, Florida. My granddaughter lives there and likes exploring model homes with me, and visiting their water parks at the end (top photo). These resort features are great as long as you don't mind packing up and spending a few hours there, without the conveniences of home.
Edie Waddell, President of Landmark Custom Homes shared the story behind the beautiful custom home we're sharing here. The homeowners live in Pennsylvania, so there's no surprise as to why they like spending vacation time in Florida.
Family vacations started with multiple hotel rooms for children and grandchildren.
Next came vacation rental houses with enough bedrooms for a growing family, plus resort style amenities like water parks in sunny Florida.
Then they decided to build their own dream family vacation home with all the resort features they love. They partnered with Landmark Custom Homes to build this house and it won't take you long to see why they love it!
Tips Gleaned from Family Vacation Resorts
What's surprising is how little you can tell about a home from the outside. The front door suggests a formal home with lots of beautiful and fragile embellishments. You'll find these but they don't dominate the home. This custom house was designed to enable lots of quality family time!
Staying at several family vacation resorts helped this family decide what they wanted in their dream vacation home. As you walk through the house you'll see things both expected and a few out of the ordinary.
As you tour this Florida dream house, remember what's perfect for this family might not be right for you. You've got to decide how you want to spend your free time while working, and after you retire. Here are some tips to help you decide when and why you want to buy a vacation home.
Design for a Family Vacation Resort Lifestyle
When you enter this house you're surrounded by beautiful design and artwork, similar to the front door. It takes more steps until you arrive at the heart of the house. You don't really understand how much the family lifestyle defines the house until you've walked through the home. I'm going to tease you though – we're going to walk through the house first.
Here is the room that for me, defined the focus on family. An incredible dining room table seating 16 for many meals, not just Thanksgiving! There's seating for another 6 at the kitchen island if they need more space.
Kitchens Always at the Heart of the Home
The kitchens in this house are integrated into the active living areas of the house. They're big and open so lots of people can join in the cooking and cleanup activities. The main kitchen has an enormous island seating six. Wrapping around the island is a semi-circle of cabinets offering plenty of counter work space and storage space. There are lots of cabinets with glass doors to display family mementos.
Stepping out from the main kitchen, there's another kitchen. This isn't your average outdoor kitchen. It's sophisticated with special touches like a tile backsplash to make cleanup easy. My favorites were the paper towel dispenser right where you need it, and pull out bins for trash and recycling.
Upstairs there's an enormous game room (see below). The design includes an eating bar so you can sip a … while playing pool. It's got a mini-kitchen that's well equipped with a refrigerator, ice maker, microwave and dishwasher. Who wouldn't love this?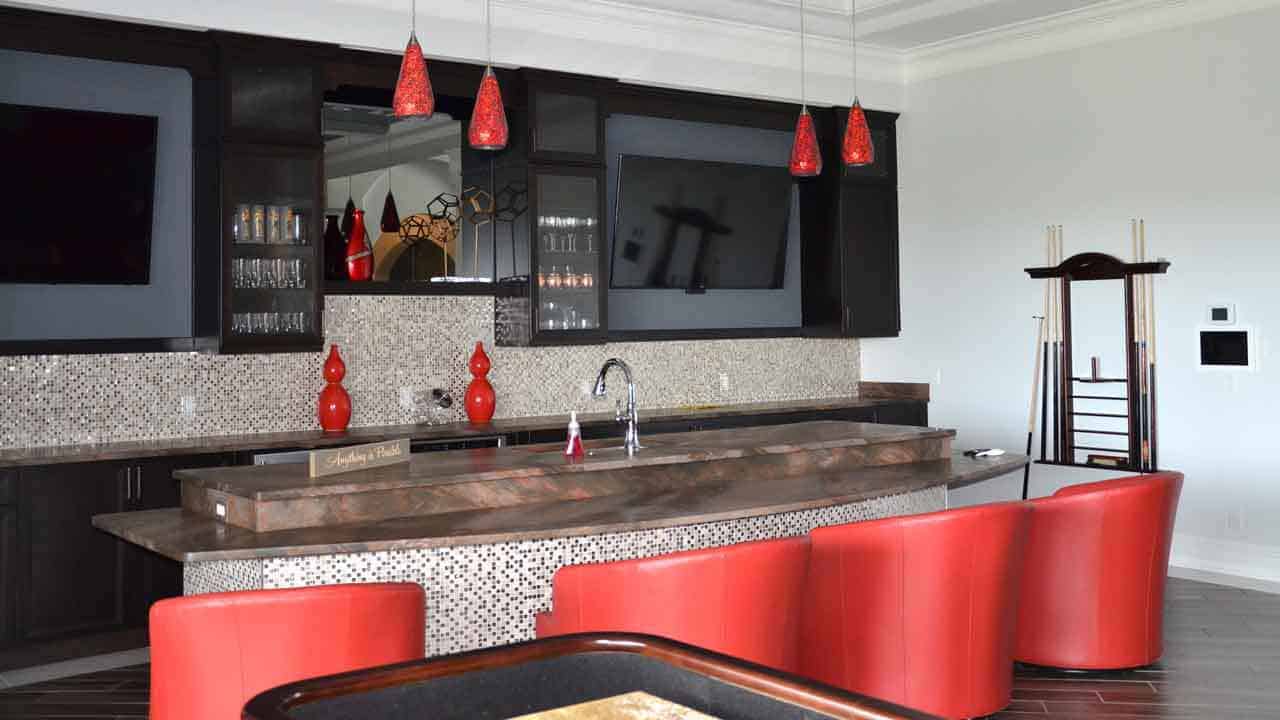 Family Vacation Resort Homes are All About Fun!
Vacations are all about relaxing and having fun. When you've got lots of people, it helps to have lots of choices so everyone can do something they love. In this amazing house, the number of water play options is huge. You can lounge in the pool, swim or soak in the spa. And for the kids, there's a lazy river just like the large water parks.
When it's too hot outdoors you'll want some fun activities to keep you busy inside. It was nice to see so many old fashion choices, the things we all did before electronics took over our lives. My favorite is shuffleboard … something I enjoyed when I was in college.
What's your favorite vacation destination?
When you go there, what do you do to relax?