Most weeks I see so many lovely things online that it's hard to know which to share, but today nothing was magical. One article suggested geometrics work well on the floor, so I decided to explore and share some of my favorite geometric rugs for today's Friday Fabulous Finds.
Buying geometric rugs feels right. They provide color that will pop, they introduce excitement with the contrasting colors found in geometric rugs and yet, you're not looking at them all the time. You see I've been wanting to do an accent wall with geometrics (see the great selection of geometric wallpapers at CustomizedWalls.com) on an accent wall but that gets really tricky when you've got an open concept floor plan.
Tips for Buying Geometric Rugs
What's important to understand is a rug can dictate the look of a room, whether it's casual or formal. That's why it's important to know the kind of feeling you're trying to create in a room before buying a rug. What's also interesting is some of the geometric rugs are fairly neutral when the colors and contrast between them isn't too great. Other rugs with high contrast between the colors, really pop and are the focal point for the room.
So here are a few tips from the experts, for finding the perfect rug for your room.
Decide if your rug will be a focal point for the room.
Bring one or two fabrics with the colors you have for the room, as the rug needs to have these colors to pull it together.
Choose warm colors when you want to create a warm, inviting space … where tonal grey helps showcase cool colors.
Soft tonal colors help you create a calmer mood … while high contrast colors add energy and movement to a room.
Geometric Rugs that Compliment but Don't Dominate
These geometric rugs might work better if you're nervous about about adding too much sizzle to your room. The geometric patterns are there but the colors and contrast aren't bold. These rugs compliment the room's decorating style without dominating the space.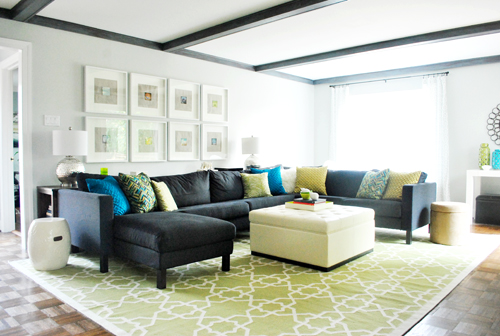 Bold Geometric Rugs Can Be a Focal Point