It's encouraging that so many people want to invest the time and money to do projects around their home, big and small. While there are literally thousands of blog posts and videos to help you do almost anything, many don't give you enough information to complete the projects. This article will help you find some of the best DIY websites, blogs and video channels, to visit for smaller projects, e.g. ones you can complete in a weekend.
Our best advice for anyone who's new to DIY projects, meaning you didn't grow up learning how to use basic hand and power tools, is take time to study your project and collect the tools and material before you start. And don't be surprised when you've got to make one (or more) extra trips to the store for things you didn't realize you'd need.  In fact my husband …
… prefers to buy multiple (2, 3 or more) parts to make sure he has exactly the right ones once he starts a project. This way he knows there will only be one additional trip, to return all the parts he didn't use
What We Expect from DIY Websites We Recommend
We see lots of websites that assume you know what tools are being used, or what materials you'll need to buy for a project. We know most women didn't grow up using a lot of tools (my favorite tool was a sewing machine), so the DYI websites, blogs and video channels we'll include here are ones that include information about:
Tools you need for a project, and ideally some tips on how to use them.
Materials you need for a project, including the incidentals like sandpaper, glue and finishes.
Step-by-step instructions with
… enough photos and/or video, to help you visualize what's involved in the project from start to finish.
DIY Websites: See Jane Drill
When I found SeeJaneDrill.com, I was excited because their videos drill down to the basics, with tips that experienced handywomen might have missed over the years. The videos are short, focusing on how to use tools (click the tape measures to see what they offer) and many common homeowner projects in addition to their on how to use tools.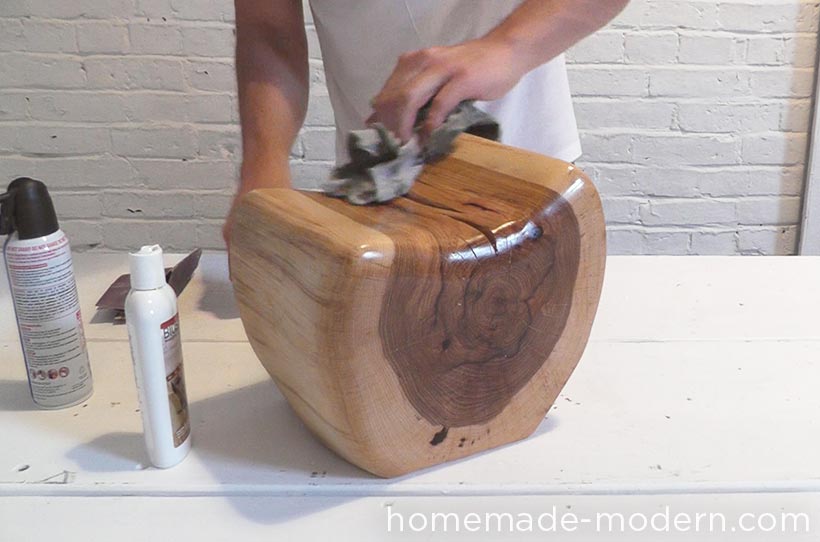 DIY Websites: Home Made Modern
Don't you love the little kids log chair above, a true piece of art in addition to being a chair. When I found this project, I just had to share this DIY website, Homemade-Modern.com. But that wasn't how I discovered them – I found their concrete stool that you make in a 5 gallon bucket via Twitter, fun but funky as you can see in the video.
HomeMade Modern, Episode 8 – DIY $5 Bucket Stool
But I discovered that in addition to giving great information about the tools and materials for each project, their commitment is to create DIY projects that are:
Affordable and accessible, so you have more options than low-cost IKEA solutions.
Focused on green, sustainable living so they try to use mostly recycled, reusable and/or sustainable materials over new. They also create projects that will last for a long time.
Perfect for the DIYer, they "… purposely design with imperfection in mind" which helps all of the perfectionists enjoy the results of their effort versus agonizing over minor scratches.