Picking materials for your deck is easy, right? Maybe if you want a basic wood deck but you should look at the new composite decking materials that can lower maintenance costs. Picking the right materials for your home and lifestyle (low maintenance) takes time and the reward is a beautiful deck you can enjoy for many years.
You'll need to decide on your deck flooring materials, from pressure treated wood to a composite with no wood content. There are different choices for deck railings from basic wood balusters to glass panels when there's a view you don't want to miss. There are also add-on products to consider for lighting, built-ins like seating and more.
…https://hometipsforwomen.com/home-exterior-materials-plan-budget#decks
Deck Flooring Material Choices
Deck flooring materials aren't cheap so you'll want to take some time to research before you buy. You'll find many manufacturers online but you'll do better if you narrow your search to several manufacturers that are available through your local building supply companies. You'll benefit from their experience supporting 100s of builders and you'll find they stock the most common sizes so availability won't be a problem. Each supplier will carry several different product lines to offer you a choice in value and cost.
Pressure treated lumber, most often made from southern yellow pine, is perfect for decks with it's ability to withstand the rigors of extreme weather, humidity, decay and termite damage.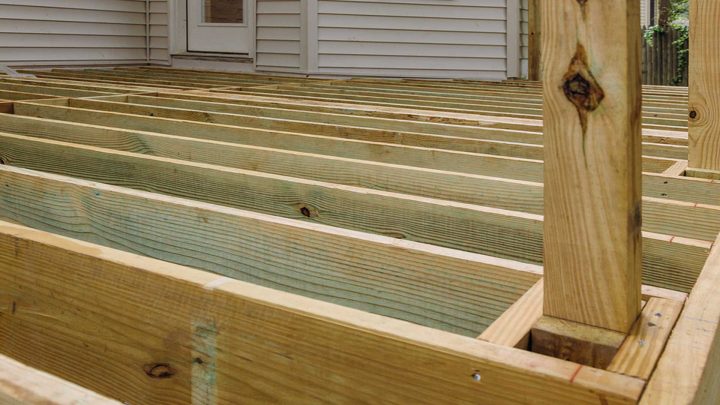 In 2000, the EPA began investigating the risks from using pressure treated wood, and specifically arsenic which is extremely toxic and has been associated with lung and skin cancer. In 2003, the Consumer Product Safety Commission released results from its studies examining decks and play sets made from pressure treated wood. Manufacturers of pressure treated wood reached a voluntary agreement with the EPA to end manufacture of pressure treated wood for most consumer applications by year end 2003.
Note: Your deck framing hidden under the floor boards, is made from pressure treated wood because of it's strength and cost.
Soft wood decking materials include western red cedar and redwood which resist rot and age nicely although they require maintenance.
Deck hardwoods including Phillipine mahogany and Ipe from South America, which is bug and rot resistant. Check to make sure that your Ipe has been harvested correctly due to rain forest preservation concerns.
Called mock lumber, composites are able to resist rot and bug damage as they contain little or no wood content. Another benefit that led me to Azek's deck products was it's ability to resist staining when food is dropped on it.
A new product found while writing this article, deck tiles made from wood, granite and other materials appears to be an interesting concept where you can create the look and feel of a wood deck, constructed on top of a concrete slab.
Deck Railings for Safety & Sizzle
Deck railings are required for safety so there are rules that need to be followed. Decks with more than 3 steps are required to have railings and you should confirm (call your local building department) what your local building codes are as they vary. Railings must be a minimum of 42 inches high and spacing may be no more than 4 inches between balusters or the lower rail and the floor. The latter is meant to stop a child from falling or getting their head caught in the railing system.
Deck railing choices are plentiful which makes the decision process more challenging. You will be able to select the style of your top railing, the posts, the balusters and the post caps which are the most fun.
Pressure treated railings match pressure treated flooring and you often have a choice of 2 or 3 different top rail and baluster styles.
Composite railing systems are made from the same materials as composite deck flooring.
Custom wood railings can match your flooring or it's possible to build the top rail out of wood while the remainder of the railing system is a composite.
Vinyl railing products are common with posts that typically include a metal insert for strength.
Decorative wrought iron railings are making a resurgence. You're not going to find them at your local building supply companies but if you want the look, you can order online or through a local fence company.
Glass panel railing systems are found along the shore where people enjoy views of the lake or ocean.
---