The sun is beginning to shine warmly across the country, so barbecues and outdoor entertaining can't be far behind. It's time to tackle some home maintenance and whip that deck into tip top shape for a season of outdoor living, but where to start with deck maintenance?
Your deck is an extension of your home's living space. Or at least it can be, if it's inviting enough to coax you out of the air conditioning. With a little early deck maintenance, you can be sure your deck will not only look its best, but also stay structurally sound and attractive for years to come.
First Things First: Deck Maintenance for Safety
Before you think about cleaning and decorating your deck for spring and summer, there's a more pressing issue that needs your attention. Over time, even pressure treated lumber can degrade, and the elements can cause screws and other hardware to corrode.
Take a walk around your deck, checking for loose or warped boards and degraded screws that might have appeared over the colder months.
Loose boards can be tightened back down using a power drill, and boards that are warped, have large cracks or are splintering should be replaced. They're all tripping hazards and you don't want anyone to get hurt. If some of your deck screws have begun to rust or corrode, you'll want to replace them, or let a handyman do that for you.
While you're checking the integrity of your deck, don't forget to look underneath, and also check the steps. The most common deck problems occur where the deck attaches to the house, and where the posts enter the group so you should inspect closely and be prepared to make repairs when you discover any signs of wood rot (read for more deck maintenance information).
Cleaning the Deck, Step #2 in Deck Maintenance
The sealer, or stain, that you use on your deck revives the appearance of the wood. But before you can begin that project, you'll need to clean the deck and let it dry. You'll have to wait 2 days (longer with high humidity) before you can stain or seal the deck, so plan accordingly. 
Depending on the location, some decks take on dirt and grime, some are shaded and allow mildew to grow, and some just look weathered and gray from exposure to the weather. Pressure washing can revive the look of the wood again, but be aware that this method of cleaning can scar the wood if you're not cautious.
If you choose to pressure wash, use a lower setting and skip the chemicals. The pressure alone is enough to remove most, if not all, stains, and make the deck look fresh again.
If you want to combat stains without pressure washing, use a deck cleaner or chemical that's safe for the species of wood you've got (for more details, read Dirty Decks: Tips to Clean and Seal The ). Scrubbing with oxygen bleach, is an alternative to pressure washing and it does not contain chlorine, so it's safe for most decking materials. You'll just rinse it off again with a hose.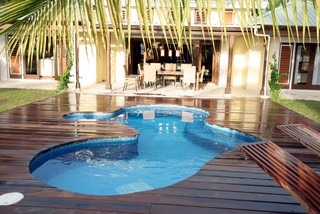 To Seal or to Stain: Which is the Best Approach to Deck Maintenance?
A clear deck sealer is a good protectant. It helps prevent water absorption, guards against damaging UV rays, and makes the wood look fresher. The downside to clear water seals is it doesn't offer as much UV protection as a tinted stain (learn more about Sealing a Deck to Protect the Wood).
Stain is another option, and very useful as your deck ages and the color of the wood gets mottled.
First and foremost, avoid the temptation to apply highly-pigmented, semi-solid deck stain. Horizontal surfaces are notorious for encouraging chips and flakes when high-pigment stains are used; the same applies to paint. They look beautiful initially, but they will not last. Once the stain starts flaking, your only choice will be sanding the whole deck, or reapplying the same stain year after year.
Semi-transparent stains are a better choice. They offer a bit of color, more UV protection than clear stains, and aren't as susceptible to chipping off. Stains are applied using a roller or brush, the same as you would stain any other wood. Wipe off the excess after letting it soak into the wood for a few minutes. Allowing stain to sit too long won't give you more coverage. It will, however, make your deck feel sticky for weeks.
Homeowner Tip: Try to take care of your deck maintenance early and be prepared to reschedule when the weather doesn't cooperate. You need 2 days for a wood deck to dry before applying a sealer or stain. You then need at least 24 hours and preferably 2 days of sunny, dry weather for the sealer or stain to dry.
Once you're done, sit back and admire the results of your hard work!
Springtime is the season for projects, both inside and outside the home. Getting your deck in shape might not be an easy job, but it's so very worth the effort. 
Why not get started with some home maintenance on your own deck this weekend?